Is Clickbank Free for Affiliate Marketers?
Is Clickbank the key to earning passive income with affiliate marketing? Let's dive into how this platform works and the opportunities it provides aspiring affiliate marketers.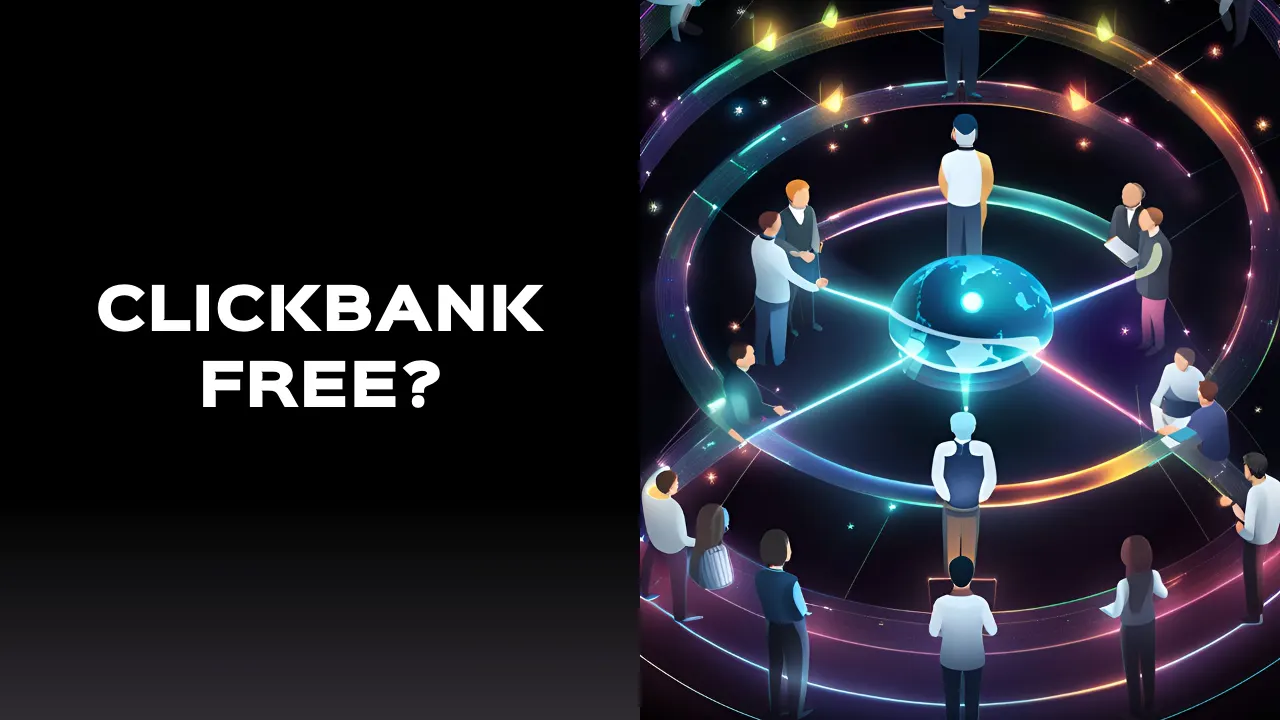 Demystifying Clickbank and How it Facilitates Affiliate Marketing
If you've dipped your toes into the alluring waters of affiliate marketing, you've likely encountered Clickbank. As one of the most well-established affiliate networks, Clickbank connects digital product creators with affiliate marketers like us.
With just a few clicks, we can browse their vast marketplace of ebooks, online courses, and software spanning every niche imaginable. The platform handles all the nitty-gritty details, from tracking to payments, empowering us to focus on promotions.
But first, let's clarify...
Is Clickbank Completely Free for Affiliate Marketers?
The short answer? Yes! Unlike some other affiliate programs, Clickbank allows us to join their platform and access their resources 100% free of charge. There are:
No membership fees
No recurring subscriptions
No strings attached
This opens the doors for those starting out to dip their toes into affiliate marketing without upfront investment. For experienced marketers, it means keeping more of the spoils.
Once signed up, we can cherry-pick from thousands of digital offers and immediately access all the materials needed. The platform equips us with:
Custom affiliate links
Ad creatives
Promotional content
This allows us to hit the ground running. No need to create products or deal with overhead.
Of course, individual product creators may have additional requirements to promote specific offers, but Clickbank itself remains free. This gives us the flexibility to test offers and discover which products resonate most with our audience before committing.
Tracking Sales and Earning with Clickbank
As affiliates, our primary goal is to rake in sweet commissions from sales we drive. Clickbank's system makes this easy.
Their real-time tracking and reporting provides insights into the nitty-gritty details of our promotions. We can monitor:
Clicks on our promos
Sales generated
All-important commission rates
With this data, we can identify well-performing campaigns and double down on what works.
Clickbank's commissions vary based on the product but often range from 30% to 75% of the sale price. These generous rates enable us to earn a sizeable income from successful promotions.
Better yet, Clickbank pays affiliates promptly and reliably every two weeks via:
Direct deposit
Check
Wire transfer
This gives us confidence in the platform and motivates us to keep driving sales.
Next, let's look at some of Clickbank's stand-out benefits for affiliate marketers and tips to maximize success.
Why Choose Clickbank? Benefits and Strategies for Affiliate Marketing Success
With over 6 million customers and counting, Clickbank dominates as one of the largest affiliate marketing networks. But why do so many affiliate marketers flock to this platform?
A Treasure Trove of Digital Offers
The sheer variety of products on Clickbank sets it apart from many other affiliate programs. Their marketplace contains over 50,000 digital offers spanning:
eLearning
Software
Health/Fitness
Business/Finance
Hobbies
and more
This diverse selection empowers us to find offers that genuinely align with our website's niche and audience.
For example, if I run a lifestyle blog focused on strength training, I can search for related fitness ebooks and promote only the most relevant offers. This targeted approach helps build trust and drive conversions.
Competitive Commission Rates
As mentioned earlier, Clickbank tends to offer lucrative commission rates compared to other affiliate programs. Rates ranging from 30% to 75% enable us to earn a healthy income from conversions without taking on product creation overhead.
Their generous payouts give us incentive to go the extra mile in our promotions. If an offer we're promoting has a 50% commission rate, just 2 sales of a $50 product nets us $50.
Globally Accessible Marketplace
Clickbank operates globally, with customers spanning multiple continents. This international reach expands our potential audience and customer base exponentially.
While other affiliate programs may limit which regions we can target, Clickbank empowers us to tap into markets across the world. Relevant keywords and translations allow us to tailor localized campaigns when promoting international offers.
Informative Tracking and Analytics
As discussed earlier, Clickbank provides marketers with in-depth tracking and reporting on all our promotional efforts. With these insights, we can continually optimize to enhance conversions over time.
Helpful metrics include:
Click-through rates on links and banners
Sales volumes
Average order values
Top-converting traffic sources
And more...
Regularly assessing this data enables us to double down on high-converting platforms and weed out ineffective tactics.
Strategies to Succeed as a Clickbank Affiliate Marketer
Now that we've covered Clickbank's core benefits, let's discuss some tips and strategies to maximize earnings on the platform.
Choose Offers Carefully
With thousands of options, the key is narrowing down to relevant offers that appeal to our niche. Analyze factors like:
Product fit: Ensure it aligns closely with our brand and content focus.
Commission rates: Prioritize higher payouts.
Current trends: Consider rising needs and interests in our niche.
Sales volumes: Pick offers with proven demand and conversions.
Curating offers using these criteria helps ensure our efforts aren't wasted promoting irrelevant products.
Plan Compelling Promotions
Driving traffic to our affiliate links is only step one. Crafting promotions that convert is vital. Tactics can include:
Detailed product reviews: Provide in-depth assessments on your blog or YouTube.
Bonus bundles: Package ebooks with your own offerings as an added value.
Giveaways: Coordinate prize draws and free trials to generate leads.
Retargeting ads: Remarket affiliate offers to previous site visitors.
Testing a combination of organic and paid tactics helps determine the most effective strategies.
Build a Strong Brand
While quick commissions may be tempting, building long-term credibility and trust cement customer loyalty. Useful brand-building tactics:
Spotlight your expertise: Share insights that demonstrate your subject mastery.
Foster relationships: Engage and interact with your audience.
Deliver value: Craft content that educates and entertains.
By becoming a trusted resource, you'll gain a captive audience more likely to purchase your recommendations.
Let's continue exploring specifics of monetizing your website and blog with their platform.
Monetizing Your Website and Content with Clickbank Affiliate Offers
If you have a website, blog, or YouTube channel, promoting relevant Clickbank offers enables you to turn your platform into a profit center. Let's explore tips for seamlessly integrating promotions into your content to earn commissions.
Place Affiliate Links and Banners Strategically
Once you've selected winning offers to promote, place links and ad banners strategically throughout your website and content. Smart placements include:
Blog sidebars: Display Clickbank banners or text links.
Video descriptions: Add affiliate links under your YouTube videos.
Content upgrades: Bundle ebooks from Clickbank with your lead magnets.
Product recommendation sections: Suggest relevant offers with affiliate links.
This allows you to prominently promote offers without being overly promotional.
Spotlight Affiliate Products in Content
Within your articles and videos, naturally highlighting relevant products as recommendations or examples is an effective approach. You can:
Write product reviews: Create dedicated review-style content focusing on a single offer.
Showcase examples: Demonstrate concepts using ebooks or tools from Clickbank.
Compare products: Write comparisons like "Product A vs. Product B" to feature multiple offers.
List recommendations: Compile lists of your top recommended Clickbank offers.
This style of organic integration builds trust and positions you as a helpful expert.
Promote Special Offers and Bundles
Sweetening the deal with limited-time discounts, free trials, and bonus bundles can further entice conversions. You can:
Offer coupon codes: Negotiate exclusive discounts from vendors to promote.
Bundle products: Package your own lead magnet with a Clickbank ebook.
Host contests: Run a giveaway of a Clickbank product to generate buzz.
With a bit of creativity, you can add extra allure to the offers you're already recommending.
Write Strong Call-to-Action Copy
Compelling call-to-action copy is crucial for converting visitors into buyers. Solid CTA copy includes:
Benefit-focused: Highlight the most appealing benefit of the offer.
Sense of urgency: Convey limited availability or discounts.
Social proof: Reference positive reviews and endorsements.
Risk reversal: Mention guarantees, free trials, or refund policies.
This convinces visitors to take the plunge and click your affiliate link. Test different phrases and styles to determine what resonates most.
Promote Across Multiple Platforms
While your website is the hub, promoting your affiliate links across social media, email, and more maximizes reach.
Email sequences: Send a series of promos to your subscriber list.
Social posts: Share affiliate links and offerings on Facebook and Instagram.
Paid ads: Run Google/Facebook ads driving to specific offers.
Retargeting: Remarket to previous site visitors through platforms like Facebook.
This omnichannel approach exposes offers to the same audiences repeatedly across channels. Each touch builds familiarity and trust.
Optimizing Affiliate Promotions on Clickbank for Maximum Earnings
Driving traffic and clicks to your affiliate links is only the beginning. The real goal is generating sales and commissions. Let's explore optimization strategies.
Analyze Performance Data
Clickbank's detailed tracking and reporting dashboard enables you to gauge performance. Assess key metrics like:
Click-through-rates on affiliate links
Conversion rates
Top referral sources
Highest-converting offers
These insights allow you to double down on tactics and traffic sources that perform best.
Split Test Strategically
Try A/B testing different elements of your affiliate promotions to lift conversions. Test factors like:
Headlines and copy
Call-to-action phrasing
Banner sizes and placement
Email subject lines and timing
incrementally improving each aspect adds up to big gains.
Promote New Offers
While evergreen offers are stable, new releases often see a spike in interest. Monitor Clickbank for new products in your niche and strike while the iron is hot.
Early promotions lend themselves to engaging "first look" or "exclusive access" style messaging.
Retarget Engaged Visitors
Retargeting involves serving ads to visitors after they've left your website. This technique can remarkably boost conversions.
You can set up affiliate offer retargeting campaigns via platforms like Google and Facebook. then place retargeting pixels on your site.
With repetition and persistence, even initially hesitant visitors can become buyers.
Expand to New Platforms
Once you've gained some experience, consider expanding your affiliate efforts to additional platforms like:
ShareASale
Rakuten
Amazon Associates
Diversifying across multiple networks gives you access to even more offers and niches to exploit.
By regularly assessing performance data and testing new promotions, your earnings on Clickbank can snowball over time.
Why Choose Clickbank? Recapping the Benefits for Affiliate Marketers
If you're considering diving into affiliate marketing, Clickbank offers an appealing starting point, thanks to the platform's low barrier to entry and extensive support.
Let's recap factors that make Clickbank a top choice:
Accessible Even for Beginners
For aspiring affiliate marketers with limited experience, Clickbank makes the process of getting started simple.
Zero financial investment: Signing up and accessing offers is 100% free.
Pre-created assets: Clickbank provides affiliate links, banners, and more, saving you work.
Easy tracking: Clickbank handles the analytics and payouts behind the scenes.
This makes the platform very beginner-friendly. You can get the lay of the land before investing significant time or money.
Vast Selection of Proven Digital Offers
Unlike other affiliate programs run by individual brands, Clickbank grants access to a vast digital marketplace with over 50,000 offers spanning dozens of niches.
When just starting out, sample different types of products to discover what your audience responds to best. Consider categories like:
eLearning courses
Software
Health and fitness guides
Money and finance programs
Home business opportunities
This diversity allows you to hone in on your niche over time.
Lucrative Commission Rates
Across the board, Clickbank tends to offer generous commission rates compared to alternatives, ranging from 30% to 75% on average.
These attractive payouts enable affiliate marketers to earn substantial passive income from a small number of sales.
A few sales per week can quickly compound into a sizeable monthly income when promoting offers with 50% or higher commission rates.
Global Audience Reach
Clickbank grants access to a worldwide customer base thanks to their international presence.
This allows you to broaden your horizons beyond just your local demographic and tap into emerging markets hungry for digital offers.
Adapting messaging and translations for different regions enables you to localize promotions abroad.
Reliable Payment System
One concern when starting out is whether you can trust the platform to pay commissions accurately and on time.
Clickbank has a longstanding reputation for reliable and timely affiliate payouts every two weeks via:
Direct deposit
Check
Wire transfer
You can withdraw earnings easily without delays or headaches.
In-Depth Performance Tracking
Clickbank provides intricate tracking and reporting on all your promotional efforts and sales conversions.
With these analytics insights, you can continually refine your tactics over time to maximize conversions and boost earnings.
Useful metrics provided include:
Traffic volumes
Sales volumes
Average order values
Top referral sources
Click-through-rates
Regularly assessing affiliates reports enables you to spot high-potential areas to focus on and weed out ineffective tactics.
Key Takeaways for Affiliate Marketing Success
Let's wrap up with some overarching tips to maximize success and earnings as a Clickbank affiliate:
Pick offers selectively: Be choosy and only promote relevant, high-quality offers with healthy commission rates.
Build promotional strategies: Use a mix of content integration, email, social media, and paid ads to promote offers.
Analyze performance: Use Clickbank's tracking to optimize campaigns and double down on what converts.
Provide real value: Develop genuinely helpful content that establishes you as a thought leader.
Stay patient: Building an audience and conversions takes time. Stick with high-potential tactics.
By following these best practices and exploiting Clickbank's extensive resources, your hard work can translate into passive affiliate income.
Ready to dive in? Sign up for Clickbank, explore their marketplace of products, and start monetizing your online platform today!