What is Spark by Clickbank?
Have you ever wondered if there's an easier way to monetize your passions online?
I'm talking about a way to earn an income simply by sharing products you love on your website or social platforms.
If so, it may be time to spark your affiliate marketing journey!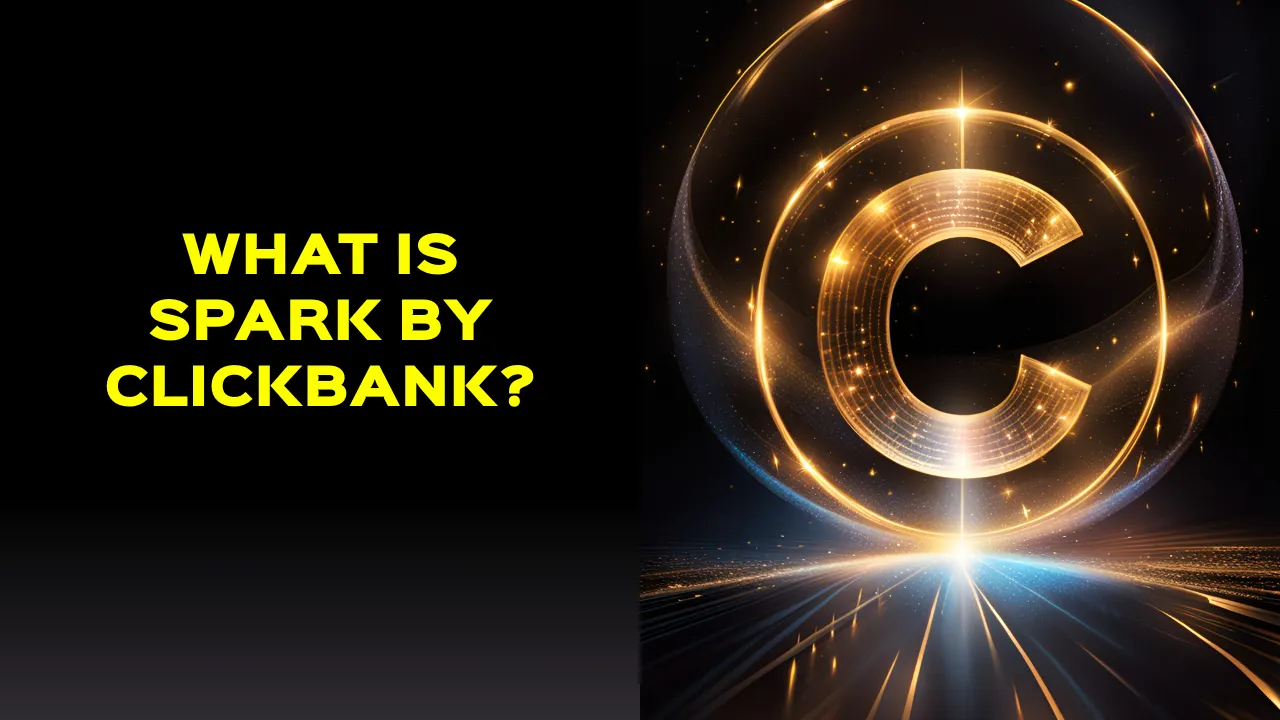 Affiliate marketing is an online income stream where you earn commissions promoting other brands and products. But to truly excel in affiliate marketing, you need the right training and tools. That's where Spark by ClickBank, the behemoth platform's robust affiliate education system, comes in!
Unlocking Affiliate Marketing: What Exactly is it?
At its core, affiliate marketing simply means earning a commission by promoting someone else's products or services.
You partner with a brand as an "affiliate marketer." Then, you share affiliate links to their products across your website, emails, social media, YouTube, or anywhere with an audience. When someone clicks your link and buys that product, you earn a commission!
It's a mutually beneficial relationship. Affiliate marketers get paid for referrals. Meanwhile, brands expand their reach and sales.
However, while the concept is simple, excelling at affiliate marketing requires comprehensive knowledge. Things like optimizing conversion rates, building an audience, and driving targeted traffic to your links.
That's where Spark comes in...
Why Spark by ClickBank? Unparalleled Expertise You Can Trust
Spark isn't just any affiliate marketing program. It comes straight from the brains behind ClickBank, one of the world's most successful digital marketplaces connecting buyers and sellers.
With over $3 billion in sales within its network, ClickBank has the expertise that cannot be replicated. When they create an affiliate education platform, you know it's the real deal.
Furthermore, Spark is constantly evolving with the ever-changing digital landscape. The curriculum provides cutting-edge, up-to-date affiliate marketing strategies beyond the basics.
The bottom line? You can trust Spark to equip you with profitable, future-proof affiliate marketing skills.
Step-By-Step Mastery: Breaking Down the Spark Curriculum
Spark is meticulously organized into core sections that take you from affiliate marketing newbie to pro.
The step-by-step courses distill decades of experience into simple, sequential learning modules. You have the freedom to consume them at your own pace.
And it's not just video tutorials. Spark incorporates quizzes, worksheets, live workshops, and more interactive elements. This enhances information retention, keeping learners engaged.
Here's an overview of what you can expect from the different curriculum sections:
Affiliate Marketing Basics - Covers the absolute fundamentals, perfect for total beginners. Learn key terms, how to choose a niche, setting up your account, and more affiliate marketing groundwork.
Finding the Right Products - Discover how to select profitable affiliate programs and products that align with your goals. Includes insider tips on assessing demand and competition.
Getting Started with ClickBank - From creating your ClickBank account to navigating the marketplace, this section helps you leverage ClickBank to its fullest.
Driving Targeted Traffic - Arguably the most crucial affiliate marketing skill. You'll learn proven traffic-driving strategies like SEO, PPC, email marketing, social media marketing, and more.
Optimization & Analytics - Master data-driven optimization of your affiliate links and campaigns. Includes utilizing analytics for insights and constantly improving.
The step-by-step approach makes achieving affiliate marketing mastery feel totally manageable!
Support Beyond the Screen: Spark's Coaching and Community
Here's what truly sets Spark apart from standard online courses: the interactive support system.
Not only do you get video lessons. You also gain access to live coaching sessions with affiliate marketing experts to answer your specific questions.
Additionally, Spark has cultivated an engaged community of like-minded learners. You can network, discuss challenges, share advice, and empower each other!
With coaching and community in your corner, you're never alone on your affiliate marketing journey.
Lighting Your Path Forward: Conclusion of What is Spark by ClickBank?
In this section, we explored Spark by ClickBank, unpacking its uniquely trustworthy affiliate marketing curriculum. Key highlights include:
Trust in ClickBank's decades of digital marketplace expertise
Cutting-edge, up-to-date affiliate strategies
Step-by-step learning approach breaking down mastery into simple blocks
Expert coaching and an empowering community beyond the lessons
Ready to spark your affiliate potential? Then continue your learning journey...
Amplifying Your Success: Spark's Advanced Tactics
You now understand Spark by ClickBank's stellar reputation and curriculum. Next, let's dive deeper into the tactics and skills the program teaches to amplify your success.
Mastering the Nitty-Gritty: Advanced Affiliate Strategies
Once you've gotten the basics down, Spark guides you to the next level. The courses unlock advanced affiliate marketing skills like:
Skyrocketing your value proposition - Discover how to stand out by providing remarkable value to potential customers. Includes building your authority and boosting trust.
Profitable niche research - Learn how to dig into Google Trends, Buyer Keywords, SEMrush, and more tools for data-driven niche selection. Choosing the right niche is key for earnings growth.
High-converting sales funnels - Construct optimized sales funnels that seamlessly lead visitors into purchasing your affiliate products. This directly boosts your commission income!
Email marketing excellence - Master the art and science behind high-performing email campaigns. From segmentation to automation, take your reach and results to new heights!
Leveraging influencer partnerships - Explore collaborating with influencers in your niche to expand your audience. The right partnerships can grow your affiliate marketing income exponentially.
You'll gain an advanced skill set to thrive in the competitive affiliate marketing landscape.
Real-World Application: Affiliate Marketing Case Studies
Here's an inside look at Spark's approach to cementing learning through real-world case studies:
Spark dissects successful affiliates' journeys in detail, analyzing exactly what tactics led to their profitability.
For example, you may study how a fitness influencer monetized her YouTube following by strategically promoting supplements without alienating her audience.
These concrete examples demonstrate that the curriculum isn't just hypothetical. You'll learn tried and tested strategies to emulate.
The case studies allow you to visualize how affiliate marketing can align with your unique interests and talents.
Ongoing Evolution: Updating Skills Through ClickBank's Blog
The digital marketing landscape evolves rapidly. What works today may not tomorrow.
This is why Spark encourages learners to stay plugged into ClickBank's blog for constant evolution.
ClickBank's blog covers up-to-the-minute affiliate marketing trends, tips, and success stories. This ensures you can adapt your strategies over time.
Whether it's the latest changes to Google's algorithm or new social media platforms gaining traction, ClickBank's blog has you covered.
Consistently reading the ClickBank blog guarantees your affiliate marketing skills stay razor-sharp and future-proof.
Igniting Potential: Amplifying Your Success Conclusion
In this section, we delved into Spark's advanced curriculum, real-world application, and emphasis on ongoing learning. Key takeaways include:
High-level affiliate tactics to skyrocket earnings
Actionable case studies proving the strategies work
ClickBank blog for constantly updating skills
Let's continue exploring how Spark lights the path for affiliate marketing victory...
Who Is Spark For? Defining the Ideal Affiliate Marketing Student
By now, it's clear Spark
provides unmatched affiliate marketing education. Finally, let's explore the ideal learner profile, as well as concrete success steps once completing the curriculum.
Who Is Spark For? Defining the Ideal Affiliate Marketing Student
Affiliate marketing relies heavily on your specific interests and talents. As such, Spark is designed to empower diverse self-starters.
For example, Spark can equip:
Bloggers monetizing their content
YouTubers and influencers boosting income streams
Entrepreneurs diversifying revenue
Sellers promoting relevant affiliate products
Niche hobbyists sharing their passion projects
Retirees seeking online income opportunities
If you have a website, audience, or unique voice - no matter how small - Spark can amplify your monetization.
Beyond the Screen: Implementing the Tactics
Simply completing Spark's curriculum isn't enough. The real work begins in putting the tactics into practice.
For optimal success, be sure to take key action steps like:
Choosing a niche - Select a specific niche aligned with your interests and expertise, rather than promoting random products.
Setting up your website - Use Spark's website-building guidance to launch an affiliate site. This is the hub for all your promotional activity.
Generating traffic - Drive eyes to your affiliate links using SEO, PPC, email marketing, social media, and other strategies learned in Spark. Traffic is oxygen for affiliate earnings!
Tracking and optimizing data - Utilize Spark's analytics tutorials. Constantly improve your affiliate funnel based on user behavior insights.
Dedicate time weekly to implement Spark's teachings. Consistent effort compounds to achieve remarkable results.
Concluding Your Enlightening Journey
There you have it - a comprehensive walkthrough of Spark by ClickBank! Let's recap the key benefits:
Unparalleled expertise and credibility from ClickBank
Step-by-step learning roadmap breaking down affiliate marketing mastery
Advanced promotional strategies and real-world case studies
Constant evolution through ClickBank's blog
Ideal for diverse niche interests and skill levels
Verdict: I have no doubts that you'll learn a lot from Spark. However, if you want to build your business using time-saving, money-making strategies, make sure that you check out digital side hustle course bundle that I offer. I've tested Spark strategies and I'll provide you with modern-day strategies that work today.