GetResponse Review: The Ultimate Email Marketing Platform?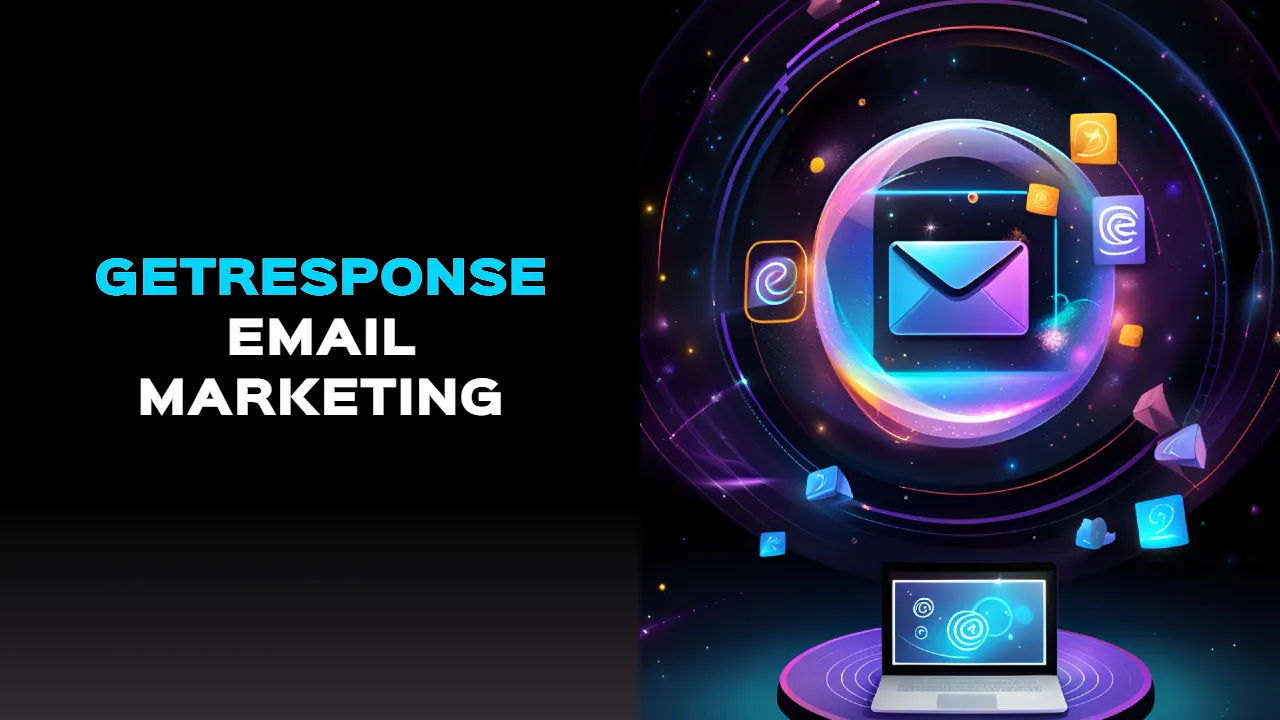 GetResponse offers a robust set of email marketing features like autoresponders, templates, and analytics.
Flexible pricing plans and valuable automation make GetResponse cost-effective.
Powerful marketing automation streamlines lead nurturing and sales workflows.
The user-friendly interface and multitude of integrations simplify workflows.
While deliverability rates could improve, GetResponse provides solid value overall.
GetResponse competes well with Mailchimp, offering more marketing automation at better prices.
How can you build relationships with your subscribers, nurture leads, and drive sales through email marketing? GetResponse aims to help you achieve all of this and more.
In this comprehensive GetResponse review, we'll explore whether this platform lives up to the hype. You'll learn about GetResponse's key features, pricing, marketing automation capabilities, and much more.
Let's dive in and uncover everything you need to know about GetResponse!
Unveiling GetResponse: An Overview
Curious about what makes GetResponse a popular email marketing platform? Here's a quick rundown of its key capabilities:
GetResponse helps businesses build relationships with potential customers through email newsletters, autoresponders, and marketing automation. You can create segmented email lists, stylish newsletters using pre-made templates, and targeted autoresponder sequences.
Useful features like landing pages, webinars, e-commerce integrations, and robust analytics help you nurture leads and drive conversions. GetResponse aims to be an all-in-one solution for small business marketing.
With GetResponse, you can:
Design professional newsletters with a simple drag-and-drop editor
Send email broadcasts to engage your subscribers
Set up automated welcome emails and follow-up messages
Create popups, forms, and landing pages to capture leads
Track detailed email and conversion analytics
Integrate your store and streamline marketing workflows
Conduct webinars to connect with your audience
Segment contacts and personalize email content
Next, let's look at GetResponse's pricing and plans.
Diving into GetResponse Pricing: Value for Money?
GetResponse offers several pricing plans to meet diverse business needs:
GetResponse Free:
Up to 500 contacts
Send up to 12,000 emails per month
Basic email marketing features
1 user included
Email Marketing:
Starts at $15.60/month for up to 1,000 contacts
Unlimited emails
Autoresponders, newsletters, and more
Marketing Automation:
Starts at $48.40/month for up to 1,000 contacts
Adds webinars, lead scoring, sales funnels
Ecommerce Marketing:
Starts at $97.60/month for up to 1,000 contacts
Includes abandoned cart automation, promo codes, product recommendations
GetResponse Max:
Starts at $999/month for up to 1,000 contacts
Includes dedicated infrastructure and priority support
SMS marketing
AI Recommendations
Transactional emails
The more contacts, the higher the price. For example, the basic plan will cost $64.80/month for 10,000 contacts vs $15 for 1,000 contacts.
Discounts up to 30% are available for annual subscriptions. There's also a 30-day free trial to test drive paid plans.
Compared to competitors, GetResponse offers more features and better pricing, especially for larger contact lists. The free plan is also less limited than Mailchimp's.
Next, let's explore GetResponse's automation capabilities.
Unpacking the Power of GetResponse's Marketing Automation
GetResponse doesn't just offer email blasting - it provides powerful marketing automation to streamline your sales process.
With GetResponse, you can:
Build sequences that nurture subscribers based on their actions and interests
Set up lead scoring rules to identify hot prospects
Create quizzes and surveys to segment your audience
Personalize messaging using contact field data like name, location, tags
Track on-site behavior with web event tracking
Send timely, relevant offers based on cart abandonment or purchases
GetResponse's visual workflow builder and pre-made automations make it easy to set up robust lead nurturing sequences, even if you're not tech-savvy.
You can automatically move subscribers between lists, assign tags, update custom field data, and more based on their engagement.
This automation will help you turn interested prospects into loyal customers efficiently. Let's look at some of GetResponse's distinct email marketing capabilities next.
Exploring GetResponse's Distinct Features
Beyond basics like templates and analytics, GetResponse provides some unique email marketing features:
Email Autoresponders
Autoresponders automatically send a series of timed or event-based emails when a subscriber signs up or takes an action.
GetResponse allows unlimited autoresponders. For example, you can send:
A 7-day educational email course
Monthly promos to reward loyal subscribers
Product recommendations based on purchases
This works better than manually sending each message!
Lead Funnels
Create multi-step funnels with lead magnets, email follow-ups, webinars, and promotions to turn prospects into buyers.
Webinars
Host live or automated webinars right from your GetResponse account. This is great for lead generation and building expertise.
Landing Page Creator
Quickly make landing pages, popups, forms, and surveys to capture contacts and leads. GetResponse has 100+ mobile-friendly templates to get started fast.
Chats
Engage website visitors in real-time with GetResponse's live chat feature. Initiate chats via email too.
These features provide diverse opportunities for lead generation and nurturing. Now let's look at creating effective campaigns.
The Art of Crafting Successful Online Campaigns with GetResponse
How can you create campaigns that captivate your audience? Follow these tips for email marketing success with GetResponse:
Know Your Audience
Segment your list based on demographics, interests, and engagement. Send targeted content that resonates.
Maintain a Schedule
Send consistent emails on a schedule through newsletters and autoresponders. This builds engagement.
Personalize Messaging
Use contact data to add names, locations, purchase details, etc. Segmentation + personalization = higher open rates!
Test and Optimize
Try different subject lines, content, designs, and timing. Measure results and refine what works.
Promote Offers Strategically
Don't make every email promotional. Combine value-adding content with special offers.
Be Mobile-Friendly
Ensure your emails and landing pages look great on mobile. Mobile opens are rising.
GetResponse's detailed analytics help you continually optimize your campaigns. Next, let's explore how its landing page builder can increase conversions.
Building High-Converting Landing Pages with GetResponse
Creating dedicated landing pages for campaigns helps capture more contacts and leads. GetResponse provides an intuitive landing page builder with conversion-focused templates.
Easy Customization
Edit colors, fonts, content using GetResponse's drag-and-drop editor. No coding needed!
Mobile Optimization
Pages are mobile-responsive out of the box - crucial for lead generation.
Lead Capture Forms
Embed forms to collect emails, phone numbers, survey responses, and more.
Thank You Pages
Guide users after form submission to nurture leads.
Detailed Analytics
See conversions, entries, drops offs, and optimize pages.
A/B Testing
Try variations to determine what pages perform best.
Overall, GetResponse's landing page capabilities help you grow your email list and control the lead capture process. Let's look at another underused GetResponse feature next - webinars!
Webinars: A Hidden Gem in GetResponse's Toolkit
Webinars are an interactive way to engage and convert audiences by sharing your expertise. GetResponse makes it easy to run webinars without external tools.
With GetResponse webinars, you can:
Broadcast live or pre-recorded webinars
Have up to 100 attendees on the Email Marketing plan, 500 on Max
Promote via email campaigns and landing pages
Present slides, demo products, share screens
Offer replays and downloadable materials
Charge for paid access
Track registrations and attendance
Webinars help nurture leads further down the funnel, especially for high-ticket offers. Try adding webinars to your marketing mix!
Now that we've covered key features, let's balance things out by looking at GetResponse's advantages and drawbacks.
GetResponse's Pros and Cons: A Balanced View
Any GetResponse review would be incomplete without assessing its benefits and limitations:
Pros
Powerful email marketing and automation features
Simple drag-and-drop editor
100+ professional templates
Lead capture and conversion tools
Detailed analytics and insights
Affordable pricing, even for large lists
Generous free plan available
Intuitive interface and workflows
Cons
Contacts limited to 500 on free plan
Deliverability rates could be better
Advanced features on higher-tier plans
No native social media publishing
Email design flexibility could improve
While no service is perfect, GetResponse provides immense value, especially for the price. Let's look at how its integrations can save you time and money next.
Streamlining Your Work with GetResponse Integrations
Like any powerful software, GetResponse integrations help you accomplish more in less time by connecting it with other tools.
Here are some of GetResponse's most useful integrations:
CRM: Sync GetResponse with Salesforce, Hubspot, Zoho CRM, and other CRMs to track subscriber engagement.
Ecommerce: Connect GetResponse to Shopify, Magento, WooCommerce, and other platforms. Track sales, sync products, recover carts.
Webinars: Promote GoToWebinar, EverWebinar, and other webinars through GetResponse email campaigns.
Landing Pages: Embed GetResponse forms on Unbounce, Leadpages, ClickFunnels, and other landing pages to capture leads.
Social Media: Post GetResponse emails to social channels, track open and click events.
Web Analytics: Connect GetResponse with Google Analytics to track on-site interactions.
These integrations allow you to combine GetResponse's marketing automation power with other tools you rely on. But how does GetResponse compare to top competitor Mailchimp? Let's find out.
GetResponse vs Mailchimp: A Detailed Comparison
Let's compare two of the most popular email marketing platforms - GetResponse and Mailchimp:
Pricing
GetResponse starts at $15.60/month
Mailchimp starts at $13/month
Contacts
GetResponse has unlimited contacts on paid plans
Mailchimp has 1,000 contacts on the free plan
Emails per month
GetResponse allows unlimited email sends on the basic plan
Mailchimp allows 5,000 emails on the essentials plan
Templates
Both GetResponse and Mailchimp offer 100+ templates
Editor
Both use a drag-and-drop editor
Automation
GetResponse has a visual workflow builder
Mailchimp offers pre-made automations
Landing Pages
GetResponse provides 100+ templates
Mailchimp has limited templates
Webinars
GetResponse supports up to 1000 attendees
Mailchimp requires a third-party integration
Ecommerce
GetResponse offers abandoned carts, promo codes
Mailchimp has limited ecommerce features
Mobile-friendly
Both are mobile-friendly
GetResponse generally provides more robust features and better pricing compared to Mailchimp, especially for marketing automation, lead nurturing, and ecommerce.
However, Mailchimp has a more user-friendly dashboard. Test both platforms to see which best fits your needs.
Mastering A/B Testing with GetResponse
A/B testing involves sending slightly different versions of an email to segments of your list to see which one gets better engagement.
GetResponse provides easy A/B testing to optimize your:
Subject lines: Test subject line variations to improve open rates.
Content: Test different copy, offers, designs, layouts, etc within your emails.
Timing: Determine the best day and time to send your newsletters.
To set up an A/B test:
Create two email campaigns with the elements to test.
Go to the Split Test tab.
Pick the variable to test and campaigns to compare.
Send the emails to a small test segment first.
Analyze the open, click-through, and conversion rates.
Send the better-performing version to the rest of your list.
GetResponse makes it simple to experiment and enhance your email marketing results through A/B testing.
Taking Advantage of GetResponse's Mobile Responsiveness
With mobile email opens surpassing desktop, having a mobile-optimized design is critical for email success.
GetResponse makes it easy to create mobile-friendly newsletters in several ways:
Responsive templates: All 100+ GetResponse email templates automatically adapt to mobile screens.
Mobile previews: View how your emails will look on smartphones and tablets.
One-click updates: Quickly update fonts, image sizes, and text width for mobile optimization.
Analytics: See your mobile open and click-through rates to optimize.
GetResponse also provides responsive landing pages, popups, forms, and surveys out of the box. You don't have to do extra work to make your campaigns mobile-friendly!
For developers, GetResponse also offers a powerful API. Let's explore how this can help.
Exploring the Potential of GetResponse's API
GetResponse provides a robust API that developers can use to integrate and manage GetResponse functionality programmatically.
Here are some examples of what you can do:
Create custom web forms to capture contacts
Build registration forms for webinars
Pull contact, campaign, and ecommerce data into external apps
Manage contacts, create segments, update info automatically
Trigger automations when events happen on your site
Post content from blog or social media to GetResponse
Sync ecommerce order data to GetResponse
While the API does require development work, it enables deep GetResponse integration tailored to your needs.
For non-developers, GetResponse still offers excellent integration options out of the box that we discussed earlier.
Now that we've covered the key features in depth, let's walk through using GetResponse hands-on.
GetResponse Tutorial: A Step-by-Step Guide
Here is a beginner's tutorial on using core GetResponse features:
Step 1: Create Your Account
Go to GetResponse.com and sign up for a free trial. Confirm your account via email.
Step 2: Set Up Your First Campaign
Click Create Newsletter. Choose a template. Customize the content. Schedule or send it.
Step 3: Build Your Subscriber List
Click Contacts. Create a signup form. Get the HTML to add it to your site.
Step 4: Set Up an Automation
Click Automation. Choose a template. Set triggers and actions. Activate it.
Step 5: Create Landing Pages
Click Landing Pages. Pick a template. Customize it. Connect your form.
That covers the email marketing essentials! Dive deeper using GetResponse's tutorials.
Let's wrap up with how to try GetResponse risk-free.
Exploring GetResponse's Free Trial: A Sneak Peek into the Platform
Want to test drive GetResponse before buying? You can sign up for a 30-day free trial.
With the trial you can:
Create campaigns, landing pages, forms, and automations
Send emails to up to 1,000 subscribers
Access all features on the Email Marketing plan
Test how GetResponse works with your website and store
Experience its usability firsthand
The free trial is a smart way to evaluate if GetResponse meets your business needs. You can also try the forever free plan with up to 500 contacts.
Signing up is quick, and you can cancel anytime. There are no credit card details required upfront.
Experience a best-in-class solution for building relationships through emails and automation with GetResponse's free trial!
Key Takeaways:
GetResponse provides powerful marketing automation and lead nurturing capabilities.
The platform makes it simple to create mobile-friendly, engaging email campaigns.
Valuable features like webinars, landing pages, and ecommerce integrations set GetResponse apart.
While not perfect, GetResponse delivers excellent value for money spent.
Try GetResponse free yourself to see if it's the right email marketing solution for your business.
GetResponse aims to provide an all-in-one marketing and automation solution for small businesses. With its generous free plan, free trial, and diverse features, it's worth exploring to take your email marketing to the next level.
This comprehensive GetResponse review guide covered everything you need to confidently evaluate if GetResponse is the right email marketing platform for growing your small business. To recap, you learned:
GetResponse's key capabilities and features
Its pricing and how it compares to competitors
How GetResponse simplifies marketing automation
Pros and cons balanced discussion
How to master campaigns, landing pages, webinars, and more with GetResponse
How critical integrations can save you time
How GetResponse stacks up versus Mailchimp
How to start with GetResponse's free trial
Hopefully this detailed review gave you clarity about what makes GetResponse unique. The platform makes it effortless to create professional, engaging email marketing campaigns to nurture leads, drive sales, and delight customers.
While no service is perfect, GetResponse provides immense value in an intuitive, affordable package.
BTW, one of GetResponse's big rivals is Aweber. Make sure that you also check out my Aweber review. I started using Aweber over a decade ago and it's one of my favorite email marketing systems.