Katteb Review
Are you searching for an assistant to write that will aid you in writing top-quality, fact-checked content quickly and efficiently? This is what I'll cover within the following Katteb review!
In this review we'll look at the functions of Katteb which is an AI writer's assistant and how it can help you save time and money while creating great content.
If you want to take a peek at the tool first, click here.

Introduction
As a designer, writer or marketer, I'm aware of the importance of creating information that is distinctive and draws interest. It's a good thing that Katteb AI Write Assistant allows you to create text that is both captivating and precise.
I first found out about Katteb from an AI content influencer on YouTube. He was going through all the things he didn't like about Katteb. He purchased it early on, and then did a follow-up review. I tried out the Katteb free trial at the time and I could tell that the reviewer was winging it. He wasn't using the right Katteb tools for his intent, which was creating long-form content. If he's reading this, here's a note: Katteb Plus wasn't intended to create long-form content. There's a long-form writing tool that's only available to paid users, and it's brilliant! I'll go into this feature and more later in this review.
After using the trial across social media posts, I found that it was quite a bargain compared to other fact-checking tools, like Hypotenuse.ai.
Katteb AI Writing Assistant is an innovative software that makes use of Artificial Intelligence (AI) to produce text quickly and accurately. It checks facts prior to generating the content to make certain that your content is up-to-date and reliable.
It can also write about any current or upcoming event. This makes it good for people to find out about new things, or new products.
If you look at ChatGPT, it's not designed for current news. As of Q1 2023, ChatGPT provides content up to 2021.
This AI writing assistant includes many tools, like PAS and Article Rewriter, as well as the blog post's intro, as well as other high-end AI content tools that you will not find in most AI tools. With these tools in your arsenal you can create top-quality content for your online store or blog within a short time.
Katteb AI Writing Assistant has gained a lot of popularity with writers, webmasters and marketers because of its powerful features and easy-to-use. It's been awarded a 4.7/5 scores in Product Hunt out of over 50 reviews, and 4.6/5 on TrustPilot. Across several review platforms, their score is 4.5+ and has more than 80,000 users around the world - which means you'll know you're getting value for your cost!
What is Katteb AI Writing Assistant?
Katteb AI Writing Assistant is a groundbreaking software that combines the latest Artificial Intelligence (AI) with natural processing of language. This combination of power and efficiency helps writers plan and write top-quality content quickly and effectively. It doesn't matter if it's websites, blogs or even an online store, Katteb's AI will help you with the difficult writing process.
The platform offers a range of writing tools, including the Listicle and FAQ Email, Testimonial, How To Guide, and Product Review. The platform also has an AI copywriting assistant that can assist you in writing sales copywriting efficiently and precisely. It is also able to help edit existing content in order to create content that is more appealing and more effective.
Katteb has been praised highly across the globe which makes it an excellent option for those who need to write high-quality content quickly and effortlessly. With its strong AI technology, this AI writing tool is truly a hero!
Features of Katteb AI Writing Assistant
The Katteb AI Writing assistant is an incredible tool that allows you to write content in a speedy and efficient manner. The features of this Writing Assistant make it a fantastic option for both professionals and novice writers alike. With Katteb you gain access to many tools that allow you to write and to create content.
Katteb Plus is a unique feature. Katteb Plus feature is unique and addresses the issue. It's a fact-checking tool that ensures the accuracy of your writing and is reliable. This feature will help you avoid embarrassing mistakes and improve the credibility of your work.
Katteb has also an AI assistant that can assist you in creating content that is engaging and enticing. There are a myriad of writing tools, making it a perfect tool for writers, webmasters as well as businessmen. Katteb AI helps you create content quickly and easily for your blog or online store.
Sales copywriting is a distinct characteristic of AI writers that isn't present in all AI writers. It is able to create a complete article in one sitting, which saves you time and effort while writing content for your blog or website.
All in all, Katteb AI Writing Assistant is a great tool for those who need assistance in creating material quickly and efficiently. It offers all the features you require to write engaging and captivating content while also guaranteeing reliability and accuracy through its fact-checking features. Its affordable price is one of the most affordable alternatives for creating content at any price.
I'll go over all of these features right now.
Katteb Plus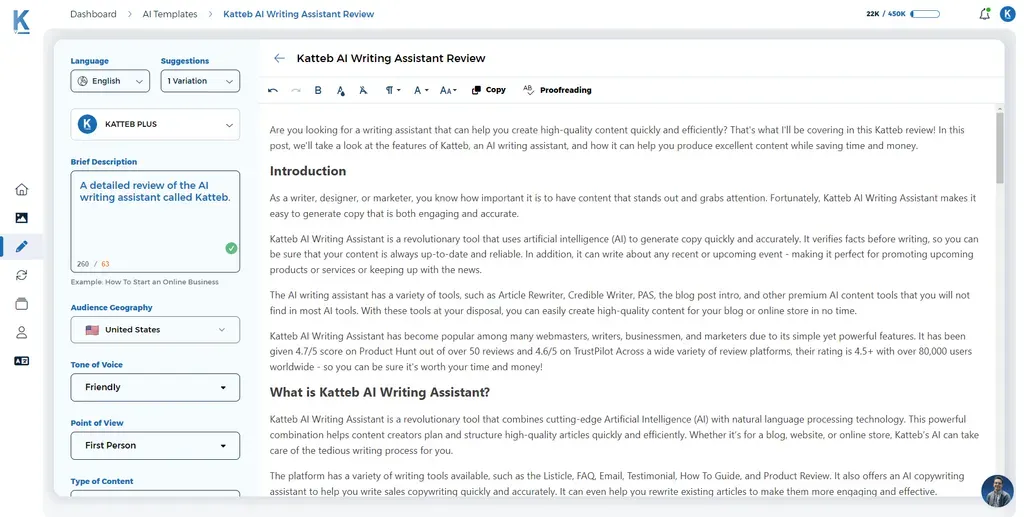 Katteb Plus can be described as an AI software for writing that helps to produce high-quality and precise content. With its constantly updated AI technology, you can write copy for social media, blogs, product descriptions, ads, and more in a short amount of time. The fact checking feature is extremely helpful and can answer questions in a timely and accurate manner.
In addition to that, the AI Art Generator helps to make engaging images in your material.
In the screenshot below, you can see my prompt at the bottom. Each prompt creates 4 images, and 1 prompt run counts as 1 credit (out of 5 allowed daily).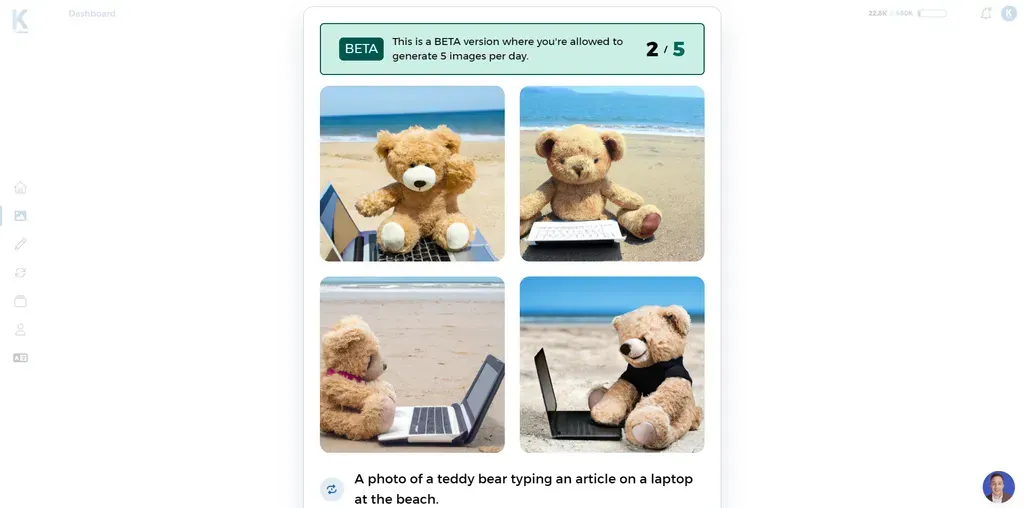 All in all, Katteb Plus is an excellent tool for those looking for a reliable and cost-effective AI copywriter. It's user-friendly and will help you save time as well as money. If you're a writer, marketer or designer, Katteb Plus can help create engaging content efficiently and precisely. I strongly suggest giving it a shot!
Katteb Assistant
Katteb Assistant can be described as an AI writing assistant created to assist writers to more efficiently and quickly create and organize their articles. It's a fantastic tool for writers, webmasters as well as businessmen needing assistance in their copywriting.
Recently, I had the opportunity to play with Katteb Assistant and have to say that I was awed by the results. Its AI program is intended to give you useful tips on how to write more effective content, and also ways to organize your piece better.
Katteb Assistant also offers an assortment of writing tools, like FAQs, listicles as well as email writing templates, product reviews, testimonials and many more. It's like having your personal assistant available to you!
A good thing about this is that Katteb Assistant offers a free trial, so you can try out the features for yourself before you make a decision.
Overall I strongly recommend Katteb Assistant to anyone looking for an AI writing tool that will aid them in writing improved copy quickly and effortlessly. Its intuitive interface makes it simple to use even for novices and the fact-checking feature assures accuracy and credibility. Take a look now - you'll never be dissatisfied!
Credible Writer
I am a person who is committed to authenticity and truthfulness in the content I provide. I was ecstatic to test the Credible Writer feature on Katteb AI Writing Assistant. It is a Credible Writer is a powerful program which makes use of Artificial Intelligence to detect and rectify inaccurate information within your content. It utilizes an advanced algorithm to analyze your text and then compare it with a vast database of reliable sources and facts. This makes sure that the information you provide in your article is correct and current.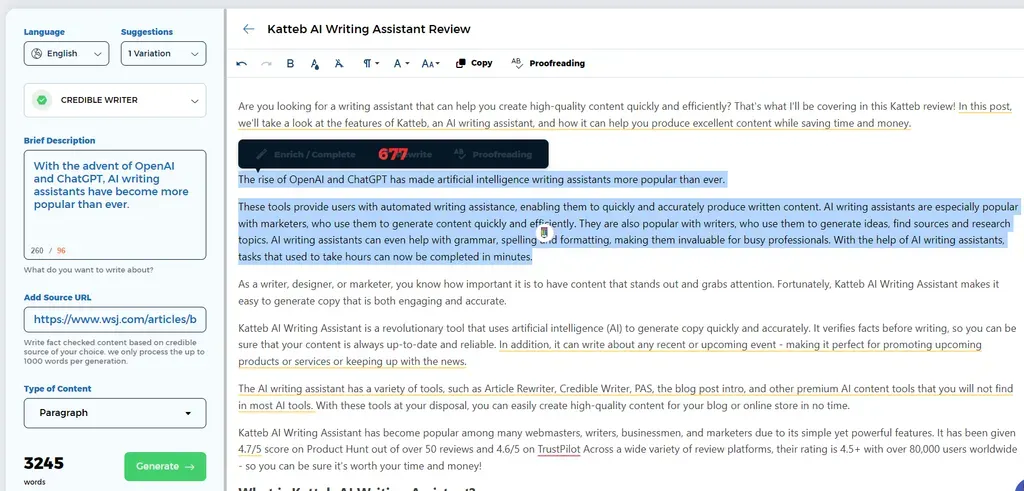 I discovered Credible Writer to be incredibly beneficial in my writing projects. It was able to save me time as it ensured that I didn't waste time double-checking my work to ensure it was accurate. Additionally, it provided me with confidence that the data I had included was reliable and trustworthy. Overall, I feel Credible Writer is a fantastic supplement to Katteb AI's Writing Assistant. Anyone who wishes to create accurate content fast with AI must check it out.
Article Rewriter
Katteb AI's Content Rewriter is a efficient tool for creators of content. It allows you to quickly and effortlessly create new versions of your existing content, making sure that your content is always relevant and fresh.
The Article Rewriter makes use of Artificial Intelligence (AI) and Natural Language Processing (NLP) to create new versions of articles with an unlimited word count. It can completely rewrite content in just a few seconds and helps you reduce time and effort.
Additionally, Katteb AI's article rewriter also checks your content for accuracy, and it's localized prior to creating the new version of the article. This assures that the article created has the best standard and precision.
Katteb AI's article Rewriter is a powerful tool that can help anyone quickly create high-quality, unique content. It lets you reduce time, money and effort while producing appealing and captivating writing pieces.
Fact-Checked AI Article Writer
As a creator of content, I understand how crucial it is to have accurate and reliable facts to inform my work. This is why I've used Katteb's facts-checked AI author. This feature is one of the best in the market and also helps me save time by making sure that the information is correct.
I've tested the best 10-plus AI authors out there and this one was the first to release fact-checked AI. I can tell that they're ahead of the pack.
Some of the top AI writing tools like Jasper and ClosersCopy don't offer fact-checking as of Q1 2023.
Katteb's AI article writer makes use of NLP (NLP) and its exclusive algorithm to validate facts prior to creating the piece.
The fact-checking AI can also help me write better articles overall by providing synonyms and other words that could improve my writing. It also flags potential mistakes or errors within my writing to allow me to correct them prior to publication.
Overall, I'm extremely amazed by Katteb's verified AI author. The program has spared me numerous hours of time researching and allowed me to write more accurate content than I have ever. If you're looking for an AI writing tool that can help you create high-quality content in a short time, Katteb's fact-checked writing assistant is a great choice.
Pricing Options
If it comes to price, Katteb AI Writing Assistant provides a range of plans to select from. The base plan is just $15 per month and comes with 30K words. This is a bargain as compared to paying the writer between $20 and $60 for an article. If you are looking for a greater package, Professional is offered at $20 per month and includes the full range of Katteb Beginners features with 100K words. The Experts plan is the best option for individuals or businesses that want to use the full Katteb services, all for just $25 per month, including unlimited words and all the options included in Pro and Beginners.
Overall, I feel that prices are affordable and provide a good amount of value for money. If you compare the 3 price tiers to Jasper AI and ClosersCopy's monthly subscriptions, you'll see that you're just paying a fraction of the price for a lot of great features.
Pros and Cons
When it comes to the use of Katteb AI, there are many pros and cons that you should be aware of.
The good news is that it is a plus that the AI copywriting program is user-friendly and productive. It is trained on a multitude of variables, allowing it to produce quickly complete pieces of content that have been verified to ensure accuracy. Furthermore, it can rewrite the content you have already written, allowing you to create original content for your website or blog.
Katteb comes with two other features - Katteb Plus and long-form writer. The former allows you to use fact-checked material for subheadings, and the second allows you to create fact-checked blog posts with thousands of words in just one click of the mouse.
Furthermore, using the Credible Writer feature can help create credible content on credible websites. This is particularly useful for those who write precise content for their blog.
In terms of price, there are three options that are available: Beginner, Pro and Experts. Each of them has various features based upon your spending budget. The Beginner plan offers access to the most essential features that are required for solo bloggers. The Pro plan includes more than 100,000 words and a greater degree of support. The Experts plan grants the users full access to features offered, including unlimited word count for only $25 per month. If you've been paying hundreds of dollars for writers per month, it's a tiny cost that is a fraction of the cost and helps me write a ton of content quickly.
In the end, Katteb AI Writing Assistant is a great tool for any content creator who is looking for a reasonable cost and an automated solution. Though it has a couple of drawbacks, such as not being capable of replacing humans, the software is an excellent option for anyone seeking to speedily and effortlessly produce high-quality content.
Katteb Bonus
I've put together an exclusive bonus for people that decide to get Katteb through this website. If you want to check it out, visit my Katteb AI Bonus Page.