Pictory AI Review: Transform Your Content into Engaging Videos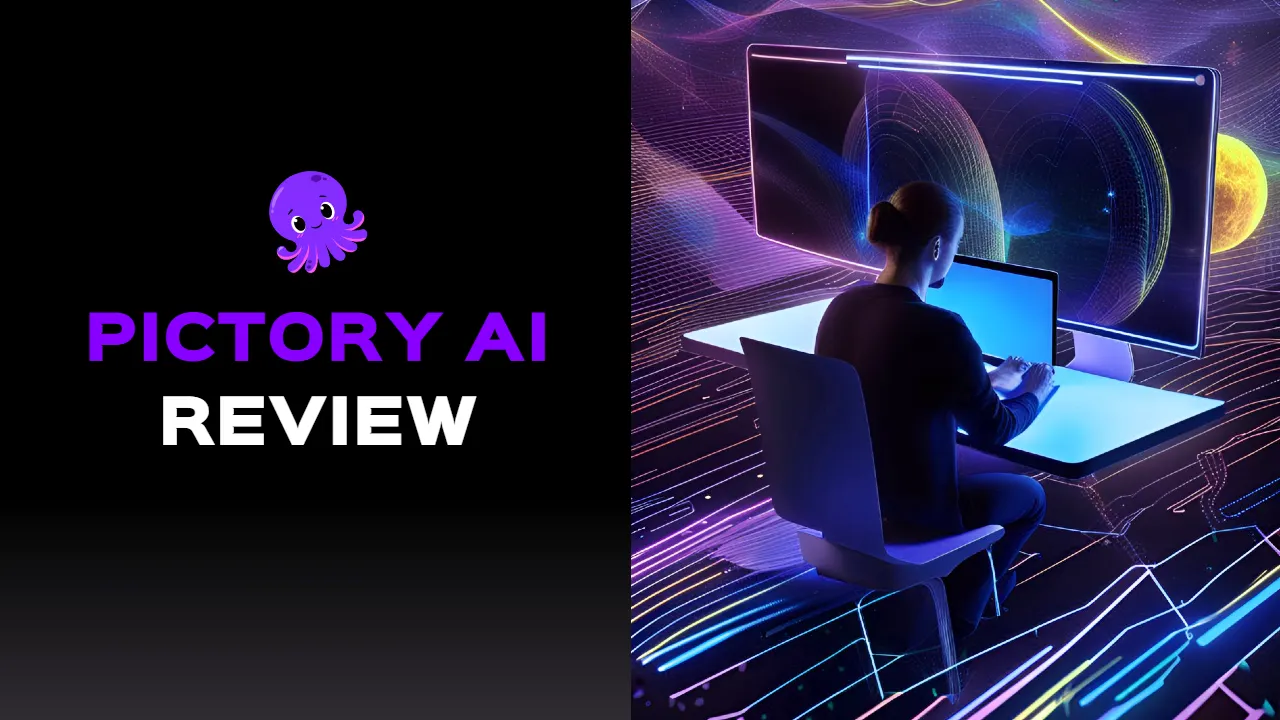 Pictory AI makes it possible for businesses of all sizes to create high-quality videos easily.
Uses advanced AI to convert text into videos with relevant images, videos, and audio.
Pictory AI helps you create faceless videos for YouTube, TikTok, IG Reels and more.
Pictory partners include Storyblocks, Getty Images, and ElevenLabs for quality assets.
It offers powerful features like video transcription, automatic captions, and content repurposing.
Are you looking for an easy way to create professional videos to market your business or share your expertise? Want to automate video creation without complex editing?
Pictory AI could be the solution you need.
In this comprehensive Pictory AI review, we'll explore how this innovative platform leverages artificial intelligence to revolutionize video content creation.
Let's dive in and see if Pictory AI is the right video creation tool for your needs.
An Overview of Pictory AI
We live in an age dominated by video content. Platforms like YouTube, TikTok, and Instagram thrive on video.
But shooting professional videos requires substantial time, resources, and technical skills. This leaves many businesses and creators struggling to keep up.
This is where Pictory AI comes in.
Pictory AI is an innovative artificial intelligence-powered video creation platform. It makes creating engaging videos as easy as typing or copy-pasting text.
The AI extracts key points from your text and automatically assembles a video. It adds relevant visuals, professional captions, music, graphics, and more.
Pictory essentially functions like an automated video production assistant. It reduces the complex process of ideation, scripting, shooting, and editing down to entering or importing text.
This simplification unlocks quality video content for businesses, marketers, course creators, and influencers looking to grow their brand and engage their audience.
But how exactly does this seemingly magical AI work, and what unique benefits does Pictory offer? Let's find out.
The Power Behind Pictory AI's Video Creation Technology
Pictory is more than just an automated slideshow maker. The secret lies in its artificial intelligence.
AI That Understands Text and Context
At the core of Pictory is an NLP (natural language processing) algorithm. It analyzes the text or transcript you provide as input and derives contextual meaning from it.
The AI goes beyond keywords to interpret the core essence and sentiment behind the text. This understanding facilitates the next steps.
Generating A Cohesive Storyboard
Using its comprehension of the text, Pictory's AI selects and sequences the most relevant scenes for your video storyboard.
The sequenced scenes form a logical, cohesive narrative that accurately represents your content.
Identifying Suitable Media Assets
Next, the AI dives into Pictory's media assets library to identify videos, images, graphics, and text that best reflect each scene.
The media choices enrich the video, enhance viewer engagement, and add production value.
Automated Voiceovers and Captions
Pictory's AI also auto-generates voiceovers and captions to narrate your video and make it accessible.
Captions boost visibility on social media where most videos play muted. They also improve SEO.
Streamlined Editing and Customization
Finally, Pictory provides an efficient editing interface to customize your AI-generated video. Trim scenes, tweak captions, swap assets - whatever it takes to make the video distinctly yours.
The AI does the heavy lifting while you retain creative control. This balance gives Pictory an edge.
Let's now see some specific use cases where Pictory AI can accelerate your video creation.

Repurposing Long Videos
Do you have long recordings of webinars, podcasts, or lectures? Pictory lets you extract short, engaging video snippets for social media.
The AI analyzes your video and automatically identifies the most shareable moments. You can tweak the length and content before exporting.
Blog Posts to Videos
Publishing blog posts alone limits your reach. Pictory lets you convert blog articles into 1-2 minute videos at scale.
The AI reviews your article, creates a script of key points, and generates a video with relevant visuals to represent it.
Auto Captioning
Adding captions is tedious and time-intensive. Pictory automates transcription and captions your videos in minutes through AI.
Automated captions are critical for social media videos viewed on mute. They boost visibility and reach.
The power of Pictory's AI unlocks game-changing efficiencies for enterprises and creators looking to leverage video. Let's now review its features.
Key Features and Benefits of Pictory AI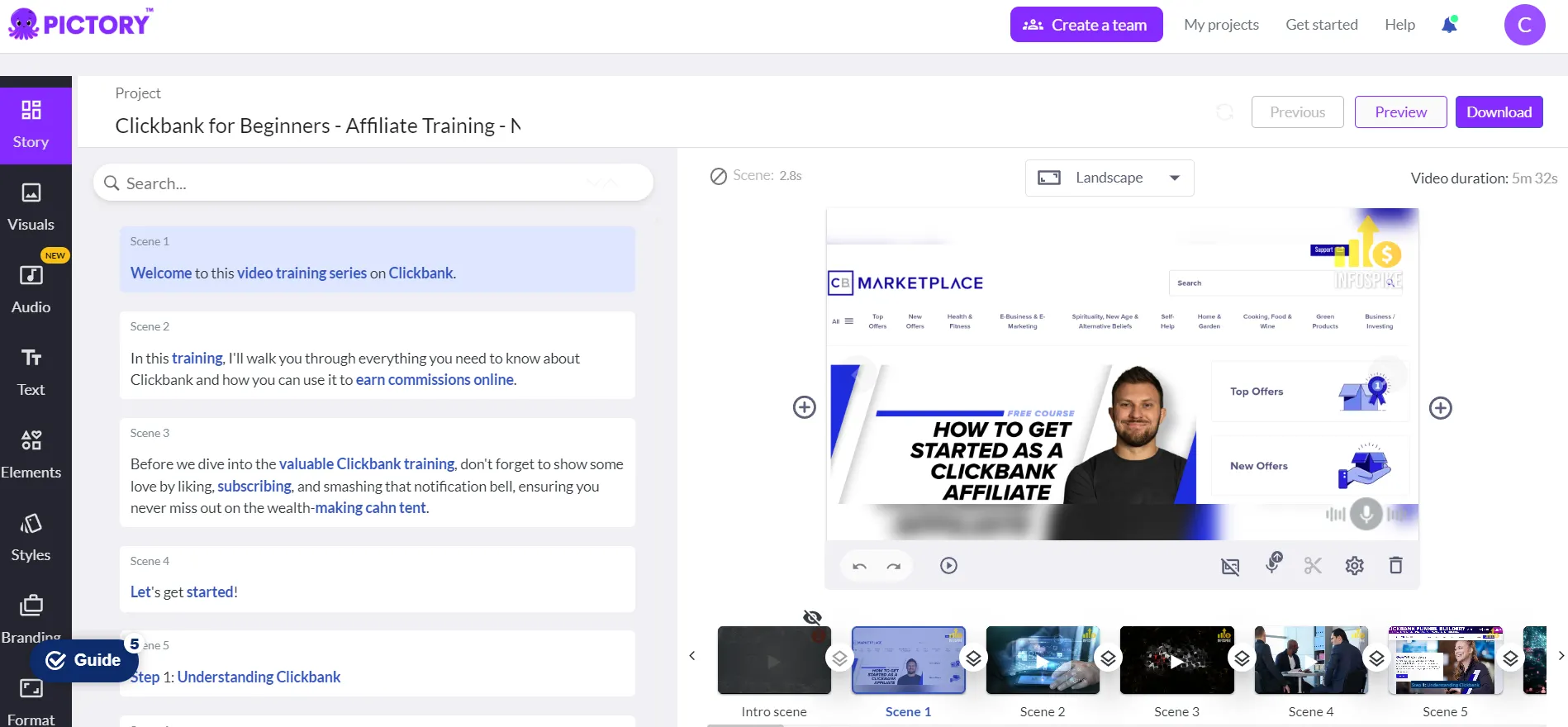 Pictory packs a robust suite of capabilities empowering users to create various video formats easily. Here are some of its most valuable features:
Diverse Video Styles
Leverage Pictory's professionally designed video templates to create marketing videos, trailers, explainers, ads, intros, outros, and more with just text.
Media Asset Library
Access Pictory's library of over 15 million stock videos, audio tracks, and images to elevate your video without complicated licensing.
Text-to-Speech AI Voiceovers
Pictory converts your script into natural voiceovers through its AI text-to-speech technology in a variety of languages.
Auto Transcription and Captions
Automatically add captions and subtitles to your videos by converting speech into text through AI.
Real-Time Preview
See changes happen live by previewing your video timeline simultaneously across devices as you edit.
CollaborativeWorkflow
Pictory enables seamless collaboration by allowing you to add team members to each video project.
Custom Branding
Easily incorporate your brand identity by adding logos, colors, intros, outros, and text.
Platform Publishing
Export your videos directly in the ideal format for different platforms like YouTube, Facebook, and Twitter.
Engaging Visual Effects
Apply cool transitions, animations, dynamic text, and motion graphics to make your video pop.
Integration with Hootsuite
Manage and schedule your videos across social media seamlessly by connecting Pictory with your Hootsuite dashboard.
Detailed Analytics
Get actionable insights into video performance through Pictory's built-in video analytics across platforms.
With this robust feature set, Pictory offers end-to-end capabilities for enterprises to cost-effectively produce videos at scale.
But what do actual users have to say about their experience? Let's check out some testimonials.
Pictory AI Use Cases
Pictory AI simplifies video creation for diverse use cases. Here are some uses cases highlighting how Pictory has impacted their content production.
Video Marketers
"As a video marketer, I love Pictory! It's enabled me to scale content creation and repurpose existing videos into different formats. The automated captions are a killer feature too. Overall, it's an indispensable tool in my arsenal."
Online Entrepreneurs
"I'm so glad I found Pictory! As an entrepreneur running a small business, I have limited bandwidth for creating video content from scratch. With Pictory, I can take my ebook script or blog post and turn it into a shareable video in no time. Total game-changer!"
Bloggers
"Breaking into video seemed so daunting until I started using Pictory. Now I can easily convert my blog articles into 1-2 minute videos to share on social media and YouTube. The AI perfectly summarizes my posts into videos that help me reach new audiences."
YouTube Creators
"As a YouTuber, I'm always looking for ways to create more efficiently. I tried Pictory's text-to-video feature and was amazed that I could take a simple script and transform it into a stunning video! The AI even matched my tone and style. Pictory helps me scale content on my channel."
The consensus across reviewers is clear - Pictory AI simplifies video creation and helps them unlock the power of video marketing.
Next, let's explore Pictory's industry partnerships that enhance its capabilities.
Strategic Partnerships Expand Pictory's Potential
To augment its platform, Pictory has forged partnerships with leaders in stock media, AI voices, and social media management.
Library of Premium Stock Assets
Pictory has teamed up with Storyblocks and Getty Images to provide access to an extensive library of stock videos, images, and audio.
Users can incorporate premium assets into videos without complicated licensing. This adds production value easily.
Hyper-Realistic AI Voiceovers
In partnership with ElevenLabs, Pictory now offers human-like voiceovers in 50+ languages powered by AI.
The integration of ElevenLabs' natural text-to-speech technology enables hyper-realistic voiceovers.
Direct Integration with Hootsuite
Pictory allows one-click integration with the Hootsuite social media management platform.
Once connected, you can directly manage and schedule videos created on Pictory through your Hootsuite dashboard.
This integration streamlines cross-channel video distribution and optimization.
By strategically collaborating with market leaders in AI voice, stock media, and social media management, Pictory extends its capabilities tremendously.
If you're not into Hootsuite, you can use the platform that I use to post and schedule Pictory videos across many social media platforms - RADAAR. I use it for many of my affiliate marketing promos.
Next, let's see how Pictory stacks up against competitors.
How Pictory AI Compares to Other Tools
The AI-powered video creation space has seen a surge of players like InVideo, Steve.AI, and more. But how does Pictory size up against them?
Here's a look at some key differentiators:
Editing Capabilities
Pictory provides timeline editing to customize videos, unlike limited editing with competitors. You can storyboard scenes, swap assets, trim footage and more.
Media Asset Diversity
With partnerships with Storyblocks and Getty, Pictory offers a wider range of media elements to incorporate compared to limited built-in libraries.
Advanced Analytics
Pictory supplies detailed analytics into video performance across platforms. Other tools have limited analytics.
Free Version
Pictory doesn't provides a free version.
Video Repurposing
Unique to Pictory is AI-powered repurposing of long videos into highlights or shorts. Others focus on just text-to-video.
With these advantages, Pictory emerges as a frontrunner in ease of use, customization, and analytics.
I have used Steve.ai and Invideo, and I think that Pictory AI is the best out of the 3. If you're into animation, then I would go for Steve.ai.
But what about limitations? Let's address some of those next.
Limitations to Consider
While Pictory makes video creation accessible, some limitations exist currently:
Text-to-speech voice quality - The standard AI voices, while serviceable, still sound robotic at times compared to dedicated services. They've partnered up with ElevenLabs to provide ultra-realistic voices.
Lack of graphics/motion design - Pictory is focused on realistic footage. For animated explainer videos, other tools like Steve.ai are better suited.
No direct video sharing - Videos have to be downloaded and re-uploaded to social platforms. InVideo has a sharing function.
Steep learning curve - While easy to get started, mastering video optimization on Pictory requires a learning curve.
However, Pictory offers exceptional value overall by democratizing quality video production for businesses and teams.
Let's wrap up with some final thoughts.
Pictory Simplifies Video Creation
Video is imperative for brands today to engage audiences and drive growth. Yet quality video creation remains out of reach for many businesses due to costs and complexity.
By leveraging advanced artificial intelligence, Pictory makes it easy for anyone to turn written content into professional, faceless videos.
Pictory's AI handles the heavy lifting of scripting videos, identifying visuals, and even generating voiceovers. The platform puts automated, scalable video creation in grasp for marketers, course creators entrepreneurs, and more.
With Pictory's top-tier partnerships, the platform simplifies the video production process from start to finish.
So if you're looking for an efficient, cost-effective way to unlock the power of video for your business, be sure to give Pictory a try today.