Yepic.AI Studio Review
In this Yepic.AI review, you'll learn how to easily create talking head explainer videos using AI.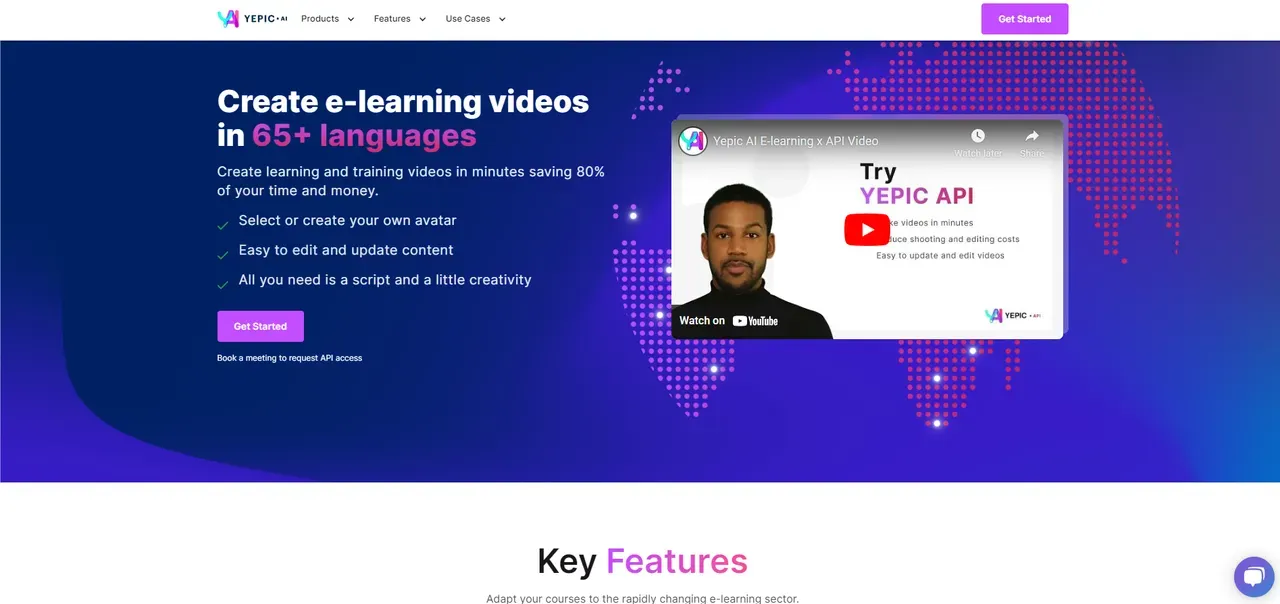 Are you looking for a way to create videos with the power of AI?
Check out Yepic.ai Studio! In this review, I will share my experience using Yepic.ai Studio and how it can help you create amazing content quickly and easily.
Introduction to Yepic.ai Studio
I recently came across Yepic.ai Studio, an AI-powered video creation platform. It allows you to create talking videos quickly and easily without costly equipment or actors. Intrigued, I decided to give it a try.
Yepic.ai Studio is an online platform that enables users to create AI-powered talking head videos in minutes. The platform is designed to be easy to use and requires no technical expertise or previous video editing experience.
You can easily create AI videos with custom avatars, dubbing or AI voices, and personalization capabilities, all without any expensive equipment or extra staff.
The Pros and Cons of Yepic.ai Studio
When it comes to Yepic.ai Studio, there are some definite pros and cons.
On the plus side, it's incredibly easy to use, works on most browsers, and allows you to add your own avatar photo and voice. It works with many apps such as YouTube, Vimeo, and BigCommerce, and video production starts at just around $30 a month.
On the downside, some users have found that the AI voice and avatars aren't as realistic or natural-sounding as they had hoped. There are still some characteristics that reveal that the talking avatars aren't human. For example, the lips aren't perfectly in sync with the voice. I've compared other solutions and Yepic's is actually one of the top solutions for this feature.
Overall, Yepic.ai Studio is a great option for creating talking head-style videos quickly and easily. It's perfect for explainer videos, acting as a presenter, or any other situation where you need a video quickly. With its low price point and easy-to-use interface, it's definitely worth a try for anyone looking for an AI-based video solution.
What Languages Does Yepic.ai Studio Support?
Yepic.ai Studio supports over 65 languages and over 100 dialects, which is great if you want to localize content. For those that are trying to scale their content in multiple languages, Yepic does have a separate API product that can be used. That means that you can automatically create videos for a global audience.
What are the Alternatives to Yepic.ai Studio?
When it comes to AI-focused alternatives to Yepic.ai Studio, there are several options out there. DeepWord, Elai, Synthesia and VistaSpeech offer text-to-video solutions. There are other non-talking head video options, such as Steve.AI, Pictory, Flixier, and BigVu, but they do not have all the features that Yepic.ai has.
My Personal Experience
I recently had the chance to use Yepic.ai Studio and I have to say that it was very easy for me to create a video. The AI voice over feature is great as it can generate voices in 65 languages. It also has a wide range of avatars to choose from, allowing you to create a talking video with a customized look.
The process of creating a talking video was very simple: all I had to do was type in my script, choose an avatar, pick an AI voice, then click on a button to have the system generate an AI video. The editing tools allowed me to customize my video further and add background images and music.
I will say that this wasn't the first AI avatar software that I used. I wanted to use a tool that would allow me to show myself on camera, without me actually being in it.
I ditched my last one because they overpromised and didn't deliver. When I tried to generate the video, the server was either down or it took over 10 times the duration compared to Yepic.
Overall, I found Yepic.ai Studio to be an intuitive and easy-to-use platform that allowed me to create a professional-looking talking video in minutes.
Here are my Final Thoughts on Yepic.ai Studio
After spending some time exploring Yepic.ai Studio, I'm impressed with the capabilities of this AI-powered tool. It allows users to create talking head-style videos in minutes with no need for expensive cameras, actors or studios. I appreciate the wide range of features and options available, including text-to-video technology, AI voice generator, realistic text-to-speech voices and more. Plus, it's easy to use and provides a lot of flexibility.
Overall, Yepic.ai Studio is a great option for anyone who wants to create talking head videos quickly and easily without breaking the bank. If you're looking for an AI-powered tool that can help you produce engaging videos at scale, Yepic.ai Studio is definitely worth checking out.