What Does A Brand Ambassador Do?
If you have ever asked yourself, "what does a brand ambassador do," then you've come to the right place.
In this article, you'll learn more about the career, the different types of brand ambassadors, and how companies find them. Plus, you'll learn how to become one!
But first, let's take a look at how to become a brand ambassador. Read on you'll find some key details on brand ambassadors.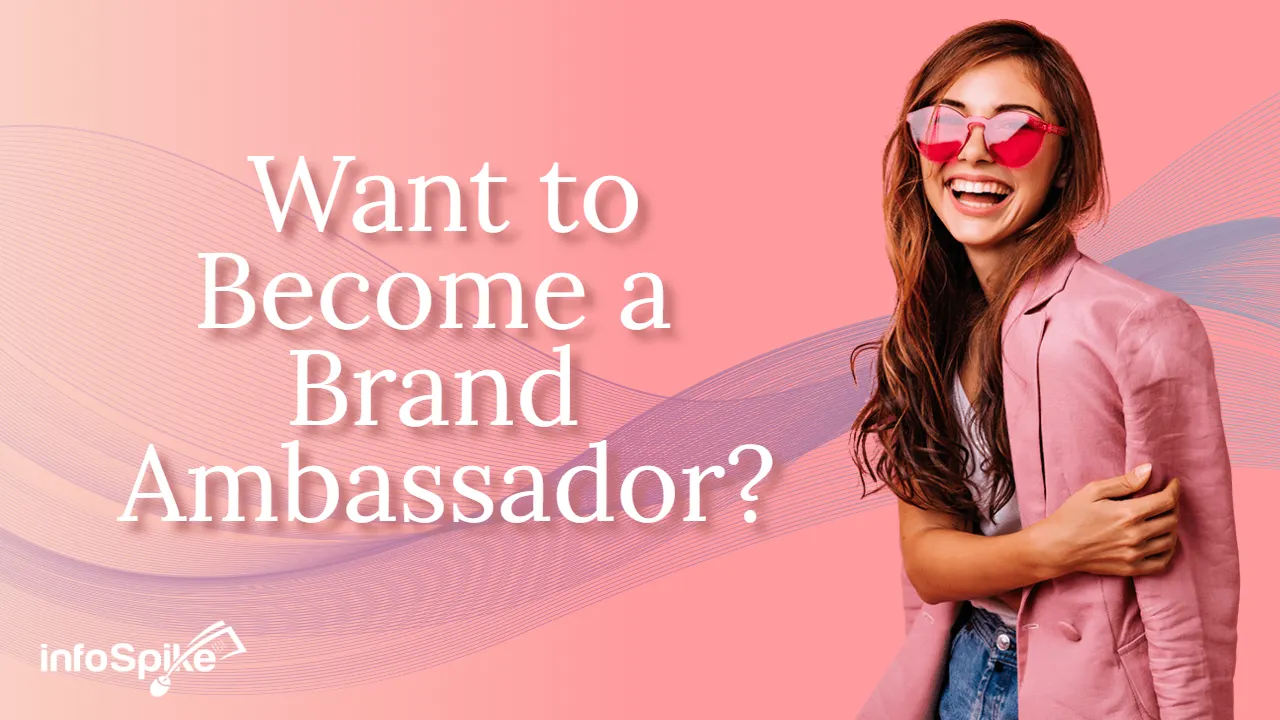 What Is a Brand Ambassador and What Do They Do?
Brand ambassadors are people who represent a brand and speak on its behalf. They help to build a positive company image, efficiently interact with consumers, and monitor competition. Brand ambassadors also track pricing, distribution, and movement. They may also help with new marketing ideas and develop schedules to promote your marketing strategy. A brand ambassador can work with any company, no matter its size or industry, to build their public image.
As a brand ambassador, you need to be highly knowledgeable about your brand. You should know your product inside out, be ready to answer questions, and be able to connect with customers. You should have a genuine love for your brand. Your goal is to build your brand by earning the trust of customers and attracting new ones. Brand ambassadors should be able to write well and speak to a variety of people, including customers, at various social media channels.
These brand ambassadors typically work for niche or specialty brands, such as musical instruments or climbing equipment. They may be widely known or are niche celebrities.
Being a brand ambassador is more than just being a promotional model or being the face of the company.
How Do Companies Find Brand Ambassadors?
How do companies find brand ambassadors? While the answer can be niche specific, a key characteristic is being highly engaged.
I'll discuss key traits for those that are looking for brand ambassador jobs, as well as people that want to do it as a side hustle.
So let's go over the job portion:
Having the right personality and a professional background may be desired. The brand ambassador's content and voice should be aligned with the brand's values and goals. Brand ambassadors become an extension of the company. Brand ambassadors become a great source of potential customers, providing extra hands and brains to the company.
A typical brand ambassador has at least a high school diploma, but many job listings ask for applicants to have a university degree. College students are particularly attractive candidates for brand ambassador programs because they are typically young and educated. Other requirements may include experience as a brand ambassador or familiarity with the company's marketing strategy. These requirements will vary based on the brand, but applicants with at least some marketing knowledge are likely to be hired.
As a side hustle, I'll give you my personal example. On Facebook, I was in a group that was focused on a certain type of product. I would engage with others and provide my own thoughts. In this situation, I provided my own testimonial of a product and the CEO of the company reached out to me. He was looking for a brand ambassador and asked me if I was interested. In return, I would have a special affiliate marketing partnership, upgraded product access, as well as get the insider scoop.
Once you determine which route to take, you'll eventually have to agree on some terms. I'll discuss this in the "Want to Become a Brand Ambassador?" section below.
What Makes A Good Brand Ambassador?
What makes a good brand ambassador? It's crucial to possess a positive, energetic personality that attracts other people. The most effective brand ambassadors are infectious with a passion for the brand they represent and products they promote. It's also essential that their enthusiasm for the brand is genuine, as this will influence potential customers. Brand ambassadors can be both specific and broad-based, depending on the type of brand they represent.
Ideally, a brand ambassador has a basic understanding of marketing principles. While they don't need a college degree, the best ambassadors understand the importance of authenticity in modern marketing and social media. Whether they're an experienced marketer or a newbie, they should be able to pitch ideas and create content that is relevant to the brand.
In addition to displaying a positive attitude, brand ambassadors should be well-versed in the product and/or service they're endorsing. These ambassadors don't necessarily need to have millions of followers, but they should be active on social media. Their followers will be more likely to trust their recommendations if they are consistently active and available. Similarly, brand ambassadors should be able to produce high-quality content, which will further expand the brand's reach.
A Few Key Brand Ambassador Traits
Some people are natural born salespeople, while others have a knack for attracting attention. No matter which career path you choose, there are certain traits that all successful brand ambassadors have in common. The best brand ambassadors exude a positive energy and a genuine enthusiasm for the product or brand they're promoting. They're unfailingly friendly and enthusiastic, and they're never afraid to meet people and develop relationships. They don't shy away from establishing credibility and ensuring customer satisfaction.
In addition to being outgoing, brand ambassadors need to be highly confident. They must exude confidence when speaking with customers, and their personal brand must be firmly associated with the company they represent. An ambassador's recommendations should be clear and accurate, and they must follow the rules of promotion. It's important to welcome constructive criticism and feedback with grace. Taking feedback constructively shows that they're eager to learn and grow.
What if you don't have these traits? I recommend growing them. Go to Meetups and socialize with others. Join a Toastmasters International club and boost your public speaking skills. There are so many things that you can do to enhance your critical thinking, confidence, and speaking skills.
Who Can Be a Brand Ambassador?
If you're considering a career as a brand ambassador, here are a few tips.
Choose a niche or product type that you're interested in
Search for brand ambassadors in your area. You can find positions like this in LinkedIn or Indeed.
Filter searches by modifying your search and adding terms related to your niche or product type.
Look at the minimum job requirements
Do you meet those requirements? Are there skills that you need to learn or improve?
You can use these online tools and start applying for brand ambassador jobs that suit you.
After doing a quick search on Indeed, I was able to find something like this:
Using Employees as Brand Ambassadors
Being a corporate influencer and brand ambassador has its benefits.
If you're just looking for an ambassador side hustle, being a corporate influencer might not be of interest.
In any case, the work revolves around the company's interests. It's a good idea to learn about the other side, and how employees can be used to influence the marketplace.
If you're an existing employee of a company, and you'd like to see how you can promote their brand, and perhaps earn a promotion, I'll dive into some details that might be useful.
Let's go!
I've worked for a wide variety of companies that know how important the internet is, but they aren't using ambassadors to build their brand.
So what can you do?
If you have what it takes to become a brand ambassador, you can help your company understand the benefits of promoting on social media.
Unlike marketing and sales professionals, employees can be great brand advocates because know a lot as an insider and can tap into their own circles of influence outside the company.
If the employee already has a presence on social media, they can also collaborate with other influencers.
While employees might be perceive as being biased, they also have a pre-existing connection to the company and can be subject matter experts when it comes to the company and their product line.
Employees can create that first impression. From answering the phone, to greeting customers at a networking event, to conversing with potential prospects, an employee's personal experience can go a long way in building a positive brand image.
Employees with a passion for their job are more likely to go above and beyond. Your prospective customers will see that loyalty and it can help boost the appeal.
Want To Become A Brand Ambassador?
Are you super interested in social media?
Do you want to be part of a promotional team?
Do you want to use your skills and experiences to build a career?
Whether you're building a side hustle, or you're looking for a job, you can use all that I mentioned in this article to start you career as a brand ambassador.
Of course, you'll have to do you due diligence to see what is the right opportunity for you.
How much time do you have to promote the brand?
How free do you want to be in promoting the brand?
Does the company restrict you from promoting third party brands?
Is the company legit?
How much will you get paid?
These are all extremely important as you evaluate your brand ambassador opportunities.
After you've been presented with an offer, you'll have to dig into the contract.
Before signing a contract, you should make sure you understand what exactly the role of a brand ambassador entails. You should clearly outline the tasks and responsibilities of the brand ambassador. In particular, you should outline the content requirements for posts on social media, including the frequency and words used. Your brand ambassador agreement should specify how you plan to use social media.
Whether you're in a job, or doing it as a side hustle, the company has to protect and grow their image. The way that you communicate their brand is crucial to their success. So make sure that you know what you're getting into, what the expectations are, and company-specific restrictions. For example, can you promote multiple brands, or are you a captive brand ambassador that can only promote a single brand? These types of details are extremely important, and you may need to negotiate to find some common ground.
Conclusion
Being a brand ambassador will allow you to grow yourself, and grow the company. You'll have the remarkable responsibility to scale company by using your personality and your ability to influence others. If you're ready to become a brand ambassador, there's no better day to start than today!