Brandon Turner's Top Real Estate Tips
If you're a fan of Brandon Turner from Bigger Pockets, here are some of his top real estate tips.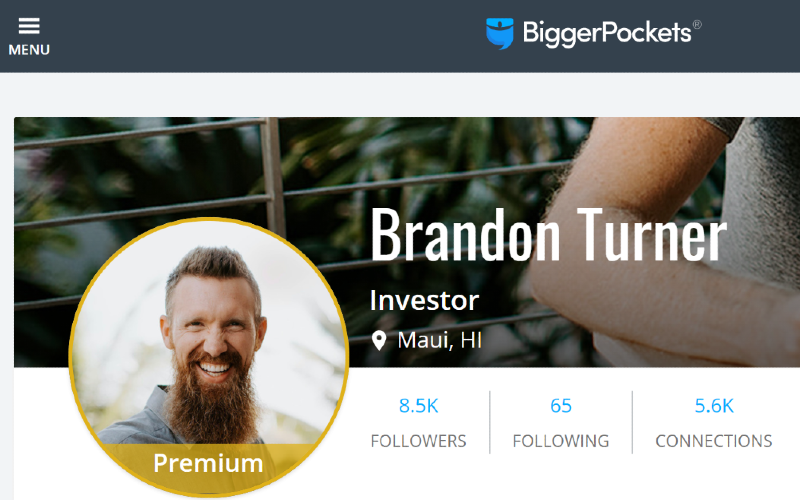 If you are wanting to learn about real estate investing, then you should learn from the best. And one of the best in the business is undoubtedly the legendary Brandon Turner. You may not have heard of Brandon's name personally, but chances are you would have heard of his website, Bigger Pockets. Like many successful entrepreneurs, Brandon Turner loves to share his expertise and has provided some of his best real estate tips with the world. So, let's learn a bit more about who this savvy investor is, and what he has to teach us.
Who exactly is Brandon Turner and what is Bigger Pockets?
According to Entrepreneur, Brandon Turner is a real estate mogul who started at a young age, purchasing his first home at the age of 21. In the 14 years since that first purchase, he has grown his portfolio impressively. He now has a net worth of over $2 million. and this shows no signs of slowing down.
If you have ever checked out the world wide web for real estate information, chances are you would have stumbled across the Bigger Pockets website. Brandon Turner is the VP of growth at Bigger Pockets, and is responsible for a lot of the informative content you will find on there. There is also a Bigger Pockets podcast, which is one of the top-rated real estate podcasts on iTunes.
You can find Brandon's real estate expertise outside of Bigger Pockets. He is the author of several books including (to name a few):
The Book on Rental Property Investing,
The Book on Investing in Real Estate with No (and Low) Money Down
Managing Rental Properties
These books may be simply titled, but the information found in them are revered in the real estate investment world.
Tip 1. Pick a strategy
And most importantly, once you have chosen a strategy, stick to it! Brandon Turner admits on his Bigger Pockets website that there are a ton of ways to invest in real estate, and it can be easy to get overwhelmed and feel like you need to do everything at once. But a much better approach is to pick one strategy, stick with it and become an expert. It does not matter which strategy you choose, whether it be house flipping, house hacking or renting out a single-family home. The particular strategy is not important, as long as you are doing something and doing it well.
Once you are confident in your real estate abilities you can branch out into different areas, but to begin with it will be much easier to concentrate on two house flipping investments than one house flipping and one rental property. This way you can become a master at whatever strategy you use, and you will find that your chances of success will be much higher.
Tip 2. Focus on cash flow and cash return
While many people find investing in real estate to be rewarding and enjoyable, lets be honest and admit that you are in it for the cash flow. An investment is only as good as the cash it generates, and there is absolutely no point in starting an investment in which you are going to be at a long-term loss. So the second tip that Brandon Turner offers up in NateLiason is to aim for a minimum cash flow and cash return. His advice:
For a single-family home, try to achieve $200 per month cash flow. For multifamily properties, aim for $100 per month per unit.
When calculating potential cash return, the stock market average sits around 7%. In real estate, try to double that and aim for around a 12% cash on cash return.
Knowing what cash flow and cash return an investment will bring is a good way to determine whether a particular investment is going to be a good choice. Of course, there ae variables that will influence these, but you can still steer clear from investments that offer nowhere near as good as these figures.
Tip 3. Educate yourself
Brandon Turners third tip would have to be his most important. This is the reason why he has devoted so much time in creating educational material and written so many books., Because he knows the importance of education and understanding exactly what you are doing. Especially when it comes to real estate investing. Making a mistake in real estate can be extremely costly, so by educating yourself you can minimize risk and maximize the potential for success.
The areas that Brandon Turner suggests that you pay particular attention to include the following.
Cash Flow. Understanding where the money comes from and how best to utilize it.
Appreciation. A lot of value in real estate comes from appreciation.
Loan Paydown. Chances are you will need a loan or two for your investments. So understanding how the loan paydown and loan payments works can be greatly beneficial and can save you a lot of heartache.
Tax Benefits. Tax benefits are what persuades a lot of initial investors, and you can be amazed at what you can write off as a deduction. The more you know, the more you can save at tax time.
It does not matter how you educate yourself. You could spend time reading books or listening to podcasts. Or you could partner with someone who has experience and has a grasp on real estate investing. But it is important that you do not jump into the real estate world being blind and naïve.
Conclusion
There is a reason why Brandon Turner has been so successful when it comes to real estate investment. It is because he knows what he is talking about and has been in the business for nearly 15 years. So, if you are wanting even a fraction of his success, then take notice of some of these tips and learn from what is undoubtedly a master of real estate.