Stefan Aarnio's Top Real Estate Tips
If you are wanting to get into the real estate investment market but are unsure where to start or what the best approach is, then you should make yourself familiar with the teachings of Stefan Aarnio.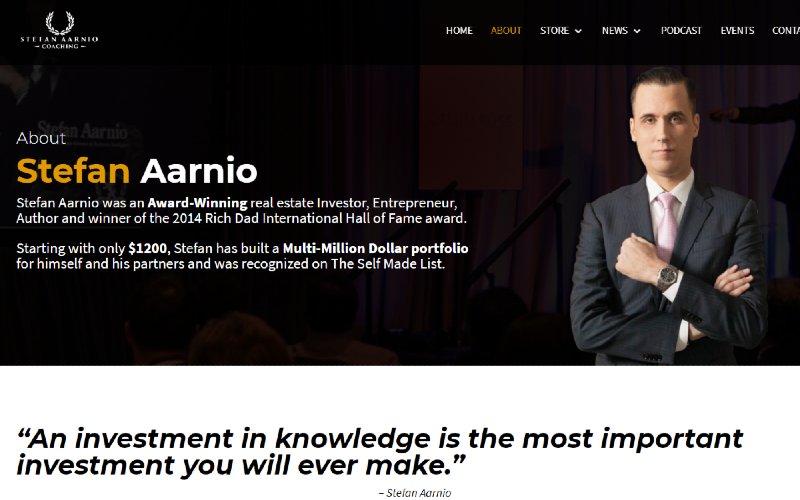 Real estate investing can be daunting and tricky, so it is definitely recommended to get help. But not everyone is able to get one on one coaching with experts. This is why real estate gurus like Stefan have decided to share some of their tips in how to make it big in real estate. So, who is Stefan Aarnio and what are his top real estate tips?
Who is Stefan Aarnio and what is he known for?
The best way to learn about Stefan Aarnio is through his official website, which mentions his achievements and provides inspiring quotes such as 'an investment in knowledge is the most important investment you will ever make'. Stefan is a Canadian real estate investor and winner of the 2014 Rich Dad International Hall of Fame award. One reason why he is so relatable and respected is that he made his fortune in real estate from nothing. He started out with $1200, and from that built a multimillion-dollar real estate portfolio. So, if anyone is able to provide assistance for those in a similar position wanting to make it big in real estate, then it is Stefan Aarnio.
Stefan is more than just a real estate tycoon. He also loved to share his knowledge and secrets to success by publishing articles and books. He also ran his own podcast series called 'Respect the Grind'. He also loved to speak live to motivate others to experience his success and could be found at real estate seminars and bootcamps. Although he has sadly passed away recently, his teachings are still available for us all to learn from. So, what are his top real estate tips?
Tip 1. Get as much knowledge as you can.
As a motivational speaker and real estate coach it is no surprise that Stefan Aarnio's most important tip is to learn and gain knowledge. On his website he speaks about the mistakes he has made when he was starting out in real estate. He recognizes that had he had the opportunity to learn from an expert, he could have become successful that much quicker. One should never underestimate the importance of knowledge. Especially in regard to something as risky as real estate investments. Making a mistake in an investment can be costly, and one big mistake can wave goodbye to a real estate career. Education is one of the only real ways of minimizing risk with investments.
There are many ways in which you can learn and gain knowledge, and how you choose to educate yourself depends on your preferences. Whether you decide to read a few books, listen to some podcasts, watch YouTube videos, or even attend a real estate bootcamp, it does not matter. As long as you when you do finally start your investment journey you have a broader knowledge that you did before, then you will be in good stead.
Tip 2. Expect your first investment to fail.
Although a tip on how to avoid your first investment from failing would be preferred, Stefan Aarnio is more realistic. Therefore, his second tip is about managing expectations. It does not matter how prepared you are or how carefully you invest. It is a reality that your first investment will likely be a failure. And this is ok, especially if you expect this and learn from it and grow from it.
On his website, Stefan Aarnio states that having your first investment be a failure or at least a learning curve is almost a rite of passage. It is how you learn, and the only way you can be truly successful in something like investments is to learn. Success rarely exists without at least a small amount of failure. By expecting and managing the first investment, you can minimize the negative impact and make your next successful investment one that really counts.
Tip 3. Fix and flip houses.
If you are looking for a way to make money in real estate sooner rather than later, then fixing and flipping property is the way to go. This is in no way a get rich quick scheme (they do not exist), however it is definitely one way to make a decent amount of money without waiting for 30 years like some investment strategies require. Stefan Aarnio mentions on his YouTube channel that he has found great success in building his wealth through the fix and flip, and so can you. There is a reason that there are so many TV shows dedicated to flipping homes – it is a money maker, and it works.
The way that fixing and flipping houses works is very simple. You purchase an older property that is in disrepair. And then you spend more money to fix it up. Whether it be by renovating it or changing it somehow to raise the value. Then you can either rent it out or better yet, sell at a much higher amount than you previously purchased it for. The main obstacle to the fix and flip is that it requires a fair bit of upfront cost and some hard work. But if you are able to find the capital and get the work done, then you can easily turn $100,000 into $300,000 or more.
Conclusion
Stefan Aarnio was a highly respected and much-loved real estate mogul who loved teaching about real estate as much as he loved investing in it. He saw much success over the years and thankfully he was willing to share his knowledge and insights with those also wanting to make it big in real estate. While there is no guarantee of success for real estate investing, by following his tips you will be setting yourself up for a long and successful investment journey.