Edinburgh and Glasgow, Scotland: The Top 9 Tourist Attractions That You Must See
Are you planning to go to Edinburgh or Glasgow, Scotland? Here are my favorite tourist attractions.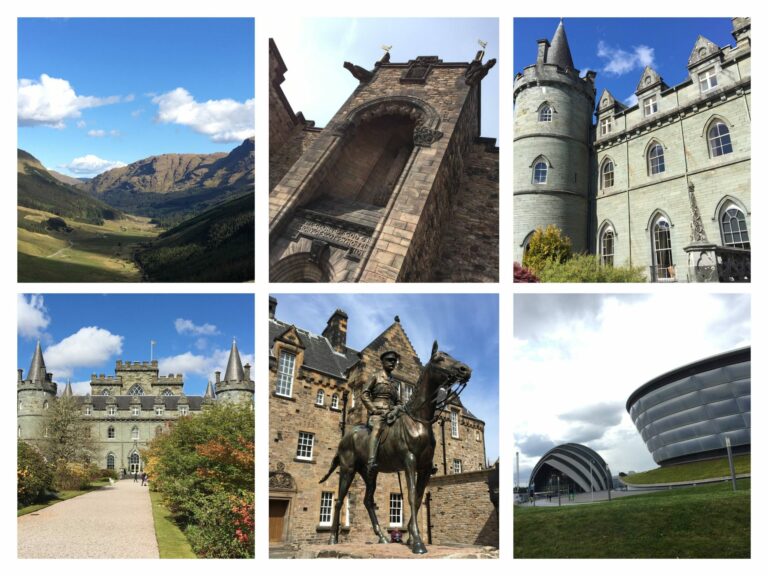 Scotland will always be famous for its breathtaking scenery and rich history, with its rolling hills, panoramic vistas, and old castles. If you are considering a journey to this beautiful country, then we have to tell you this controversial tidbit. In Scotland, there is an old rivalry between its great cities of Glasglow and Edinburgh. Glasglow happens to be the bigger city with more heft and people, while its east coast rival Edinburgh is the country's capital that houses the seat of power. Both destinations definitely have a lot to offer.
But honestly, if you ask us, a trip to anywhere in Scotland is a win in itself. No matter which town you end up in, you will have a great time. After all, Scotland is a charming country with more than six thousand miles of coastline, intriguing historical structures, endless outdoor adventure opportunities, and even a bustling nightlife. Scottish whiskey anyone?! Of course, we understand that just like us, time and money are important considerations, so if you are pressed in both areas, you may have to choose just one destination. To help you figure things out here are some nuggets of information about each of these places, along with an inventory of other popular tourist attractions.
Dive right in and take a look:
Glasglow versus Edinburgh
Those that are considering a visit to these two places will be happy to note that they have unique qualities that make them ideal places to visit. There are actually only 51 miles that separate the two cities, but they still carry distinctive alluring qualities that deserve to be discovered and explored. To truly get a feel of Scotland, a visit to both would be the most ideal.
Glasglow
Glasglow is bursting with artistic culture, awesome music, fabulous restos, and modern amenities while keeping its old-world charm. History and heritage are rich in this place as it retains the architectural touches from its 18th to 20th-century prosperity when trade and shipbuilding were robust. If Edinburgh is known for being Scotland's capital, Glasglow is known for being the capital of culture. In fact, Glasglow was once named as the European Capital of Culture because of its thriving theater, music, and art scenes.
The town has a lot of old museums where you can get a fill about the history and the arts. Music lovers can also listen and watch shows at the popular modern exterior of the auditorium called the SEC Armadillo or you can also watch music or sporting events at the contemporary indoor arena called the SSE Hydro.
The town also promises good eats and a great nightlife. You can choose to hang out at popular The Raven Glasglow, which sits in the heart of the city center. They are nesting along Renfield Street, so be sure to pass by to get a taste of their properly grilled sandwiches, delicious meats, and craft beers that focus primarily on Scottish breweries. You can also choose a cocktail and enjoy it with your chosen chow right in front of the 11 big-screen TVs that are strewn all over the place.
Another popular joint is The Butterfly and the Pig with its shabby chic interiors and amalgamation of mixed matched furniture. Somehow, all of these details work well with the vintage wallpaper to create a unique vibe that gives the venue a relaxing aura, making it the perfect place to unwind with friends. They combine funky menu items like Le Creuset fishcakes or Cilla the Black with classics like steaks, fish and chips, and burgers.
Café De Jaconelli along Maryhill Road is another popular place in Glasglow. They have been serving the city since its inception in 1924. They are famed for their traditional fare and comfy vibe that has kept the secrets of its many patrons through the years. This café is rich in history, which is the reason why it was featured in a movie called Trainspotting.
Edinburgh
Being the capital of Scotland, this city is the hub for traditional culture. The moment you step into the city, the first thing you will notice is that old whiskey bars abound offering the country's famous haggis. You will also be sure to spot someone playing the kilt and a bagpipe. You can't get any more Scottish in imagery than that!
On top of that, culture runs so much deeper with their medieval-inspired city center and historical museums. The Royal Mile, with its diverse shops and hidden gems in alleyways, feels like a preserved period from history. If you imagine it without the modern tourists, it is as if you're traveling back in time to the country's old-world glory. The walkway is lined with cobblestones and Gothic-style buildings that are hard to forget.
Walking through Edinburgh's Old Town, you will feel that history is literally breathing and living around you. It will be reminiscent of walking in a Harry Potter movie because many scenes were actually shot in this area. Some spots may also be familiar because the movie Transformers also shot several of their scenes in this beautiful town.
If you're in search of a great nightlife join a pub crawl, which literally takes you out on a tour of many decent whiskey bars and clubs around the city. Usquababae Whiskey Bar and Larder along Hope Street is a great choice. If you want to try everything, you can opt for their six-course tasting menu which offers traditional Scottish comfort food like steak pies and haggis and more avant-garde dishes, along with their amazing whiskey selection. The staff will explain the intricacies of each dish and why it was paired with a particular whiskey.
You can also join a ghost tour, which takes you on a two-hour walk around the gruesome, ghastly, and ghostly places in Edinburgh where murder and mystery about. Just be sure to that you will not miss capping your day off in the White Hart, which is an experience in itself as the place is centuries old dating back to as early as 1516. You can kick back with a good cup of beer and a steak pie as you bask in the walls, which has lived through so much history.
The Castles
No visit to Scotland is complete without immersing yourself in a castle. This old world attraction has become an iconic Scottish tradition, which many guests enjoy to the hilt. Let us take a look at the two most popular ones called the Inveraray Castle and the Edinburgh Castle.
Inveraray Castle
This is the ancestral home of the Duke of Argyll, located in the West coast of Scotland built in the 15th century. It is considered as one of Scotland's most beautiful and stately homes. The castle's beautiful grounds and gardens are picture-perfect already, featuring several pathways where you can take an afternoon stroll. The exterior turrets and battlements look as if they have been taken out straight from a fairytale book. The exterior of the castle walls is so popular that they were once featured in the hit TV series Downtown Abbey Christmas 2012 episode.
The castle contains various rooms with its vast collection of antique furnishings and artworks. It has a sizeable armory hall that displays more than 1,300 weapons from muskets, axes, polearms, and even chainplates for body protection. Teas and scones are served in the gift shop, which you can enjoy while looking out at with the panoramic views from its high windows.
Edinburgh Castle
This is a historic fortress that dominates the skyline of the capital city. This sits on the famous Castle Rock, and it has been documented to be established as early as the 12th century during the last reign of David the first. This stands at the head of the Old Town, having served as the primary camp during the many sieges and occupations during the olden Scottish war-torn era.
As such, this castle houses the Scottish regalia. It is also the site of the Scottish National War Memorial and the National War Museum of Scotland. There are other regimental museums inside the castle, which contribute to the tourist attraction. Inside the gates in the Argyle Battery are several towers that overlook Princes Street. The later is noted for being showcased in the popular chase scene in the hit contemporary movie called Trainspotting.
Scottish Highlands and Oban
Another must-see attraction is the Scottish highlands and the Oban. The Oban is a resort town located within the districts of Argyll and Bute. The town may be small compared with the other cities in Scotland, but during the tourist season, it is capable of housing and accommodating as much as twenty-five thousand people. It is famous for the Oban distillery, Mc Caig's tower with its sweeping bay views, Dunollie Museum, Castle, and Grounds, which is the ancient ruins of an ancestral clan home, and more.
As for the Scottish Highlands, it is a historic region that is used for the area north and west of the Highland Boundary Fault. The area is barely populated because mountain ranges dot the region. This includes the highest mountain the British Isle called the Ben Nevis. This is the only area in the British Isles to have a taiga biome. The Scottish Highlands fascinating scenery has made it the perfect set for Hollywood movies like Harry Potter, Skyfall, The Highlander, and Braveheart.