GVO Review - Web Hosting, eResponder, and Easy Video Producer
In this article, I'll go over my GVO Review. You'll find information about their web hosting, autoresponder, and Easy Video Producer service.
GVO (GoGVO.com) isn't just a website hosting company, they offer a marketing toolkit geared for "internet marketers". While GVO was only created in October 2009, it's history and experience goes back to over 12 years ago.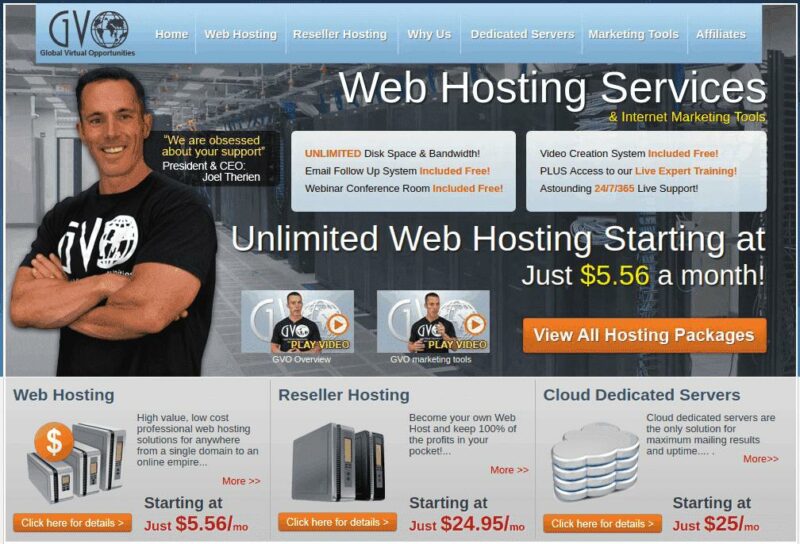 Let me explain why I've been using GVO for my business:
They offer a rock-solid website hosting service
They have a very affordable autoresponder system with a high delivery rate
They offer public and private video hosting
They offer a small-group web conferencing system
They offer an automatic blog creation system
GVO Web Hosting
Since the mid-'90s, I've tried out dozens of website hosting services. Nothing has come close to the level of stability and service that GVO has provided me.
The Titanium reseller account that I got first has been working well for me since 2009. I didn't notice any significant downtime and the performance has been quick for both static and dynamic (database) data.
The 2nd account that I have with GVO had a rough start. I did notice that my site was pretty slow and was down quite a bit. The GVO team worked hard in transferring my site over to another server and I everything worked well since then.
How About Their Customer Service?
If you're a mass website builder, you'll realize that excellent support is extremely rare. Many of the big hosting companies use overseas support companies that only can provide templated responses...and then you have to wait days until you receive advanced technical support.
What I like about GVO is that they have "experienced" staff to offer support - and I get answers within an hour for my low-to-medium priority tickets...and sometimes within several minutes. Since the staff is experienced, there isn't much back-and-forth communication trying to figure out what was wrong. Many times they have the right answer within the first response.
Regular Web Hosting or Reseller Package - Which One is Better for You?
Price update (as of 6/21/2022):
Personal Plan with 1 domain: $7.16 a month
Business Plan with 10 domains: $7.96 a month
Enterprise Plan with 20 domains: $11.96 a month
The prices shown below are from my review update in 2019.
If you're just looking to host 1 site, then you can start off with their "Personal Web Hosting" package for $5.56 a month. They provide unlimited disk space and bandwidth. It's great if you're looking for a site that is easy to administer through cPanel - one of the most popular hosting dashboards around. cPanel comes with all of the typical tools and a way to easily install web applications such as WordPress.
If you're an internet marketer, then you'll want to check out their reseller account package that starts at $24.95 a month.
When I first started, I purchased the Titanium reseller package right away. Why? Because GVO offers unlimited campaigns for its e-Responder email marketing system. With the Gold reseller package, you can only have 5 email campaigns. With all reseller accounts, you can host an unlimited amount of videos with its Easy Video Producer video system.
GVO Web Hosting Pricing Matrix (Updated on 8/12/2019)
Reseller Hosting Update: As of 6/21/2022, the reseller price model has not changed for Gold, Titanium, and Diamond.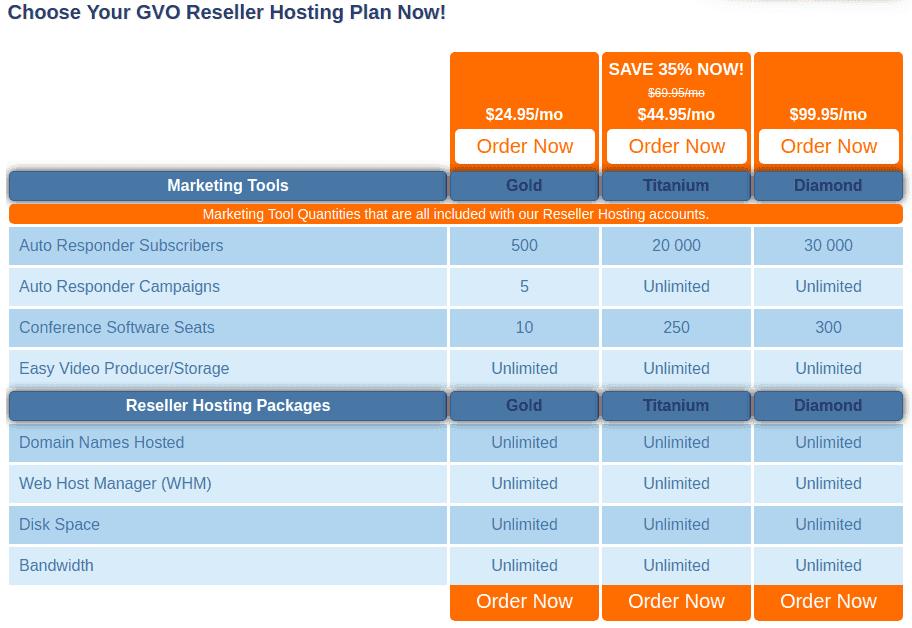 GVO Reseller Hosting Pricing Matrix (Updated on 8/12/2019)
GVO Autoresponder (eResponder Pro)
One of the best ways to build a business is to build a relationship with your prospects through constant contact. You can do this with the phone, meetings (1-on-1 or in a group, or with regular mail, but those are either too time-consuming or cost a lot of money. With the internet, you can do this through email.
Autoresponders allow you to build relationships and maintain contact using an automated system. With eResponder Pro, you can also send out hundreds or thousands of emails in 1-shot, without being flagged as SPAM - and that's very easy if you're using a free email system like Yahoo, Gmail or Hotmail.



GVO eResponder Interface
eResponder Pro Features
Create unlimited groups/campaigns (with Titanium Account)
Send in HTML or Plain Text
Easy to use HTML editor
High deliverability rate
Personalize messages with custom fields
Email broadcasts
Unlimited Autoresponder campaigns and follow-Ups (with Titanium Account)
Professional forms to choose from
Send single messages
Timed sending of emails
Powerful subscriber filtering and sending
Unsubscribe function
Daily activity report
Advanced click tracking and reporting
Bounced message handling
After doing some research, here is what I've found:
Regarding Price
eResponder offers one of the most affordable autoresponder systems. You can't just get the autoresponder system alone, it's a bonus for getting their web hosting. With that being said, the cost is still lower than some of the most popular email marketing platforms if you get the higher level reseller packages.
Here's my cost analysis if you're just looking at subscribers and the out-of-pocket costs.
If you get the Gold package, then the maximum amount of subscribers is 500 for $24.95.
If you get the Titanium package, then the maximum amount of subscribers is 20,000 for $44.95.
If you get the Diamond package, then the maximum amount of 30,000 for $99.95.
If we break that down per a subscriber, here's the cost:
Gold package: 5 cents
Titanium package: 0.2 cents
Diamond package: 0.3 cents
Overall, the Titanium provides the most value if you're wanting to use the GVO eResponder system for your email marketing.
Delivery Rate
Both GVO and Aweber have a "Good" reputation rating based on Cisco's email reputation checker. According to Cisco, the "Good" rating means:
"Little or no threat activity has been observed from your IP address or domain. Your email traffic is not likely to be filtered or blocked, allowing for trouble-free email delivery worldwide."
Yahoo received a "Neutral" rating which means:
"Your IP address or domain is within acceptable parameters. However, your email traffic may still be filtered or blocked. Typical senders in this category include low-volume senders, senders with asymmetrical or unique sending patterns, or senders who have had problems in the past who are transitioning to a Good reputation score. Senders with Neutral reputation scores should have no problems delivering mail to most places on the Internet."
Is GVO Better Than Aweber?
Free Online Business Building System: Get a direct marketing and selling system that includes your own website, lead capture pages, email marketing system, free training, a way to build your own sales pages, a way to get traffic - an all-in-one system, get your free account.
To be fair, Aweber does have a lot of features that GVO doesn't. Aweber's key functionality is the number of analytic options, ease of use, and the ability to integrate with many 3rd party systems.
If I just focus on getting stats, GVO does tell me how many people subscribe, how many people unsubscribe, visit my opt-in page, how many people open their emails, complain, blocked, who is confirmed or not, and more.
They offer all of the key features such as creating various campaigns, single and double opt-in, sending out broadcasts, and creating scheduled emails for their autoresponders. That's plenty of features for people that are just starting out.
Besides the typical autoresponder and email broadcasts, GVO also has the ability to create automated rules. So if you're an intermediate to advance user, you can either automatically unsubscribe or subscribe users to various lists. This is a great feature that you can use to segment your campaigns and build your core list. GVO offers an unlimited campaign autoresponder system with their reseller hosting account.
Should You Use eResponder?
If you're looking for an affordable entry-level autoresponder, then GVO offers a great system. If you're looking to grow a huge subscriber list for the long-term, I would recommend Aweber or GetResponse instead.
Changing from 1 autoresponder to another is an easy task, but that could lead to a loss in subscribers since most of these managed systems don't like importing leads that might have been purchased or scraped. With Aweber, they've been growing their features year-after-year and there's a lot of powerful features that can help you grow your business over the long-term.
GVO Easy Video Producer
GVO has its own video hosting system called "Easy Video Producer" (aka EVP). Before using this, I was using Amazon S3 to stream videos...which is pretty difficult to use if you're not a techie.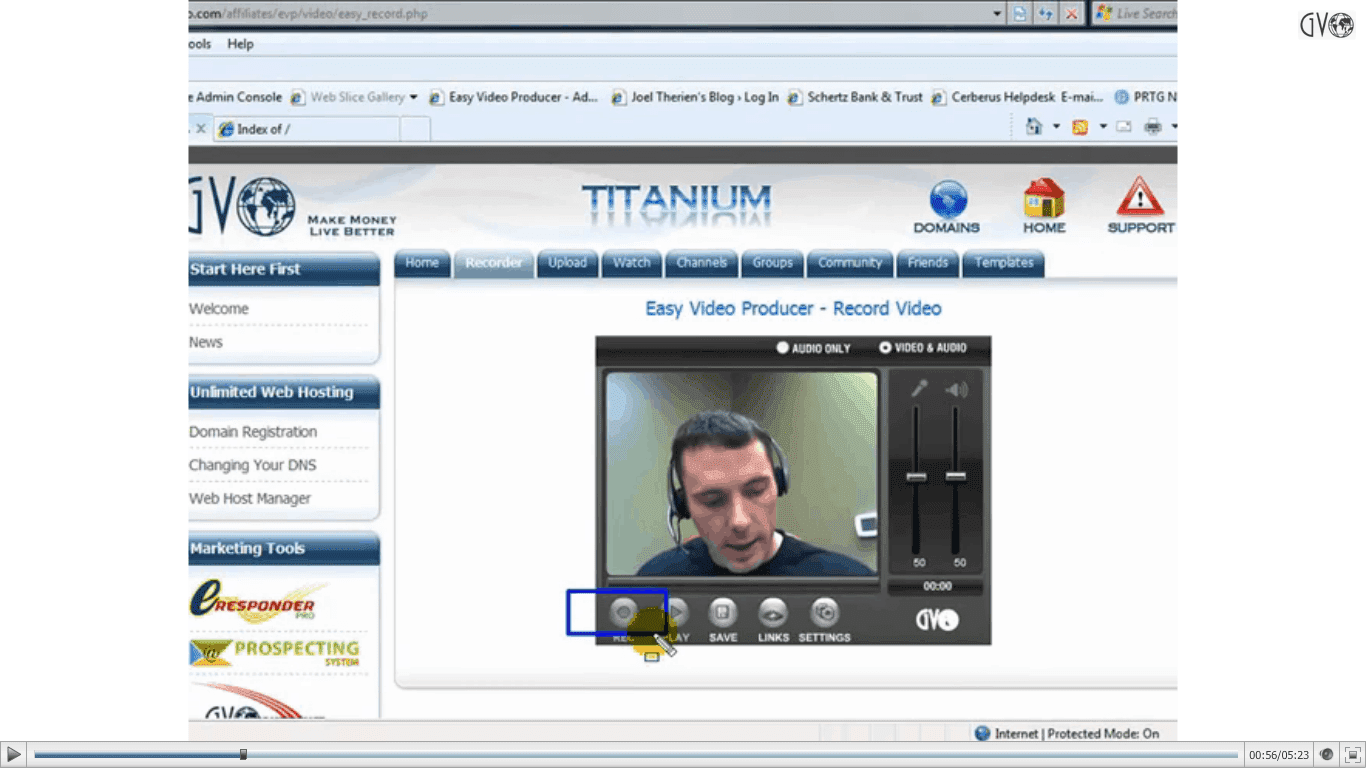 GVO Easy Video Producer
Easy Video Producer Features
Record easily with a webcam
Select from audio-only or both audio and video
Create your own titles, description, and keywords
Over 100 Easy to use Professionally designed templates
Easily Upload in minutes
Record with camcorder and upload
Community forums to share and learn
If you're just starting out, this is a great system and it's easy to use like Youtube - however, the biggest difference is that it's made for marketers.
Video Functions for Marketers
Let's say that you're using a video to promote an affiliate program. You can show the video and then after it's finished, it will automatically redirect the viewer to the offer that you'd like to promote...and it's extremely easy to set this up.
Looking at the image above, you'll also see that you can turn controls off or on, enable or enable play on load, fit the video to the player, and even include your own watermark. To add to that, I can even set my videos to be public or I can set them as private so they aren't found by other GVO users or via Google.
Another thing to keep in mind is that GVO isn't charging me for bandwidth as Amazon does. With my GVO Titanium account, I can host an unlimited amount of videos and stream as many as I want...without any additional charge!
Conclusion
GVO has a great suite of tools at an extremely affordable price. For my technology stack, I like to use technologies that are solid, fit my business requirements, and are able to scale as I grow my business. When I've scaled out my businesses, my business requirements changed along the way. There have been cases where the providers have changed their technology as well and they didn't fit my business model.
Here are my current picks:
For web hosting, I highly recommend SiteGround. Their managed WordPress service is rock solid, more modern, highly secure, and can perform well with high traffic. If you're new to hosting your own website or WordPress blog and you're serious about building your digital business, a managed service is highly recommended - you'll reduce tons of headaches. Another site I recommend is Groove. It's what I use for this blog.
For autoresponders, I highly recommend Aweber and GetResponse for email marketing. If you're mostly promoting affiliate offers, I would recommend GetResponse as they're more affiliate-friendly. Get Response also has the ability to easily integrate into many 3rd party systems including Groove, ClickFunnels and LeadPages. If you're more techie and want to pay a fraction of the price, then Sendiio is my favorite pick and it integrates well with my Groove landing pages.
I personally use Groove.cm (AKA Groove Funnels) for blogging, premium video hosting, landing page creation, sales funnels, and more. I like having all the tools in 1 system with tight integration and I feel that I'm more productive. I don't have to worry about getting too much traffic or dealing with WordPress security issues.