Master Affiliate Profits (MAP) Program Review
Have you ever wondered how top affiliate marketers consistently rake in commissions? What if their secret recipe could accelerate your own affiliate earnings?
Master Affiliate Profits (MAP) is a new affiliate marketing platform (and it's a long-term super funnel :) from renowned marketers Omar Martin, Melinda Martin, and John Thornhill that aims to unpack affiliate success. With promising features like automated traffic, simplified promotions, and perpetual commissions, MAP seems engineered to optimize affiliate earnings.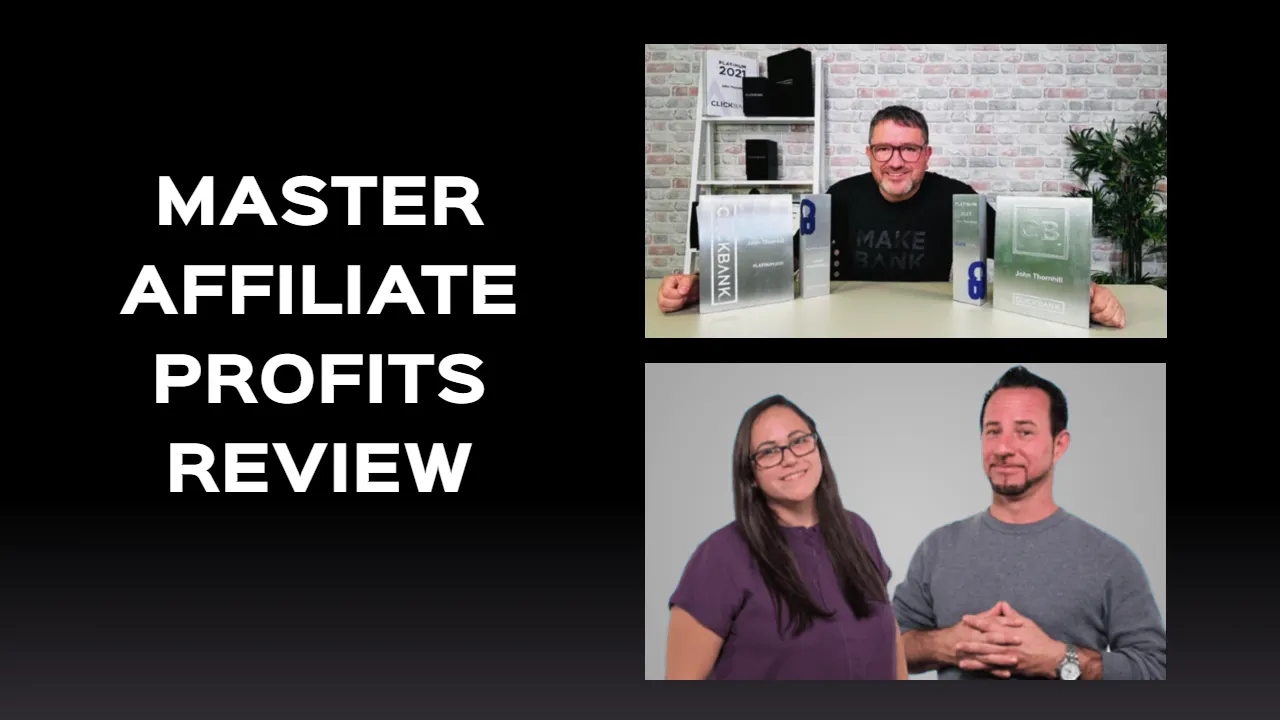 After reviewing the platform's core offerings based on the founders' webinar, I was super intrigued by its potential to streamline affiliate marketing success.
That's why I joined as a MAP backer. If you're an infoSpike customer, I'll be giving you all the details about my MAP progress and promotions.
Let's break down how MAP aims to conquer common affiliate marketing obstacles.
Simplifying Affiliate Promotions
Unlike most affiliate programs requiring multi-step promotions across different platforms, MAP consolidates everything into one seamless ecosystem.
MAP enables promoting any offer through a single permanent personalized link. Just drive traffic to this one link and MAP handles inserting them into the ecosystem's sales funnel.
There's no need to request approval for each offer, build custom lead funnels, or write personalized broadcasts. MAP's algorithm tracks your referrals and displays their contact info directly in your dashboard.
You can even export these leads or connect your preferred autoresponder to automatically build your mailing list. By handling the heavy lifting of promotions, MAP removes massive roadblocks for beginners struggling with the complexities of typical affiliate programs.
Automating Traffic and Earnings
Another highlight is how MAP aims to automate traffic and potential earnings. As a platform member, you get free access to traffic from Martin and Thornhill's 175,000+ subscribers.
MAP's priority algorithm assigns more traffic to higher membership tiers. You can also purchase additional traffic, earning 10% commissions on your referrals' traffic buys.
For earnings, MAP perpetually markets to your referrals and encourages their ongoing purchases and upgrades within the ecosystem. You earn lifetime commissions on all their platform activity without needing repeated promotions.
With multiple commission types like 100% on upsells and 75% on membership upgrades, MAP focuses on maximizing affiliate earnings from each referral compared to one-off commissions.
Unpacking Affiliate Training
But perhaps MAP's biggest edge is its extensive affiliate marketing training tailored to creating top-tier affiliate marketers.
Combining Martin and Thornhill's proven affiliate strategies, MAP offers different training tiers based on membership level. Just the basic tier for all members provides tools and training valued at $197.
Higher tiers unlock advanced lessons on traffic tactics, specialized workshops, and live coaching for taking earnings to the next level. MAP's training vault grants unlimited access to all past lessons too.
This structured affiliate education aims to transform members' skills and earning potential regardless of starting experience. Training replaces guessing which tactics work as a beginner affiliate marketer.
Evaluating MAP's Potential
After reviewing MAP's core offerings and founders' credentials, its potential to optimize affiliate marketing success shows promise:
The automated ecosystem and simplified promotions lower the barriers to earning affiliate commissions, especially for total beginners.
Perpetual commissions from each referral's ecosystem activity creates a passive earnings stream without needing repeated promotions.
Comprehensive affiliate marketing training and tools help members master high-income skills.
Automated traffic distributions grant access to the founders' extensive subscriber base.
However, since MAP is still pre-launch, projected results can't be guaranteed. Some key considerations are:
How generous will traffic distributions really be across tiers?
Does the training curriculum create expertise beyond theory?
How seamless will the user experience and technical platform really be?
Despite unknowns with any unproven program, MAP's general approach shows promise in improving upon common affiliate marketing model limitations.
Diving Into MAP's Core Features
Based on the founders' extensive webinar, MAP offers a wide range of features and benefits for optimizing affiliate success. Let's do a deeper dive into some of the platform's core offerings:
Perpetual Commission Ecosystem
MAP aims to create a self-contained ecosystem that continually generates affiliate commissions from each referral.
When your referral enters via your personalized link, they gain access to a sales funnel offering multiple products/membership levels catered to boosting affiliate earnings. You earn commissions on every purchase they make within the ecosystem perpetually.
Unlike typical one-off affiliate commissions, you can continually monetize each lead without needing to continually drive new traffic. MAP essentially takes over marketing to your referrals after acquisition.
The ecosystem offers diverse commission opportunities:
Upsells: 100% commission payout
Membership Upgrades: 75% commission payout
One-Off Purchases: 50% commission payout
Traffic Purchases: 10% commission payout
With each referral earning you commissions across their entire customer lifecycle, MAP is designed to maximize long-term value from your traffic and leads.
Automated Traffic Distribution
Unlike most affiliate programs only rewarding you for your own promotional efforts, MAP distributes free traffic from the founders' extensive networks to members.
As a MAP member, you gain access to hundreds of thousands of clicks every month from the founders' email lists, ad campaigns, and other assets.
MAP utilizes a proprietary algorithm to determine traffic distributions. Higher membership tiers earn substantially more traffic than lower tiers as a perk.
The exact volume depending on total membership is indeterminate. But for phase one members, distributions will be large given the limited members during pre-launch.
This free traffic distribution creates a hands-off foundation for commissions. Your earnings can benefit from both your personal promotions and MAP's automated promotions through distributed traffic.
Built-In Affiliate Marketing Training
Arguably MAP's most compelling hook compared to other affiliate programs is the sheer amount of affiliate marketing training incorporated into the ecosystem.
There are multi-tiered training programs tailored to different experience levels and membership tiers:
Basic Affiliate Training: Universal training with affiliate marketing fundamentals
Advanced Traffic Tactics: Advanced training on driving traffic from ads, influencers, SEO, social media, etc.
Live Workshops: Interactive workshops on specialized affiliate skills and tactics
Q&A Calls: Direct access to the founders through live coaching calls
Training Vault: Archives of all past affiliate marketing trainings and workshops
With training valued at over $1,000, MAP offers a comprehensive affiliate marketing education. The structured curriculum aims to turn members into skilled affiliate marketers through continuous learning.
Rather than piecemeal YouTube videos, MAP looks to provide an organized roadmap to mastery. This degree of training is unmatched among other major affiliate platforms.
Evaluating MAP's Benefits For Affiliates
Given its unique approach to affiliate marketing, MAP brings some standout benefits compared to traditional affiliate programs:
Simplified Onboarding Process
With most affiliate platforms, onboarding involves an extensive approval process for each offer, configuring tracking links, designing creative, writing ad copy, and more.
MAP's unified ecosystem removes these time-consuming hurdles with instant access to offers, automatic tracking, and done-for-you promotions.
By streamlining affiliate onboarding, you can start earning commissions almost immediately compared to the typical weeks or months of prep. Beginners also skip learning numerous complex platforms.
Hands-Off Passive Income Stream
Since MAP heavily automates traffic and recurring commissions from referrals' ecosystem activity, your income stream takes on a mostly passive nature.
Rather than solely relying on your own continuing promotional efforts, your referrals essentially become lifelong customers through MAP's perpetual commissions.
This allows your earnings to grow exponentially compared to one-off sales. Over time, portfolio-based passive commission income powered by MAP's system can create true financial freedom.
Comprehensive Affiliate Education
Becoming a top affiliate marketer traditionally requires years of piecemeal learning. But MAP offers a structured curriculum designed to shortcut your learning curve significantly through practical education.
Wrapping Up the MAP Affiliate Revolution
MAP is an intriguing new affiliate marketing platform with several unique advantages, especially for newer affiliates struggling with fragmentary models.
By packaging automation, perpetual commissions, and comprehensive training, MAP aims to remedy common affiliate marketing limitations.
It strives to make earning commissions more passive and trainable compared to incomplete platforms lacking continuity or education.
But MAP is not without risks as a still unproven program in pre-launch phase. Let's recap key pluses and minuses to consider before joining:
Key MAP Advantages
All-in-One Platform: Eliminates piecemealing tools, systems, and training required in self-guided affiliate marketing
Automation: Handles lead extraction, sales funnels, email marketing, and traffic distributions for more passive commissions
Training Curriculum: Structured multi-tier training provides education sorely lacking on most platforms
Perpetual Commissions: Recurring payouts from referrals' ecosystem purchases maximize customer lifetime value
Founders' Reputation: Well-known industry experts with proven track records and existing assets/traffic to deploy in ecosystem
Key MAP Unknowns
New Model: As a pre-launch platform, I'll be learning throughout the startup process. I have faith in the teams as I've been a customer of John's since 2006.
Traffic Distribution: Exact traffic volume across tiers unclear until phase one completion and total membership numbers finalized
Execution Dependence: Platform's success ultimately depends on technical execution and evolution post-launch
User Experience: Until launch, the true smoothness and refinement of the user experience stays theoretical
Real-World Results: No verified case studies yet proving the model generates income given pre-launch status
Despite unknowns expected with new platforms, MAP's overall vision resonates as an affiliate marketing game changer - if implemented successfully.
Rather than competing with members, MAP strives to empower them through hands-off automation, perpetual commissions, and education.
The founders seem to understand the limitations and missing pieces of existing affiliate models based on their own extensive experience.
Final Verdict on MAP's Potential
For intermediate+ marketers, MAP presents a turnkey system to simplify affiliate marketing's extensive hurdles under one automated, integrated platform.
The perpetual commission model incentivizes long-term referrals over one-off sales. Combining automation and training also reduces manual efforts so earnings scale faster.
For newbies, MAP offers a smoother onboarding path compared to tackling multiple complex platforms and skills independently as a beginner.
The ecosystem's automation, recurring commissions, and training aims to shortcut newbies' earning potential dramatically compared to fragmented traditional affiliate models.
In summary, MAP's core pitch resolves many affiliate marketing pain points - if properly executed. The founders have credibility but ultimate success depends on real-world implementation and results.
Nonetheless, MAP's vision stands out as an affiliate marketing game changer focused on empowering members rather than competing with them.
As an industry veteran, I'm intrigued and hope to see MAP fulfill its promises of automation, continuity, and education when formally launched.
If you want to learn about my progress and marketing strategies that I'll be using for MAP, make sure that you're an infoSpike customer. I'll share my details with you!
Frequently Asked Questions
Q: How can online marketing help me earn passive income with MAP?
Online marketing is the process of promoting products or services on the internet, using various channels and strategies. With MAP, you can learn how to use online marketing to create and promote digital products, such as ebooks or courses, and earn passive income from the sales that happen even when you are not working. With this system, you will learn how to promote other people's products and earn commissions, which is also known as affiliate marketing.
Q: What are niche websites and why do I need them for MAP?
Niche websites are websites that focus on a specific topic or market, such as fitness, travel, or gardening. Niche websites are essential for MAP because they allow you to target a specific and interested audience, provide valuable and relevant content, and rank higher on search engines for niche keywords. Niche websites can also help you establish yourself as an authority and a trusted source of information in your niche. Are you required to have your own niche site? It's more of something that I highly recommend as itis an asset that you own and control.
Q: How can I create product reviews for MAP?
Product reviews are one of the most effective ways to promote products and earn commissions with MAP. Product reviews are articles or videos that provide an honest and detailed evaluation of a product or service, highlighting its features, benefits, drawbacks, and alternatives. To create product reviews, you need to focus on a core product promotion, research its features and customer feedback, test it yourself if possible, and write or record your review following a clear and persuasive structure.
Q: How can I convert my traffic to customers effectively?
Conversion rate optimization (CRO) is the process of improving the percentage of visitors who take a desired action on your website, such as subscribing to your email list, downloading your ebook, or buying your product. CRO can improve your MAP results by increasing the number of leads and sales you generate from your website traffic, as well as reducing your cost per acquisition and increasing your return on investment. CRO involves testing and improving various elements of your website, such as headlines, copy, images, buttons, and forms.
Q: What are online courses and how can I make money with them with the MAP system?
Online courses are digital products that teach a specific skill or topic to learners, usually through a series of video lessons, quizzes, and assignments. Online courses are a great way to earn passive income with MAP, as you can create them once and sell them multiple times to different customers. With MAP, you can learn how to promote online courses that are engaging, informative, and profitable.
Q: What are landing pages and how can I use them with MAP?
Landing pages are web pages that are designed to capture the attention and interest of visitors, and persuade them to take a specific action, such as signing up for a free trial, downloading a lead magnet, or buying a product. Landing pages are crucial for MAP, as they can help you increase your conversions and sales, as well as build your email list and audience. With MAP, you can learn how to create landing pages that are attractive, responsive, and optimized, using tools like GroovePages and Aweber.
Q: Are there alternatives to the MAP program?
There are a wide variety of affiliate offers that you can find on Clickbank, JV Zoo, and WarriorPlus. All of these affiliate networks forcus on the make money niche. Regarding affiliate products, I recommend the Ambassador Program and Groove.