Aweber Autoresponder Review
Today, I want to give you a review of one of my favorite email marketing software, Aweber.
For many entrepreneurs, creating an email list is not only the most efficient way to stay in touch with your audience, but also the single most effective marketing tool you can use to grow your business.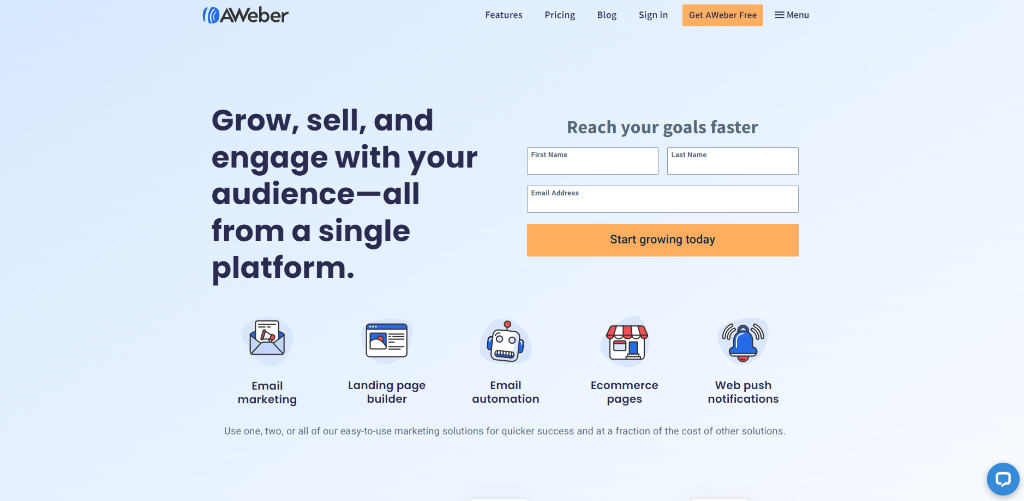 In the world of email marketing, there is no shortage of autoresponders available to help you automate the process of engaging your subscribers.
A lot of these are effective. Some of them are not. You need a system that's easy to use, affordable, has an awesome support team. If you do a lot of affiliate marketing, you'll need an autoresponder that is affiliate-friendly.
There are many good autoresponders out there, but Aweber has become one of the most popular ones in the industry. What makes it different? What has allowed it to thrive?
I'll dive into that and more in this Aweber autoresponder review.
The Autoresponder Advantage
Before I dive into Aweber, lets go over the basics. Why even use Aweber or any other autoresponder?
The big problem that small businesses face is getting customers and prospects to listen to what you have to say. Many businesses have come up with various tactics in order to get their point across.
Are these methods effective? Yes
...but what do you do if your audience just isn't listening?
And then, how can you get them to respond?
There's a reason people choose to sign up for autoresponder services—they're a great way to keep in touch with your customers and nurture relationships.
An autoresponder service sends you email automatically when someone signs up, then it sends them a welcome message, provides automated follows up, and keeps them up-to-date on what's going on.
These automated messages are a great way to stay in touch with customers and build rapport with them. They make it easy for you to communicate with your prospects and customers and remind them about things they want to know about.
Aweber Features
Aweber provides features such as the ability to create segmented lists, the ability to create sequential autoresponders through campaigns, the ability to send out broadcasts, the ability to do A/B split testing, email templates, the ability to create landing pages, tagging, tracking, reporting, and it provides a wide variety of integrations.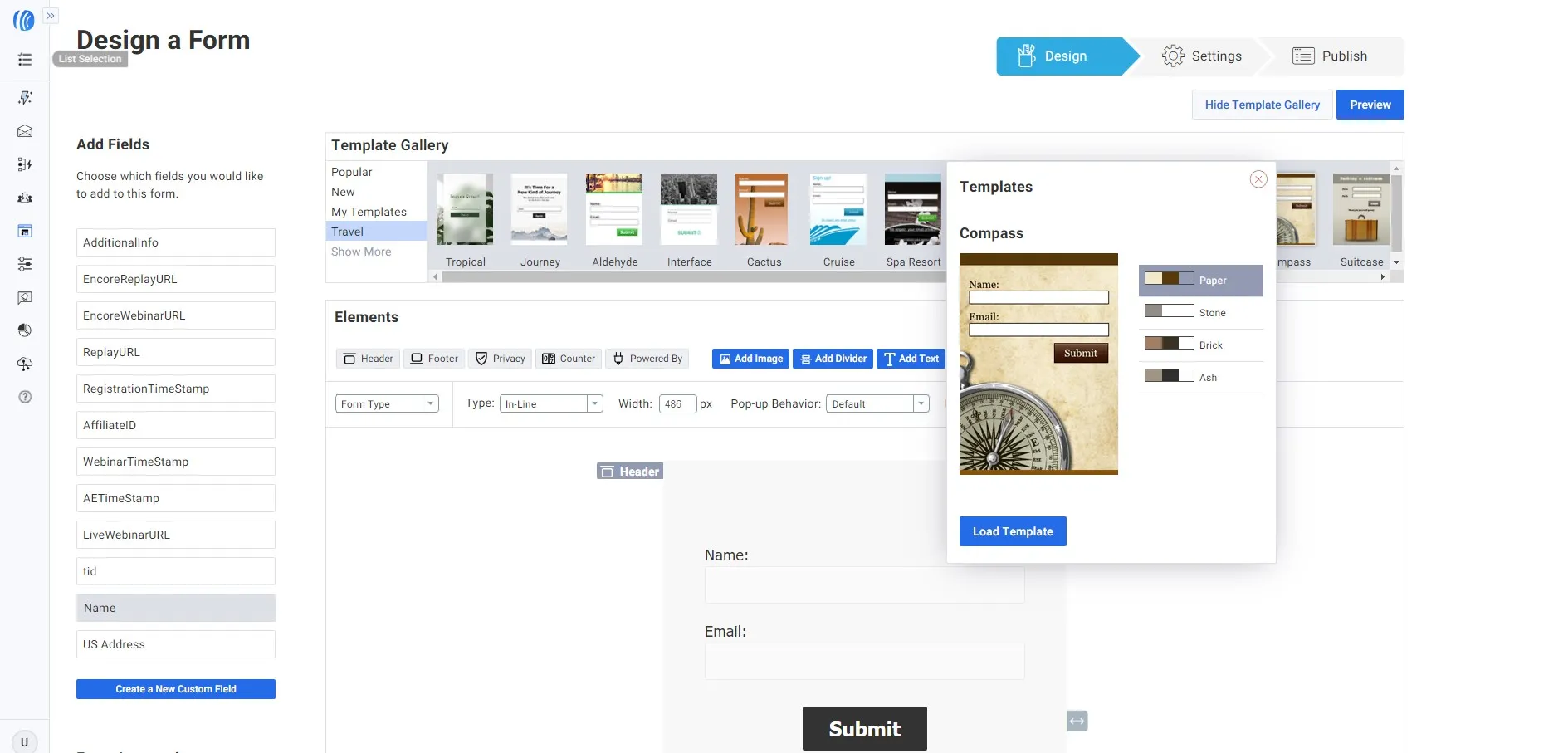 Let's go over some of those major features...
One of the big reasons why people use Aweber is because of its sequential autoresponder feature. The are automated drip email campaigns in which subscribers receive messages periodically over time. If you don't want to bother sending a campaign out to your entire list at every day, drip campaigns can be a way to send out a series of messages to an audience over a period of time.
Another thing to note is that these emails are pre-programmed. Here's an example of how this works.
Let's say that you want to send out 365 emails spread out 1 day apart. Instead of sending out an email once a day, every day for an entire year, you can enter all of those emails into the system ahead of time.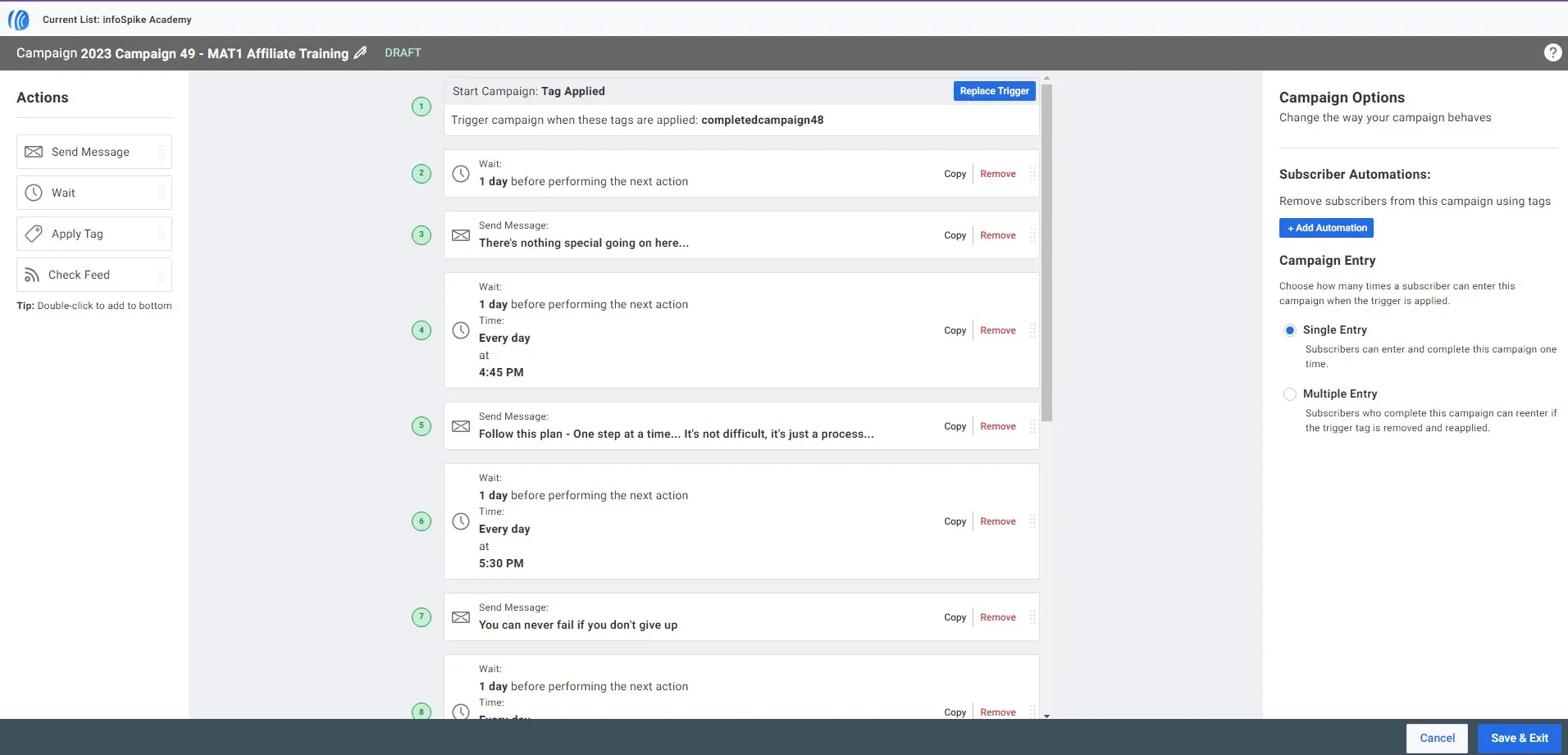 So when a person signs up through the opt-in form on your landing page, then they will start receiving that whole sequences of emails automatically as long as they stay as subscribers. If 1000 people opt-into your newsletter, each of those subscribers will get that same sequence automatically without you manually sending out emails to each one of them.
So what's the email broadcast feature for? It's for sending a large volume of emails in one shot to your contacts on a specific day and time. These are one-off emails.
While many business owners will prefer a drip campaign, which sends one email at a time to each individual subscriber, a single email blast to all of your subscribers can be a very effective way to spread the word about a new offer, promotion, product, etc.
Another popular feature of Aweber is its email templates and web forms. These allow you to create awesome emails with nice HTML designs.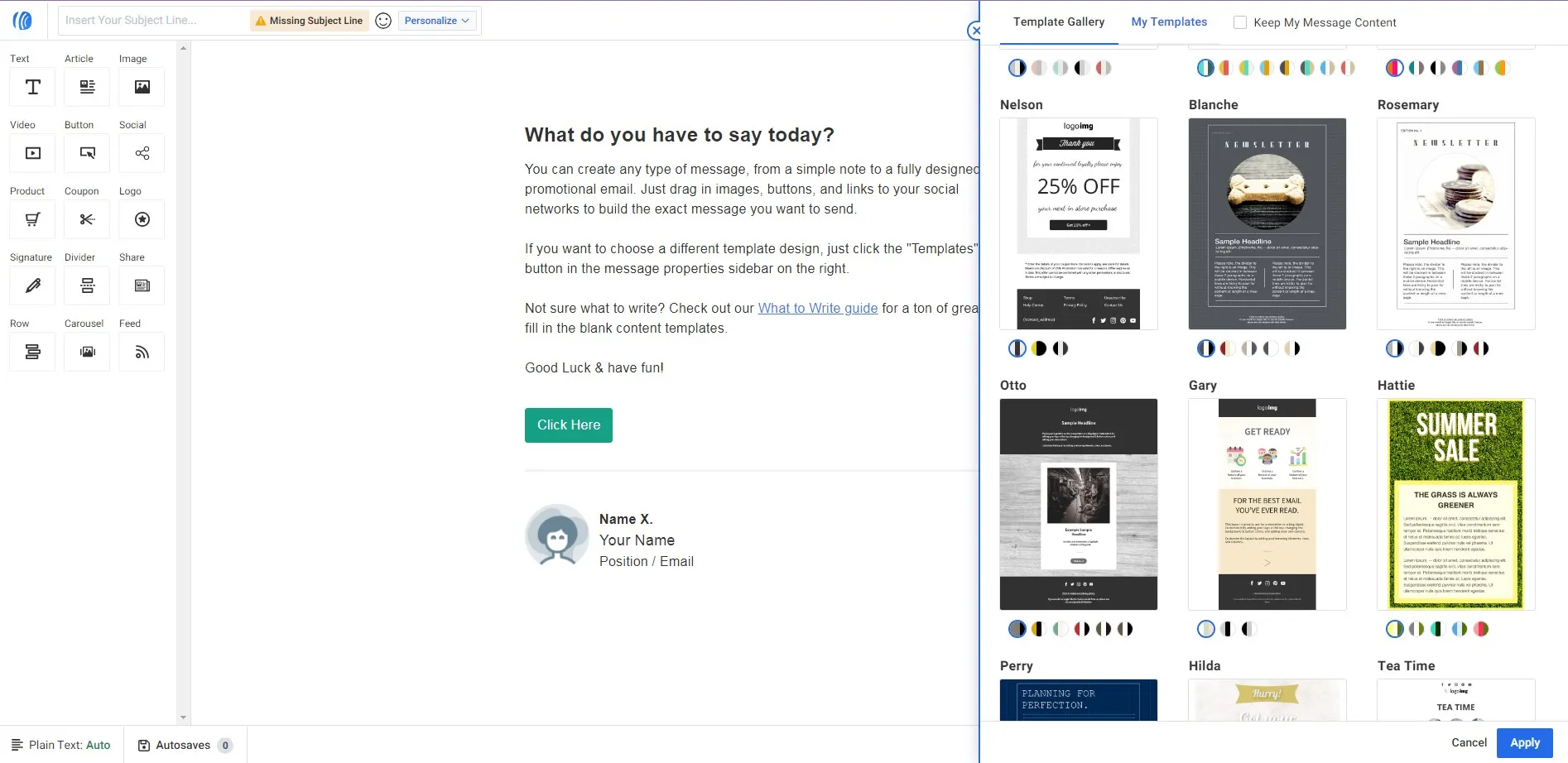 So even if you have now idea about graphics design, you can use one of Aweber's fancy templates. While may people use this feature, I prefer sending emails that look like traditional plain text emails.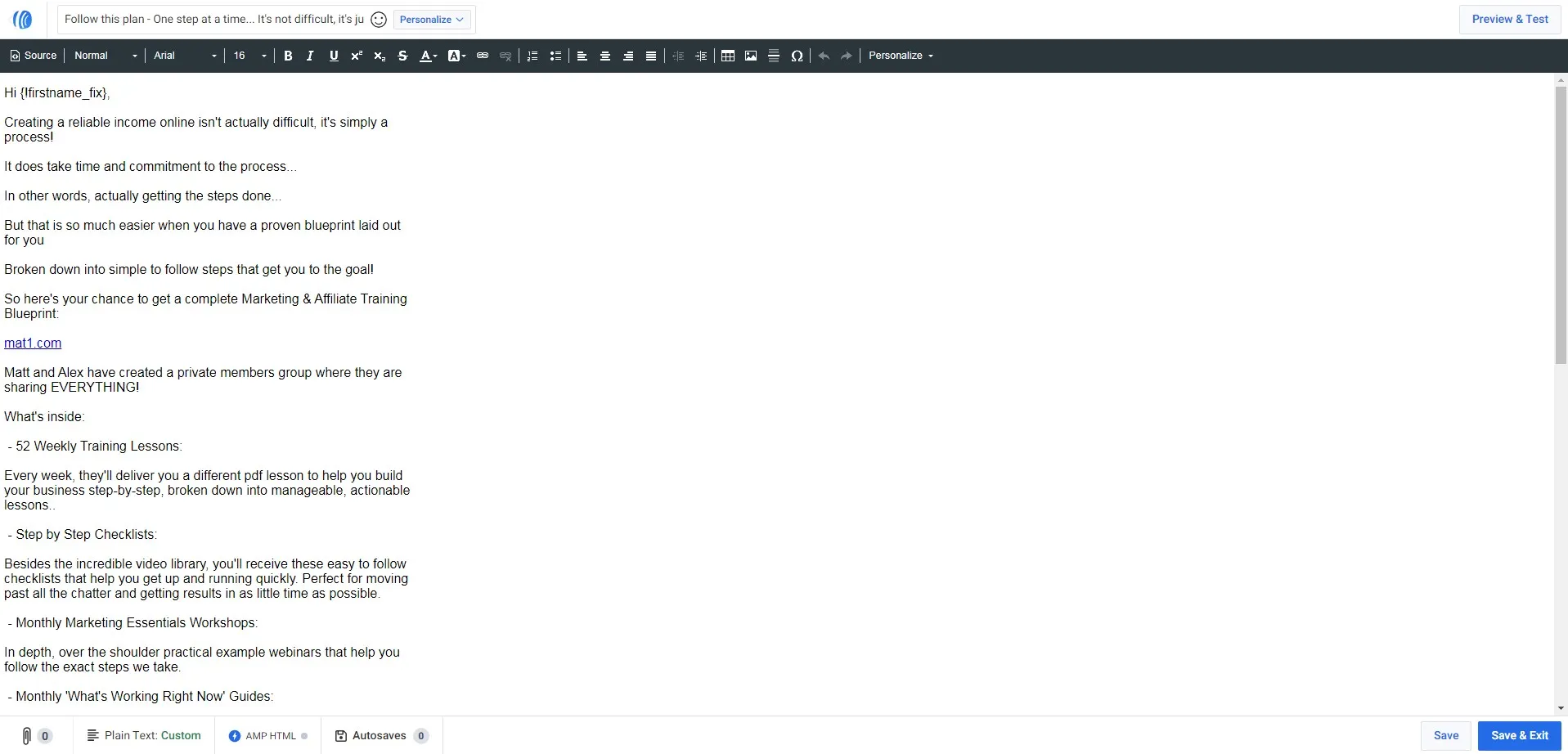 Another popular feature is the landing page builder. This allows you to create high converting landing pages with ease. The landing page builder allow users to create landing pages without having to know any HTML, CSS, or JavaScript. It's an amazing tool that will help you easily build, optimize and create landing pages in no time at all.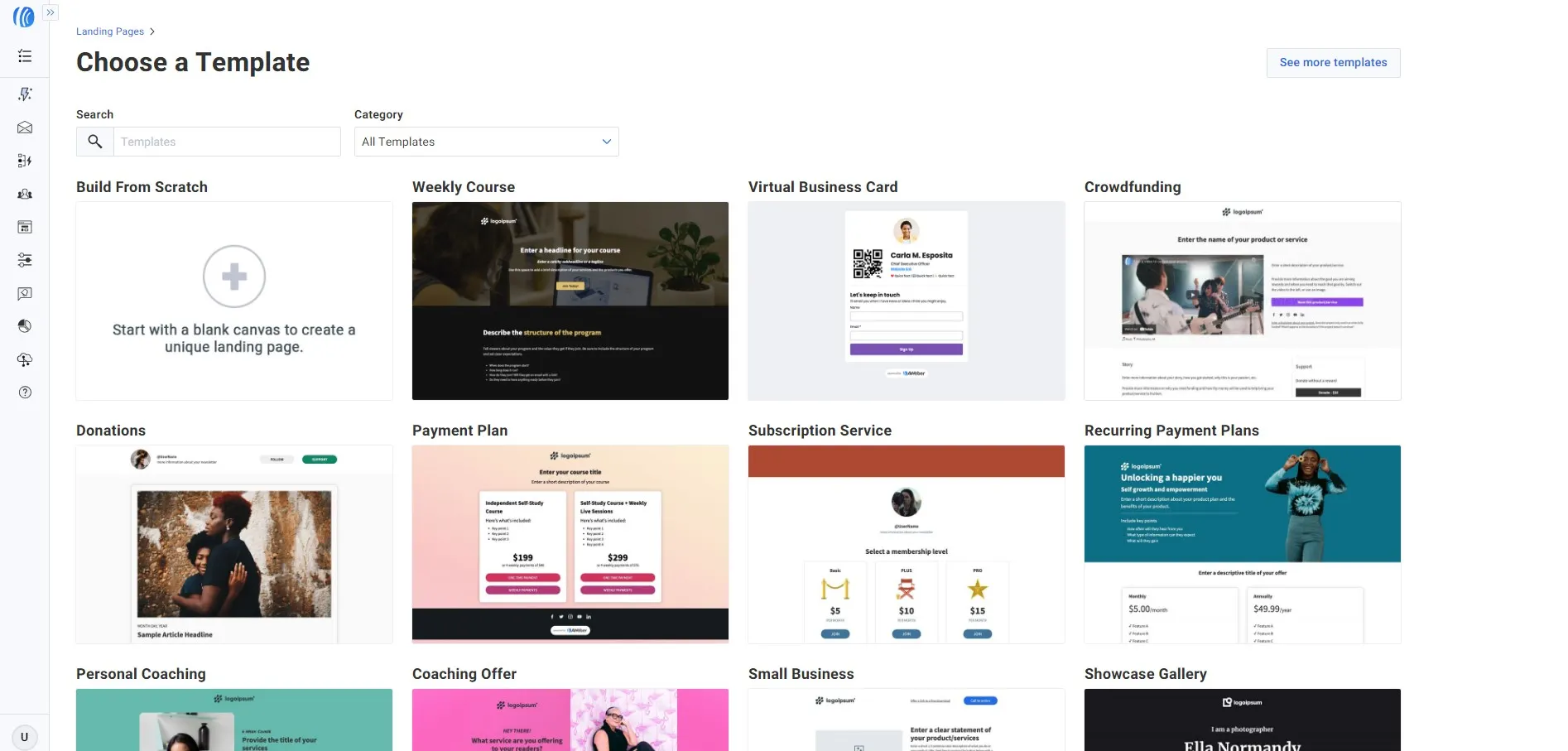 Most importantly, Aweber has the ability to view email-focused analytics. You'll be able to gain valuable data and see what works the best across your entire subscriber base. So whether you want to see which email performed the best, or what landing page had the most opt-ins, you can do that.
Is Aweber Easy to Setup?
Compared to other solutions that I've tested, Aweber is one of my favorite options. It's easy to set up and has a simple interface, so even a novice can easily follow instructions.
Just about anybody that is technical enough to use Microsoft Word and Gmail can use this software. There's still a learning curve though. Since email marketing is a very powerful part of your digital business, I urge you to spend some time learn the platform that will automate so much of your email marketing tasks.
What Are Some of the Popular Integrations Does Aweber Support?
With integrations, Aweber provides endless possibilities for your business.
Aweber integrates with a number of tools including: GoToWebinar, Paypal, WordPress, Shopify, Facebook, LinkedIn, and many others.
If you can't find an application that Aweber natively integrates with, then you can use Zapier. Zapier allows you to integrate with over 4,000+ applications.
Aweber Alternatives
Aweber is known for being one of the best e-mail marketing services available on the market today and its pretty affordable. For people that are just starting out, it's the platform that I recommend the most.
However, if you are looking another platform, there are a many alternatives. Some of these include Active Campaign, GrooveMail, GetResponse, ConvertKit, MailChimp, TrafficWave, and iContact.
What do these alternatives offer that Aweber doesn't? Most of the time people shift because special features that apply to their business. They do come at higher price and the more advanced autoresponders do have a longer learning curve.
Does Aweber Have a Free Version?
Yes. Aweber is a great choice for beginners because it has so many features included and you can get started without paying. They do use a freemium model and you can use many of their features with some limitations of course.
For example, the free version only offers 500 subscribers. You can only send out 3,000 emails a month.
There are other platforms that have higher limits for their free version. However, they're not affiliate-friendly. That means that if you set up a bunch of emails that are mostly focused on promoting affiliate programs, there's a chance that they'll terminate your account. They prefer working with non-affiliates, especially traditional businesses that have storefronts.
If you're planning to do legitimate opt-in email marketing, then Aweber is a great choice. This is the approach that I teach, so no worries.
If you're an aggressive marketer with high bounce or spam rates, Aweber might not be the best option for you.
Conclusion
In conclusion, Aweber Autoresponder is an email marketing tool that allows users to automatically send out emails to their subscribers when after opting into their email list.
The Aweber autoresponder is a very easy to use tool, which makes it popular among many newbie marketers. You'll also be able to view your analytics and see what email campaigns work the best for your audience.
I would recommend this tool for those looking to build their list of subscribers.
Click Here to Learn more about Aweber
Frequently Asked Questions
1) What is Aweber used for?
Aweber is used for email marketing. You can use it for creating opt-in pages that will allow you to capture leads and grow your audience. Then, you can use scheduled broadcast emails or automated emails to build relationships and increase sales. Email marketing is also a great way to create your own blue ocean and build traffic to any offer or content that you have.
2) Who should use Aweber?
If you are in a business that would benefit from generating leads or building relationships, then Aweber will help you. Whether you're offering low ticket or high ticket offers, you can use Aweber to build your sales funnel. On Aweber's website, they mention that you can "Grow, sell, and engage with your audience—all from a single platform."
3) Can I send email in my subscriber's time zone?
Yes. Aweber has implemented a feature that will allow you to do this easily. However, it isn't available for broadcasts at this time.
Here's how to use this time zone feature.
Select your campaign or create a new one.
Open up your "Wait Time."
Set your schedule.
Click the check box for "Use the subscriber's timezone."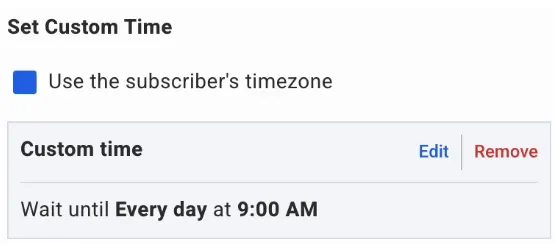 4) Which is better, Aweber or GetResponse?
Both of these email marketing platforms are great. I used to say that GetReponse is better for affiliate marketers. Nowadays, I feel that Aweber is better, especially for their delivery rate.
In any case, if you are providing valuable content and focus on increasing engagement, both tools will allow you to create broadcasts, schedule emails, and view your analytics.
5) Which is better, Aweber or GrooveMail?
If you are seeking a robust email marketing platform, then I recommend Aweber over GrooveMail. That's because Aweber has been building their platform since 1999, while GrooveMail's production release was offered initially in 2022.
If you have purchased a GrooveMail or Groove.cm account, then you do not have to pay for an additional email service provider or email marketing platform unless you want more features.
It's possible that Groove.cm will build many of Aweber's features into GrooveMail, but it will take some time for GrooveMail to mature.
GrooveMail contains scheduled broadcasts, automated emails, webhooks for outbound integrations, and email verification. However, it's lacking in providing advanced analytics and easy email cleanup tools that Aweber has.
6) Do I need to buy website hosting to use Aweber?
Web hosting is not required. You can create landing pages (web pages) using Aweber. These can be used for content pages, or for opt-in pages (also known as landing pages, squeeze pages or lead capture pages). You can use their aweb.page subdomain to host your pages, or you can connect your own custom domain.
7) Does Aweber warm up my email accounts?
No. While some email marketing platforms mention that they can warm up your email accounts, I feel that marketers need to understand that they need to warm up their own domains, and not just their IP addresses.
In order to build up your email reputation, you should always start small and then build up your incoming and outgoing emails over time.
If you need to warm up email accounts using automation, then there are 3rd party companies that I can recommend based on your situation. Feel free to contact me if you'd like recommendations.
8) Can I use Aweber to build websites or blogs?
Yes. If you're building microsites, you can use it to build web pages or blog pages. However, if you're planning to build hundreds or thousands of pages, I recommend using a dedicated blog platform.
You can use WordPress or GrooveBlog to build blogs.
9) What is the difference between Mailchimp and AWeber?
While Mailchimp and Aweber have similar features, there are some differences that you should know about. Aweber was founded in 1999, while Mailchimp was founded in 2001. So Aweber has been in the email marketing industry longer than Mailchimp.
If you are focused on digital marketing or affiliate marketing, Aweber has less digital marketing restrictions than Mailchimp. There are countless stories of Mailchimp shutting down accounts that don't fit within their terms of use.
On Mailchimp's website, they posted "Why we prohibit affiliate marketing." They mention: "Affiliate marketers are generating business for someone else, so there's no real obligation to maintain relationships with contacts they may have in Mailchimp. This isn't the type of marketing Mailchimp is meant for."
10) Is there a bonus for subscribing to a paid AWeber plan?
Yes. I offer my "List Builder XL" course that's valued at $97. This is a course that I put together after implementing strategies from some of the top email marketing coaches in the industry, as well as dropping thousands of dollars into organic and paid list building traffic strategies. Just get Aweber Pro through my link below, send me a copy of your receipt through my contact page, and I'll provide you with access.
Click Here to Learn more about Aweber
2023 Update: Since I created this post, I receive a bunch of questions. Here are the latest FAQs.
11) What Is Aweber, and How Does It Benefit Ecommerce Businesses?
Aweber is an email marketing service that offers advanced features, pre-designed templates, and automation tools to help ecommerce businesses boost their email marketing efforts. It enables businesses to send offers, increase sales, and reach their customers effectively.
12) What Are the Key Features of Aweber's Email Marketing Service?
Aweber provides users with drag-and-drop email builders, pre-designed templates, web push notifications, and advanced automation tools. These features make it a powerful email marketing solution for businesses.
13) Does Aweber Offer a Free Plan, and What Does It Include?
Yes, Aweber offers a free plan with limited features. This plan is suitable for users who want to explore Aweber's capabilities and send a limited number of emails. You can have 500 contacts, 1 list, 1 automation, and 1 landing page.
14) Can I Send Unlimited Emails with Aweber's Paid Plans?
Yes, Aweber's paid Plus and Enterprise plans allow users to send an unlimited number of emails to their subscribers, making it ideal for businesses with large mailing lists.
15) What Support Options Does Aweber Provide to Its Users?
Aweber offers online support to its users. Users can access customer support to get assistance with any issues or questions they may have.
16) Are There Any Discounts Available for Aweber's Annual Plans?
Yes, Aweber offers annual discounts (up to 33% as of 9/23) to users who choose to pay for a full year of service upfront. This can result in cost savings compared to monthly billing.
17) Does Aweber Provide Pre-Designed Reports for Email Campaigns?
Yes, Aweber offers pre-designed reports that allow users to track the performance of their email campaigns, including open rates, click-through rates, and more.
18) How User-Friendly Is Aweber's Email Builder?
Aweber's email builder is user-friendly, featuring a drag-and-drop interface that makes it easy for users to create visually appealing and effective email marketing campaigns.
19) Is Aweber Suitable for Beginners and Advanced Users?
Aweber caters to both beginners and advanced users. It offers simple tools for beginners to get started and advanced features for users looking to take their email marketing to the next level.
20) Can I Create an Unlimited Number of Lists and Subscribers with Aweber?
Yes, Aweber allows users to create an unlimited number of lists and have unlimited subscribers with paid plans (additional fees can apply), providing flexibility for businesses of all sizes.
21) What Sets Aweber Apart from Competing Email Marketing Solutions?
Aweber distinguishes itself with its combination of features, support, and user-friendly tools. It also offers pre-designed templates and advanced automation capabilities.
22) Does Aweber Offer Push Notifications and Web Push Features?
Yes, Aweber provides web push notifications as part of its feature set, allowing businesses to engage with their audience through multiple channels.
Click Here to Learn more about Aweber