CopySpace.ai Review: Is This AI Writing Tool Worth the Hype?
In this blog post, I'll go over my CopySpace.ai Review. Artificial intelligence (AI) writing tools are taking content creation to the next level. With the ability to generate high-quality content in seconds, it's no wonder these tools are gaining popularity.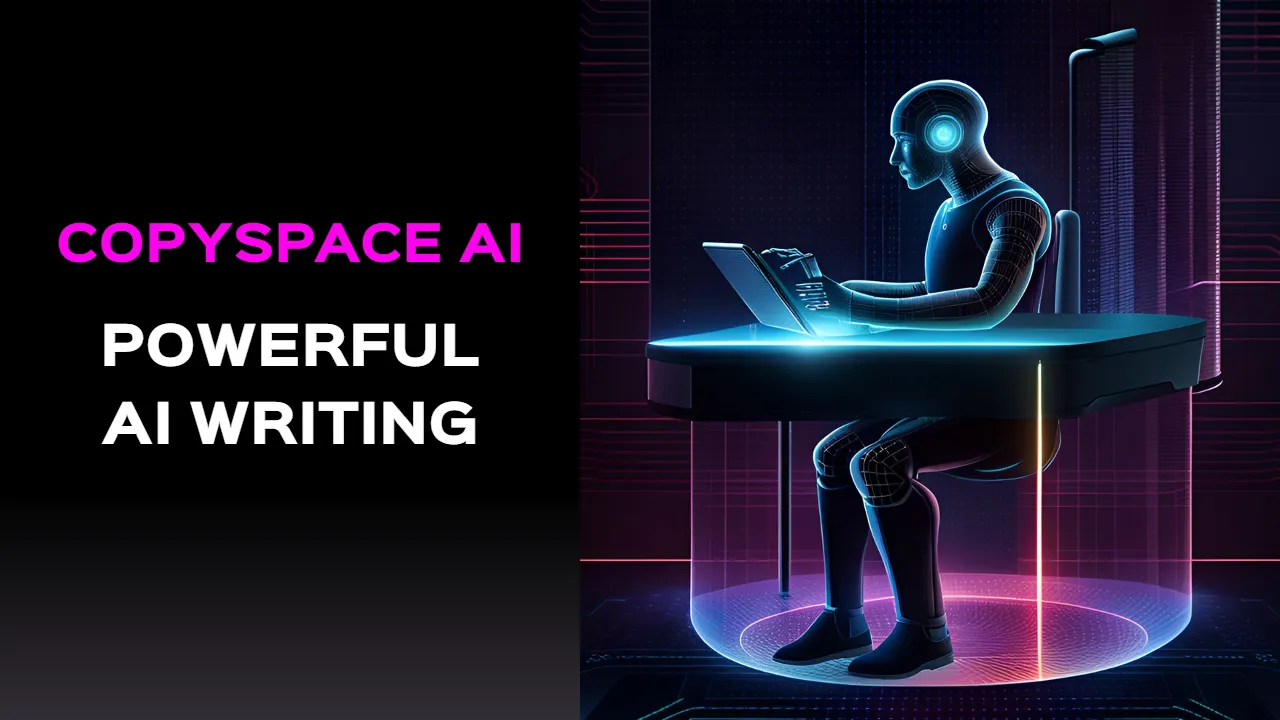 One of the newest players in this space is CopySpace.ai. This web-based application aims to make AI writing accessible and easy to use. It's the latest AI writing tool from Nico Engler, the creator of ClosersCopy.
In this detailed CopySpace.ai review, we'll take an in-depth look at its features, pricing, and overall value. Read on to find out if this tool is worth your time and money.
Overview of CopySpace.ai
CopySpace is a cloud-based AI writing platform created by growth marketer Nico Engler. It officially launched in July 2023 after a period in beta testing. I personally picked it up in beta on May 9th of 2023.
With CopySpace, you can leverage the power of AI to:
Generate blog posts, social media captions, sales copy, and more
Get creative inspiration from chatbots
Optimize content for SEO
Create eye-catching images to complement your text
Publish directly to WordPress
The tool aims to provide an all-in-one solution for streamlining content creation.
To use CopySpace, you'll need to connect your own OpenAI API key. This allows you to choose which AI model you want to use, giving you more customization.
The platform is currently available on a monthly subscription basis. However, for a limited time there is a lifetime deal available for $197. This provides unlimited access to CopySpace forever.
Now let's take a deeper look at the key features and how they work.
Key Features and Tools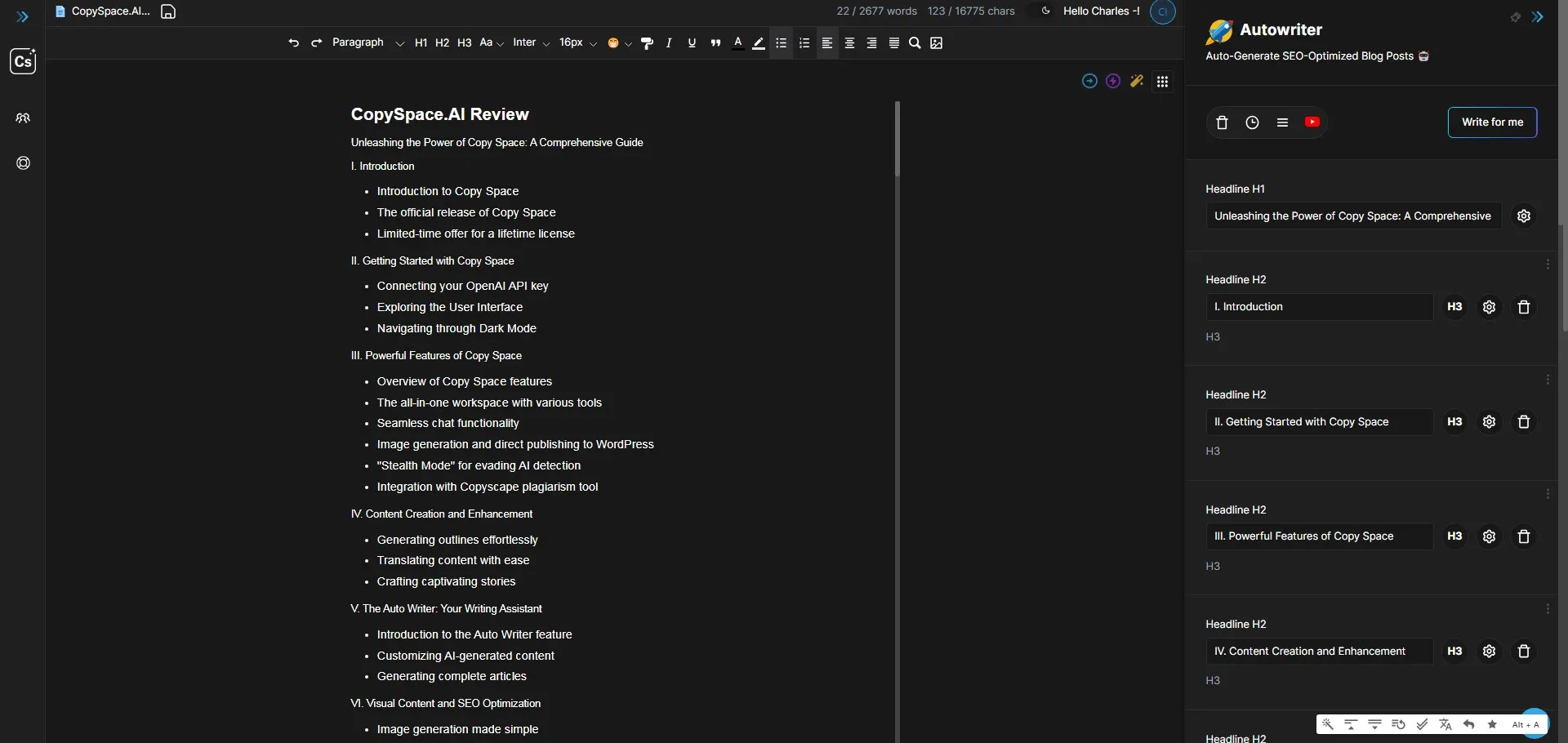 CopySpace packs a ton of AI power into an intuitive interface. Here are some of the notable features available: AI Assistant Chat
This chatbot tool lets you have natural conversations with AI to brainstorm ideas, get feedback, and more. It's similar to ChatGPT but tied into the CopySpace ecosystem.
You can choose different AI models (GPT-3.5, GPT-4, etc.) and language settings. The chat maintains a persistent memory for more context. AI Writing Tools
CopySpace offers several ways to generate AI-written content:
Compose: This works like an AI co-writer inside the app. Give it a topic, keywords, tone of voice, and other instructions and it will write for you.
Auto Writer: This automatically generates complete articles based on an outline. You can create outlines from AI, competitor research, specific sites, or your own custom outline.
It will then write a complete draft including headlines, transitions, images, and metadata. This provides a huge time-saver for content creation.
Optimize: This analyzes competitor content and gives recommendations for optimizing your own content for search rankings. It looks at things like word count, keyword density, and more.
Stealth Mode: This rewrites content to pass AI detection tools. It rewords a percentage of the article so it appears more "human-written".
Image Creator: Generate unique images to complement your text by describing what you want.
Translation: Quickly translate content into other languages.
WordPress Publish: Directly publish your created content to a WordPress site.
Creation Tools: Easily construct content with templates, outlines, mind maps, and editable documents.
Interface and User Experience
CopySpace has a clean, modern interface that's easy to navigate. The left sidebar contains your main menu, while the middle pane holds the current tool you're using.
It has both light and dark mode options to suit your preference.
While the interface is streamlined, it packs a lot of functionality in each tool through settings and advanced options. For example, you can fine-tune AI instructions, customize outlines, toggle headings on/off, and more.
The chatbot is seamless to use, with quick responses from the AI assistant. Images also generate rapidly after prompting.
For beginners, the pre-made templates and outlines make it easy to jump right in. The community templates are also helpful for seeing examples.
At the same time, power users have all the customization they need to fine tune outputs. The AI generally follows prompts and parameters well.
Overall, CopySpace hits the sweet spot between simplicity and customization. The interface doesn't feel overly complex or dumbed down.
Performance of the AI Writing
The true test of any AI writing tool is the quality of the content it produces. Here's an assessment of how CopySpace fares:
Grammar and Spelling: The grammar generated is highly accurate and readable. Occasional spelling or punctuation errors can creep in, but overall it's very solid.
Attention to Instructions: The AI adheres well to the parameters like word count, headings, formatting, etc. The gpt-4 model in particular excels at following prompts.
Cohesiveness: The flow and transitions from paragraph to paragraph is mostly smooth. There are some instances where paragraphs could connect better.
Accuracy: Without inputting specific facts, the content relies on the AI's training. This means some inaccuracies are inevitable. To improve accuracy, you can input background facts and research.
Creativity: The AI generates novel sentences and makes logical connections in the content. There is some repetition of ideas at times. Unique images also showcase creativity.
Uniqueness: The articles created do not appear to be plagiarized or duplicated from elsewhere online. However, overusing the same prompts can lead to overlap.
SEO Optimization: Keywords and headings are worked in naturally. The content length and formatting also follows SEO best practices. But you need to provide strategic keywords and topics.
Relevance: As long as the prompts and instructions are clear, the AI stays focused on the topic at hand. Any tangents or wanderings are generally due to unclear inputs.
Overall, CopySpace produces very good AI writing - especially for draft content. The quality continues to improve with the gpt-4 model and as you provide more strategic guidance.
Pros and Cons
Here are some of the key advantages and disadvantages of using CopySpace:
Pros:
Huge time savings generating content
Intuitive interface for all skill levels
Variety of AI writing and creation tools
Ability to customize with your own API key
Lifetime deal currently available
Helpful templates and community content
Cons:
Requires OpenAI API key (paid subscription)
Accuracy depends on user input quality
Some repetition in longer content
Limited research/fact input options
No built-in plagiarism check within app without the Copyscape API.
Cannot collaborate with other users
The biggest advantages are the huge efficiency gains and the flexibility to adjust the content how you want. The main limitations are reliance on your prompts and inability to collaborate directly.
Who Should Use CopySpace?
CopySpace.ai is an excellent choice for:
Bloggers and content marketers who need to produce a high volume of content regularly. It can dramatically cut the time spent writing posts.
SEO professionals who want to optimize content efficiently. The readability and keyword integration helps with rankings.
Creators batch producing content like social posts, newsletters, emails, etc. The structured templates help with consistency.
Writers who want a creative muse to help generate ideas and remove writer's block. The chatbot acts like a virtual brainstorming partner.
Entrepreneurs and business owners who need copy for websites, marketing, and promotions. It can churn out effective sales and website content.
Agencies who offer content creation as a service to clients. The automation allows scaling content production.
Anyone looking to leverage AI writing and creation, without needing coding skills. The user-friendly interface makes getting started easy.
CopySpace isn't yet ideal for research-heavy technical writing that requires intensive fact-checking. But it works great for draft content that you review and refine.
Pricing Breakdown
Here is the pricing structure for CopySpace:
Lifetime Deal (Limited Time):
$197 one-time payment
Full, unlimited access forever
Monthly Subscription:
$29 per month
Billed annually at $19/month
Cancel anytime
Custom Plans:
Quotes available for high volume, enterprise use
The lifetime deal is only available for a short period after launch. After that, it will revert to the monthly pricing.
You'll also need a paid OpenAI API key to use the platform. This starts at $18/month for standard use cases.
Compared to other AI writing tools, CopySpace is very competitively priced, especially with the lifetime deal.
Wrapping Things Up
CopySpace.ai offers a compelling and comprehensive AI writing solution. The combination of writing tools, creative features, and community resources make it stand out.
For anyone looking to leverage AI to enhance their content production, CopySpace is definitely worth considering. The value provided by the lifetime deal pricing is also hard to beat.
While it still has room to improve, the core functionality is very strong for a v1 product. And the developer team is rapidly rolling out improvements and new features.
Overall, CopySpace earns high marks for being an intuitive yet customizable AI writing platform. For content creators and marketers, it's a tool that can supercharge productivity while saving hours of work.
If you're looking for a more mature AI writing tool that has built-in fact checking, I personally recommend using another tool. Check out my Katteb review for more details.
The AI writing space is expanding at a breakneck pace. But CopySpace has already staked its claim as a contender in this space. It's positioned to only get better with time as the technology improves.
For the productivity gains and creative potential, CopySpace is worth exploring - especially at the limited time special pricing. Just be sure to feed the AI well-researched information and prompts to get the best possible output.