ClosersCopy Review (AI Writer Software)
On this page, I'll be providing my thoughts about ClosersCopy, one of the most popular content-focused AI software tools.
Write content about why I should not buy ClosersCopy the AI writing tool.
I'm pleased to say that it's one of the top AI writing tools that I've used (and that's after paying for well over half a dozen AI writing tools like Rytr, Writer Zen, AISEO.ai, Texta.ai, WordHero, Frase.io, Market Muse, and nichesss).
Update: The creator of ClosersCopy released a newer version. Check out my CopySpace.AI review for details.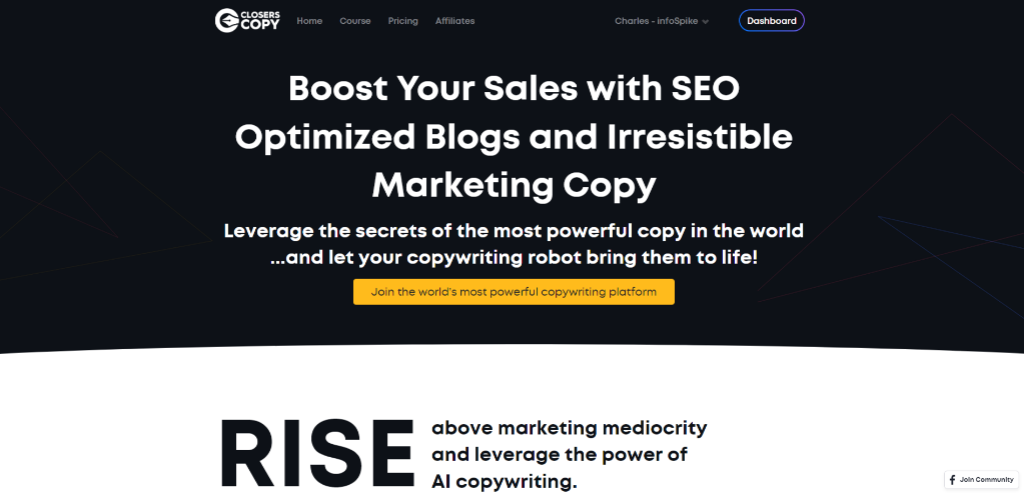 About the Creator
Closers Copy is a copy-writing software, created by Nico Engler. He's worked in the United States and Europe as a developer.
Later, he became more interested in psychology, especially the art of selling through words (AKA copywriting). It was originally made to help ordinary people create persuasive copy through artificial intelligence. That's through this tool, ClosersCopy.
Today, Closers Copy has grown to become an all-in-one tool that helps you automate your content creation, so you can spend more time promoting your work and less time writing.
How Closers Copy Works
It's the easiest copywriting software on the planet.
It's a cloud-based tool, so you can access it from anywhere you have internet.
Once you sign up, you can start working on your own web content immediately, without needing any technical knowledge.
As far as the actual process goes...
You can pick longform tools, frameworks, or workflows (a combination of frameworks) and start generating content.
I'll go into a few use cases soon.
What Makes This Different Than the Other AI Writer Tools?
The AI Writer Model
The vast majority of AI content tools use something called GPT-3. This is a public AI model that has many restrictions. The main one is that they only allow a small input and output. This is what Jarvis / Jasper / Conversion.ai use.
So if I wanted to create multiple paragraphs of text, then I would have to go through multiple generations to product usable content.
While I can do that with this tool, I don't have to do it as often. As you'll see in my example below, I'm was able to produce 782 words of content in 1 shot using this tool.
So what does ClosersCopy use? It has 3 AI models:

SalesAI - for sales copy, promotional emails, ad copy, and video sales letter scripts. So instead of hiring an expensive copywriter, you can use the Ultimate Sales Copy workflow to generate your sales letters... no copywriting experience needed. Think of this as a copywriting template or formula + having the engine to auto generate content.
This model creates informal content. If you need to create formal content, then you might want to create your own framework. I'll go into this soon.
BlogAI - for blog posts, articles, and press releases
and
StoryAI - for writing stories
Awesome features right?
That's in addition to GPT-3. Here's an example of expanding content with GPT-3, or through it's internal AI model engine.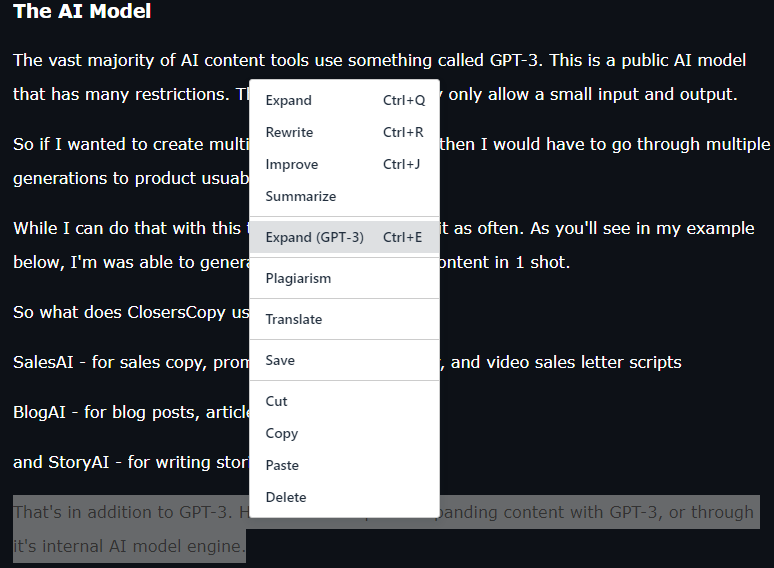 Built in SEO/NLP Audits
In the past, I used to use Frase.io or Market Muse to boost my on-page SEO score.
For people using Jasper.ai, you might have heard about using it with Surfer SEO. Similar concept where you're using AI to help provide recommendations based on content that's already ranking in Google.
As I write this article, I'm looking at the Audit. I can compare it to a bunch of search engine results, or a select few. I'm using the top 3 pages that rank for my keyword. It's using their NLP servers. Just to let you know, I compared the results to Frase and MarketMuse and my results were closer to MarketMuse for the test that I did.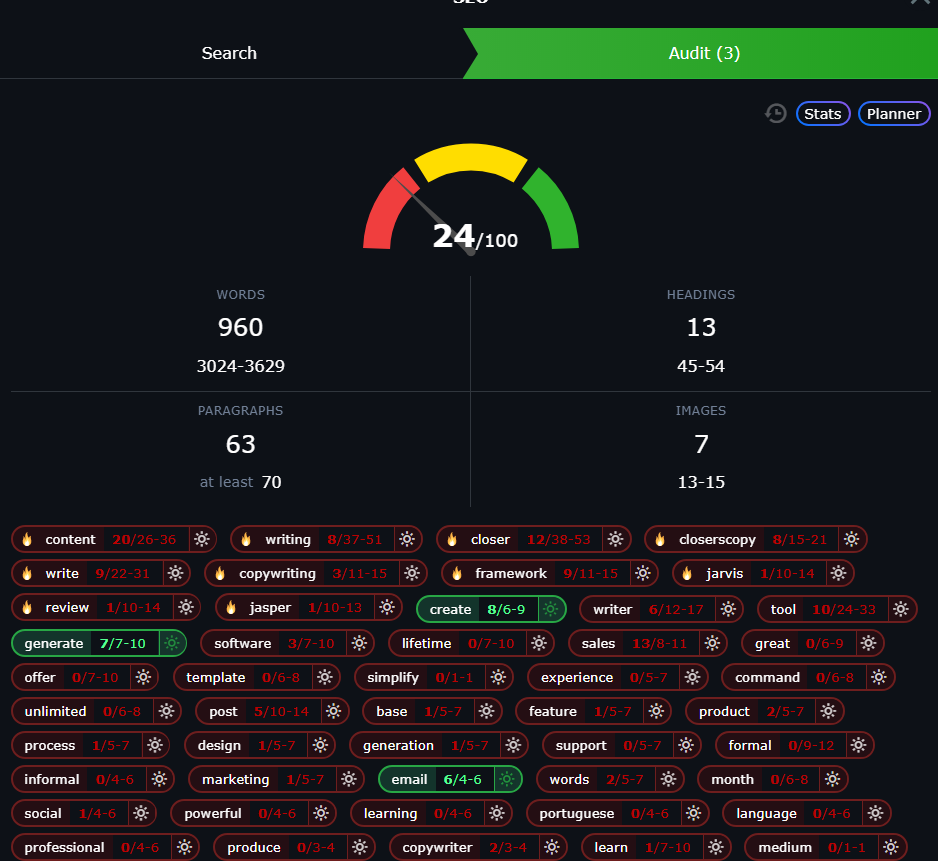 Looking at the recommendations, I can see the target word count (3024-3629), the amount of headings (13), the amount of paragraphs (63), the amount of images (7), and whether I'm hitting the word match count (green), or too low or too high (red). The score so far is 24/100. So I've got a lot to go.
Keep in mind that this AI writing software is a writing assistant tool. If you generate all of the content from it, then it's possible that you won't hit a high SEO score.
Wouldn't it be great if you could just click one button and then hit a high score with epic content? Maybe in the future, but not right now.
Creating Blog Content Using AI
Here's a picture of my private framework that I've been training. Simply enter a subheading and click on Write for Me.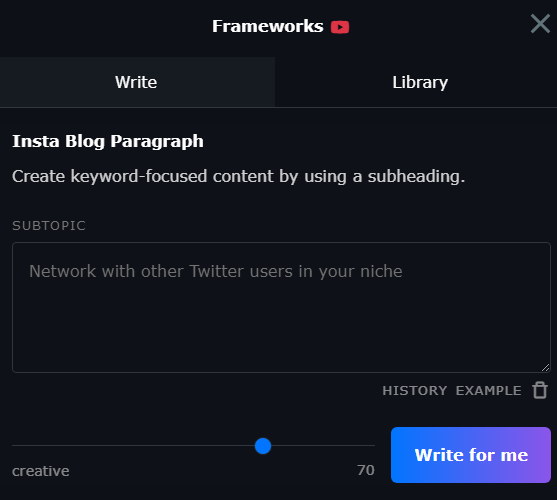 In seconds, it will generate longform content. You can use all of the content, generate another version, expand it, or shorten it. It's all up to you.

Creating Sales Letters
In the picture below, you'll see Nico Engler's Ultimate Sales Letter workflow. A workflow contains multiple steps, or frameworks. In this case, he takes you across multiple steps to generate content for each critical step of your salesletter.
The name of this workflow reminds of the first copywriting book that I read. It's called "The Ultimate Sales Letter - Attract New Customers. Boost your Sales." by Dan Kennedy.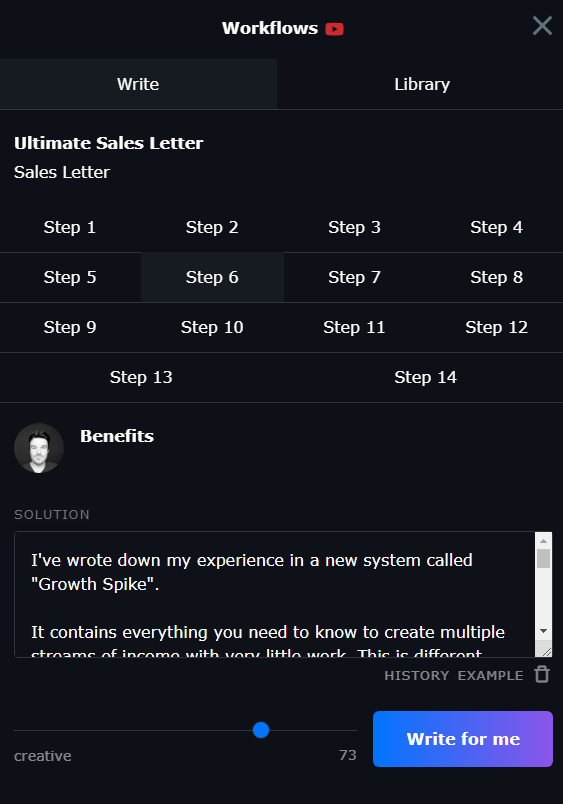 So if you've been thinking about hiring a copywriter, you might want to give Nico's workflow a shot.
I've been watching some of Nico's videos and you can tell that he's pretty excited about sales psychology. This is built into the design of the SalesAI model.
In one of his videos, he takes some of Frank Kern's content and uses it to create a framework. I was super suprised to see how ClosersCopy generated content with Frank's personality.
Super cool right?
Creating Email Content
I also created a custom, private framework to model one of my favorite direct response marketers. I won't mention his name here, but I will say that he's famous for creating story-focused, infotainment emails.
I added the default topic as a joke; he's not into SEO, but it was cool to see content auto-written for non-email marketing content.
How do you use it?
Same way, enter your topic, and the click "Write for Me."
The difference between this one and the blog paragraph that I just showed you is that it will generate a subject line + the email content.
Cool right?
What Else Can I Use This Software For?
You can create a variety of posts, including:
Sales letters and VSL scripts
Podcast episode drafts
Product reviews
Video scripts
eBook content
White papers
Infographics ideas
Stories
Social media captions
And much more
What Languages Does It Support?
At the time of writing this (5/2022), it supports 128 languages. Most of the AI writing tools I've seen just support English, or maybe 1 or 2 other languages. So if you speak or want to produce content using popular languages like Spanish, French, German, Italian, Japanese, Korean, Portuguese, Chinese (and many more), then this tool can help.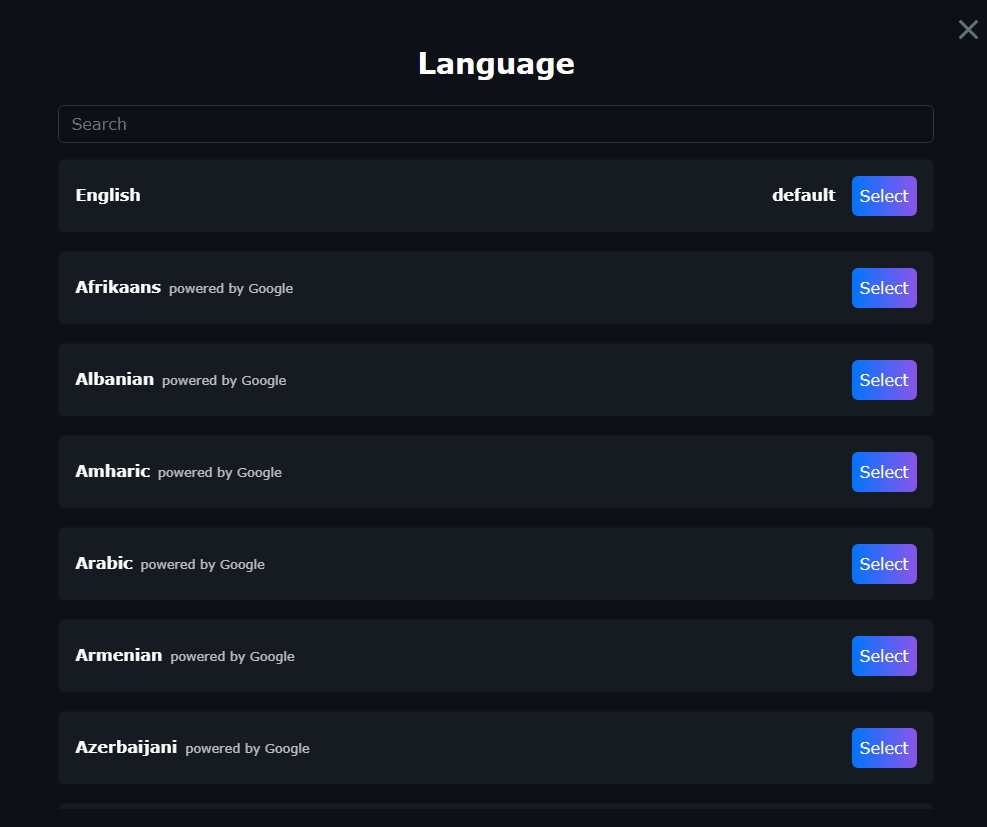 If you want to look over my shoulder as I use some of the community frameworks, you can check out my ClosersCopy AI writer demos:
Create Blog Content Fast with AI
ClosersCopy 1 Click Blog Post
How to Easily Create Twitter Threads Using AI
How Much Does This Cost?
I ended up getting the lifetime deal. At the time, I thought it was pretty expensive. I then looked up the features that were developed over time. It seemed like Nico was adding new features month-after-month. Not just that, the community, including myself, have been adding tons of powerful, new frameworks and workflows over time.
The price? I ended up paying $253.31 for the Unlimited LTD offer back in December 2021.
With this deal, get to generate unlimited content and I also get access to the upcoming features for the life of the software. ClosersCopy also has a great support community to. If I ever wanted support, had some questions, or just wanted to get some feedback, then I can get it from the community. Sometimes I'll even reach out to the founder, Nico Engler, and replied without any issues.
Was it worth it?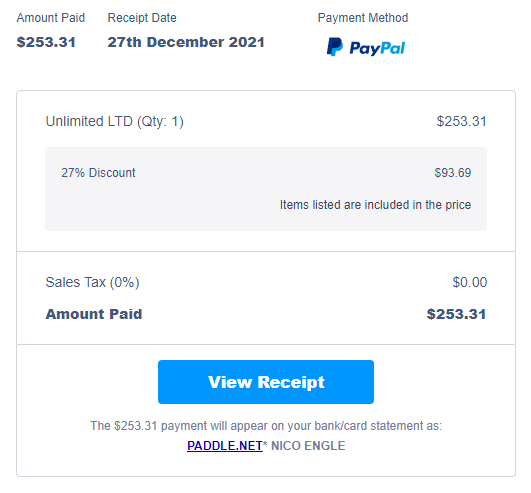 To me it is. I was paying writers on Upwork and even hired employees from the Philippines. For 100 articles, that was already thousands of dollars. The quality of that content was just "OK" and it was not super SEO optimized either. With ClosersCopy, I'm able to generate tons of content ideas and paragraphs.
Why You Should Not Buy this AI Writing Tool
If you're looking for extremely personal content, or super accurate statistics or research, then AI writing tools in general aren't the write tool.
There are times when AI generates content with statistics. I still have to research the right numbers and credible sources. That's OK with me, because it's also a great idea to link out to high-authority websites.
Let's look at things on the personal end.
What if you wanted to become an effective freelance writer or a copywriting professional? If you wanted to improve your craft and produce content like other professionals do, then I would recommend learning and doing.
That's not to say that this software is useless if you're in this situation, but you can learn a lot from your experiences, and possibly simplify your content production processes using an AI software tool.
What if you just love to write? If you've been writing for many years, then you might be used to your workflows or just love being a writer.
The choice is yours!
What Would Make This Product Better?
When I first starting comparing the tools, I started looking at Jasper.ai/Jarvis. At the time, it was the most popular AI writing tool. I remember watching a video of Rachel Pedersen and she was able to use her name in the Voice field to generate video titles and other type of content. I thought cool, I wish ClosersCopy could do that.
After I started creating my own frameworks and training the different AI models, I realized the power of CC. I could use custom frameworks to create just about any type of content using just about any persons writing style, or "voice."
So here, I'll discuss my ultimate wishlist:
1) One click SEO blog posts that use the NLP servers - so in this use case, I would add the keyword that I'd like to create an article on. I could select the type of article (ie. listicle, how-to, roundup, etc.). Then, CC would look at the top results in Google (I can select the top 1-10), and produce (not copy) several titles, and then several subheadings for me to use. From there, each subheading would be used to make content based on Google SERPs and use relevant keywords in each paragraph producing an SEO content score of my choice. The length would also be based on the word count from CC's current SEO audit feature.
2) One click sales letter - in this use case, I can specify a URL of my existing product page and it will create a certain type of sales letter on command. I can specify longform or shortform, and possibly the amount of pages.
3) One click ebook - this works by entering an ebook topic. The end result would be something like the type of content that you would see in PLR books, but a bit better. I can introduce a certain writing style, tone, or voice, and it would use that throughout the content. This can work in a similar way like the one click SEO blog post that I mentioned in #1, but with more subheadings and the ability to specify the length of the ebook.
If You're Interested in Getting Closers Copy
I've put together a special bonus for people that get ClosersCopy from my affiliate link. If you grab it through my link, and send me a copy of your receipt, I'll send you my special bonus course and my personal infoSpike Frameworks aren't available anywhere else. These are AI frameworks that I've built and trained inside of ClosersCopy for creating quick blog posts, story-focused emails, FB posts, Twitter tweets and threads, and for creating video titles.
Exclusive Closers Copy Bonus
If you're interested in ClosersCopy, make sure that you check out my exclusive niche marketing bonus that's worth over $497 (USD).
Recommended Reading