ClosersCopy Drafts Mode Review + Walkthrough
Closers Copy's Drafts mode is a great tool that can help you create articles on a wide variety of topics.
While CC does have tons of frameworks and workflows that you can use, Drafts can help you create a tuned article with several mouse clicks.
Before I tell you more about CC, I also want to let you know that the creator, Nico Engler, released a newer version. Check out my CopySpace.AI review for more details.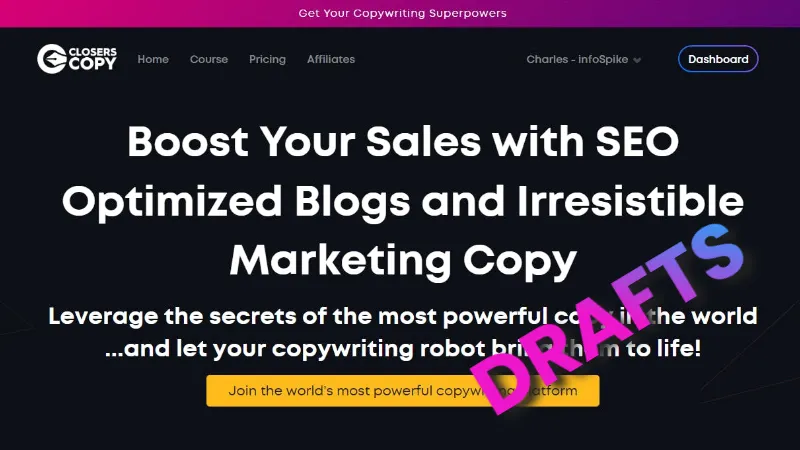 Well over a year ago, I purchased a tool called Market Muse, and it had credits for something called "First Drafts." Initially, it was a great service where they used their AI system to create articles that you could take and modify if needed. It was a great start, and I was looking for improvements over time.
Unfortunately, they removed that service, and I was looking for a way to create content with a click of a button.
Some of the other AI tools that I've tested are Nichesss from Malcolm Tyson, WordPlay.ai, Texta.ai, LeadScripts, Bramework, NeuronWriter, Writecream, PhoneSites AI, Ocoya Travis AI, Riku.ai, Rytr, WordHero, Mini Course Generator. AI SEO, WriterZen, Chugzi, Article Forge, and ContextMinds.
The idea of 1-click blog posts sounds cool at first, but then I realized later that you need to train AI and structure your content so that it produces content the way that you want it.
If you just put in a keyword and pump out AI content, the results will suck for sure.
You can get around this problem by using Closers Copy's Drafts mode.
After a bunch of feedback and testing, the founder, Nico Engler, created it.
Using this, I realized that it's one of the best AI writing tools that I've ever used. OK already, I know this sounds way biased already. Don't worry. I'll provide the pros and cons of using it.
First, let's go over the concept of a "First Draft."
What's a First Draft?
A first draft is a rough draft, and it's your first iteration.
While writing content, it's common to have writer's block. I remember blogging for the first time. I used to ask myself how I could even come up with 500 words on certain keywords Even with topics that I was familiar with, it was extremely tough.
Later, Google released the Google Wonder Wheel that provided a visual wheel of ideas related to my keyword. I was able to come up with ideas fast. However, it had a short life and Google removed it from their tool library.
Now, there are many tools available that you can use to get over writer's block and develop your first draft with ease.
Let's say that you want to write about "How to write content faster using AI."
I would do some preliminary research and figure out what other topics I can write about.
In Closers Copy, you can use their SEO tool to look up NLP keywords and other topics that other competitors use.
Get ideas from Closers Copy's NLP keywords using their SEO tool.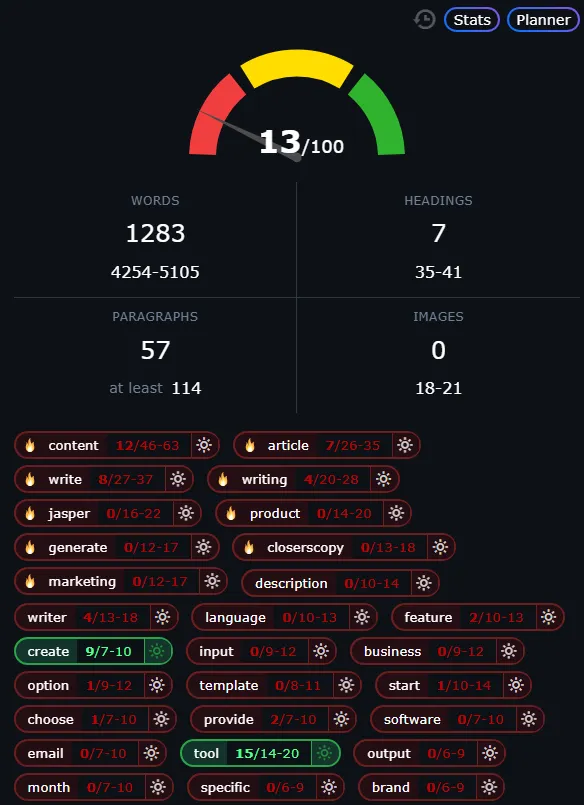 Check out questions from other competitors.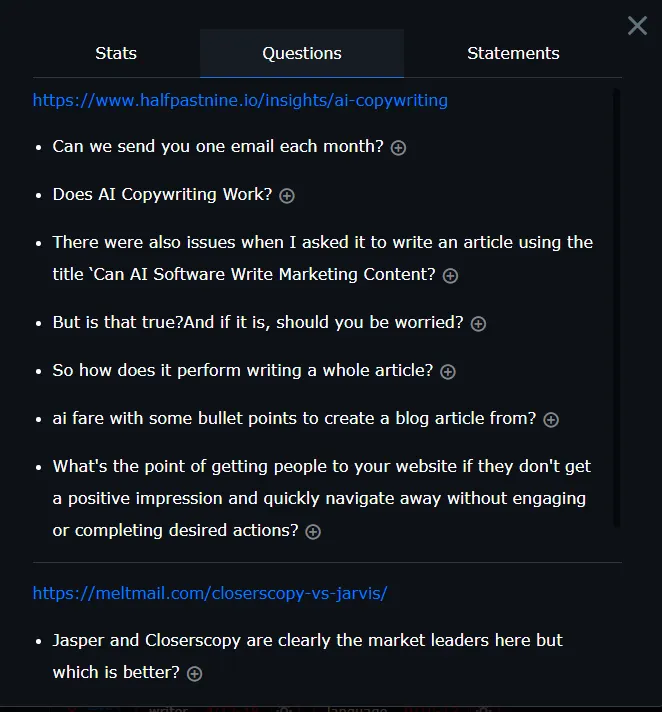 At this point, I might also use a tool like Topic Mojo to come up with topic ideas or questions.
From there, I can define what subheadings that I want to use, and some questions for my Frequently Asked Questions (FAQ) section.
At that point, I would have a better idea of what my article is about and create a compelling headline.
Now that I've discussed the manual process of creating the first iteration of my article, let me go over how this Drafts mode can help you and some of its drawbacks. After that, I'll use the article structure above and show you how to create a first draft using Closers Copy's Drafts.
Benefits
Drafts mode can help you create your first draft with ease. It allows you to define the structure of your article, and define keywords (talking points) for each section of your article. If you've been looking for a 1-click AI writing tool, this is the best alternative on the market.
Since you can define each block, and use the context of your article to produce subsequent sections (subheadings, additional paragraphs, listicles and more), it will generate content that is more likely to stay on topic with increased readability.
What that means is that it will consider the content that was previously generated. This is a very important feature. There are many tools on the market that create paragraphs based on selected text. It's often the case that similar content was generated in another area of your article. While Closers Copy doesn't create perfect articles, the context aware feature produces cleaner content and reduces the need to edit compared to other tools.
This gives you extreme flexibility. Other rapid writing AI tools that I've used generate articles with a similar structure for every article. This doesn't look natural and it gives off a robotic vibe.
If you're looking for a 1-click blog post or other styles of content, there are other frameworks and workflows in Closers Copy that you can use. As mentioned, there's also an SEO tool that calculates an SEO score, and it provides NLP keyword suggestions to increase your chances of ranking using on-page search engine optimization.
If you're a lifetime member or are using an unlimited plan, you can also create unlimited articles. Other AI tools with this type of feature use AI credits. I don't have to worry about that with the lifetime version of Closers Copy that I purchased.
Drawbacks
One of the drawbacks is that there's no grammar checker in Closers Copy. This isn't just the Drafts mode, it's in the main canvas for the software.
I have an AI based grammar and spelling checker called Linguix, and the Google Chrome extension doesn't work in the main canvas/writing area.
It sucks to copy the content out, and back into CC for their SEO tool. For now, I'm using Linguix in my CMS at the final step. That will do for now.
For people that are new to AI tools, a big drawback is that the content isn't perfect. With all the tools that I've tested, I never expect perfect content that didn't require any revisions.
However, that's OK. I think it's important to put your own personal experiences and opinions in your blog.
Some might say that it's expensive. I don't feel that way. Recently, I purchased 100 "cheap" articles for my other blog, and it cost me $2,000. Closers Copy is a fraction of that, and I can create 1000s of articles at a fixed price.
While using Drafts, I also thought that it would be useful if there was a bulk CSV upload mode feature. That would allow me to define all the blocks in a spreadsheet, upload it to the queue, and then it would generate tons of articles.
That feature seemed like it would save time at first, but it does take time to enter data into a spreadsheet since subheadings and other blocks need to be defined. Having a long list of keywords pushed into AI (without subheadings) typically produces lower quality content which isn't what I want. I can live without the bulk CSV feature.
From a more advanced perspective, one feature that I'd like to see is the ability to create custom frameworks in Drafts mode. Why? It's because I've trained my frameworks to have a certain voice. To have that tone or voice in my generated content would be great! With that being said, I do like the lean interface and adding more features can possibly add more undesirable bloat to it.
How does Closers Copy Drafts mode work?
After developing the structure of your article, then all you have to do is add those to Build area of the Drafts tool.
Using the example above, we can use the following:
Title: Get More out of Your Writing with AI Assistance
Subheading 1: How can AI improve your content?
Subheading 2: What types of AI content writing tools are available?
Subheading 3: How to use AI tools without any techie experience
FAQ
Conclusion
Step-by-Step Closers Copy Drafts Tutorial
Let's use the parameters above and create an article using Closers Copy's Drafts tool.
First, add a meaningful headline and use 2-3 words to describe your topic. You can adjust your content length for your headline.

Click the Headline dropdown and select Subheading. Since we have 3 subheadings, we can click on the + icon on the right of the Subheading option. Add your subheadings for each section, and then use multiple keywords, comma separated, to describe your talking points for each subheading block.
This part is extremely powerful. If you're using briefs from tools like Frase or Surfer SEO, or NLP keywords from Closers Copy's SEO tool, then you can define relevant keywords for each subheading block.
Click on the Subheading dropdown at the top and select FAQ. This will automate the creation of frequently asked questions and answers. If you want to define them yourself, you can use Subheadings for each question.
Click on the FAQ dropdown at the top and select Conclusion.
From here, you can decide to use Paragraphs (Expander) to add more content to a subheading, or Paragraphs + to add more content (listicles, subheadings, and more paragraphs), or add additional keyword-focused content to a Subheading block using Paragraphs (talking points).
You can also add blocks for Benefits, Drawbacks, Listicles, and Tutorials.
Drafts mode also allows you to move blocks around in whatever order you choose.
If you want to generate the maximum amount of words, you can click the "max words" button on top of the blue button on the bottom of the Drafts Build module.
After that, you click on the "Schedule Draft" button, and it will be queued. Most of the time, it takes about 2 minutes to generate the article.

Here's the result of the first section:

Frequently Asked Questions

1. Why use Closers Copy Drafts instead of using frameworks and workflows?

To save time. With frameworks and workflows, you have to weight for your request to process. That's for each block of content (each subheading, paragraph expander, listicle, etc.). With drafts, I can enter all of my article sections and schedule it in a queue. That means that I can define my articles one after another without much delay.

2. Can Closers Copy be used to create 2nd or 3rd drafts?

You can use the canvas in Closers Copy to improve content, together with other frameworks and workflows.

3. Can I use Closers Copy to create content that goes against the terms of OpenAI?

I have tested content that was blocked in OpenAI, and it worked. For example, topics where there is extreme conflict between countries. Whether that's based on politics, historical experiences, or religion. Those typically don't work well in many of the AI tools on the market, but I've had no issue with Closerse Copy since they have their 3 custom AI models (SalesAI, BlogsAI, and StoryAI).

4. How long does it take to generate content in Closers Copy using Drafts?

Roughly 2 minutes. This can possibly depend on server load and complexity. However, it's taken 2 minutes on average in recent tests.

5. Can I use community frameworks or workflows in Closers Copy Drafts?

Not at this time.

6. Can I save my drafts in Closers Copy?

Yes, the last 25 drafts are shown in the Drafts library interface. If you'd like to save them for future use, it's best to add them to a Closers Copy document.

7. Is there a competing tool that is better than Closers Copy Drafts?

If you want to generate AI content without the typical AI writing frustrations, then Drafts mode in CC is my favorite option. It gives me the power to structure my content in a wide variety of configurations.

8. What's your final score for Closers Copy Drafts Mode?

1) Content quality compared to other AI content tools: 5/5
2) Easy workflow: 4/5
3) Cost: 5/5
4) Content generation speed: 5/5
Total score: 95%

9. Are there any special deals or bonuses for Closers Copy AI?

If you decide to grab the lifetime deal through my link, I'll send you access to my Niche Site SEO course (valued at $497). Just send me a copy of your receipt through my contact page and I'll email the access details.

Recommended Reading