WordPlay.ai vs ClosersCopy's Drafts (Which One is the Best?)
In this article, I wanted to deeply dive into the characteristics of WordPlay.ai and Closers Copy that can greatly improve your business.
I also want to let you know that the creator of ClosersCopy created a new OpenAI-focused version. Check out my CopySpace.ai review for more information.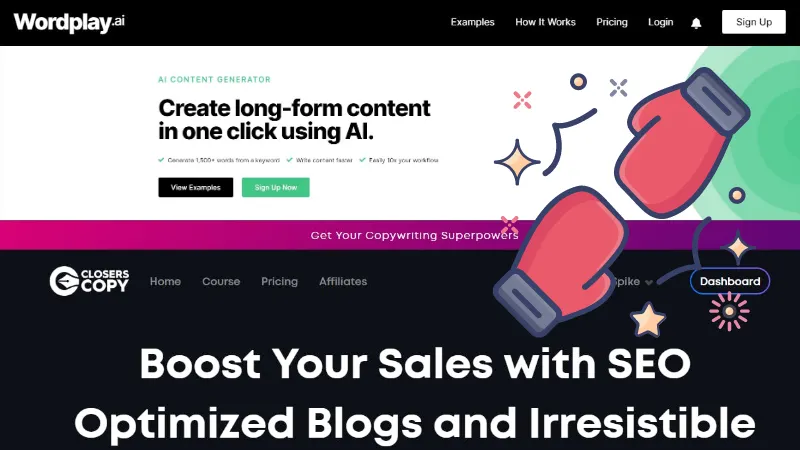 In the past, I've written reviews on WordPlay.ai's features as well as Closers Copy's Draft feature.
If you checked those out yet, here are the links:
Here, I'll provide additional details so that you can make an educated decision before making an investment on an AI tool.
Before diving into the techie details, let me go over the basics of content creation and these AI content tools.
Basic Article Structure
If you want to write an article for your blog or website, then you should use an article framework.
If you're just getting started, I recommend starting with a basic article structure. This is because when people read articles, they often skim through them. So, if you don't make it easy for the reader to understand what you are trying to say, then they won't be able to learn anything from your content.
One you have this skill down, then you can use more advanced article and copywriting structures.
To keep it simple, stick to H1s, H2s, and maybe H3s. The title of your articles is inside of an H1 tag. Additional blocks of content are under H2 tags. If you want to create a subsection of your H2 content block, then you can use an H3.
What's up with the H1-H3 tag stuff. That's based on HTML code. You don't need to code your content, but you need to understand that you have to use these for search engine optimization (SEO). That will help you get more organic traffic from the search engines.
If you're using a blogging platform or word processing software (ie. Microsoft Word or Google Docs), then these are referred to headings. So an H1 would be Heading 1, an H2 would be Heading 2, and H3 would be Heading 3.
In most modern content managements systems (CMS), like WordPress, or GrooveBlog, the title tag is typically put into Heading 1. However, in the body of your content, the H2 and H3 subheadings (and beyond) will need to be added manually in most cases.
If you want to see an example of this, then just check out this article that you're reading. Most of the subheadings under the title are H2s (heading 2s). If I create subsections inside the H2 block, then those will most likely be H3s (heading 3s). An example of that are the questions in my Frequently Asked Questions section of this article.
What Is the Quality of GPT-3 AI Content?
Now were diving into the techie stuff.
Most of the AI content generation tools on the market use GPT-3. GPT-3 is a set of AI models.
The big exception is Closers Copy. They do have some GPT-3 functionality, but the also have 3 of their own AI models (SalesAI, BlogAI, and StoryAI).
Another important thing to note is GPT-3 has multiple flavors. Just because a software says it uses GPT-3, it doesn't mean the quality will be the same.
The 4 GPT-3 models are Davinci, Curie, Babbage, and Ada. Davinci costs more, and Ada is the one that costs the least. The cheapest model is also the fastest, but the quality of the content isn't so great. So many of the higher quality AI tools use Davinci.
One thing that you should know is that OpenAI does have content restrictions. For content guidelines, they are really strict on the sensitive topics.
There are also many other models on the market.
I've used GPT-J, and other models from AI21labs, co:here, Aleph Alpha.
Out of all the ones that I've mentioned, Closers Copy had the best quality and I have yet to encounter content generation restrictions.
With that being said, content generation is slower in Closers Copy. However, their Drafts feature is a game changer. Instead of waiting around for content to be generated, it schedules the content. After it gets processed in the queue, I can add the content to my editor and start optimizing it. I can add multiple articles in the queue and work with them later.
WordPlay also queues articles. Whether I schedule 1 or many, I wait for the content to process and work with it later on.
While creating drafts in CC, I noticed this statement right below the schedule content button:
"Drafts are scheduled and run as soon as resources are available. This can take minutes or even hours. Plan ahead when using Drafts."
The same thing applies to WordPlay.ai. Don't expect it on your time.
However, content generation doesn't take too long for both platforms. It might take a few minutes to generate each article.
WordPlay and Closers Copy Drafts: Looking at Each Tool Side-By-Side
In terms of rapid content creation, both tools can produce content fast. They're designed to assist you in producing high quality articles quickly. I want to stress "assist." AI tools, for the most part, are created to help human writers, not replace them. So don't think about this as the SkyNet version of content creation:) We're not at that point where robots can fully replace human writers.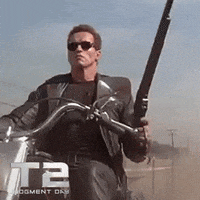 When comparing these tools side-by-side, there are some key differences between them that could affect your decision on whether or not to use either service.
Wordplay has a really cool interface that makes it easy to write good articles with minimal effort. It also offers different input methods (title, outline, keyword, and bulk entry). However, Wordplay does lack basic features like the ability to add advanced content blocks like listicles or AI-generated FAQs.
In addition, you won't be able to edit your articles once they've been published within the platform. On the other hand, Closers Copy's Drafts mode is a much more advanced tool that allows you to use many of its best features within the main platform. For example, it provides you with a heavy-duty SEO content creation environment. You can get NLP keyword suggestions, subheading and question suggestions, and more tools to spy on your competition's content.
If you want to add more to your content in Closers Copy, you can use frameworks and workflows.
However, if you want to keep it simple, WordPlay.ai has an easier-to-use, lean interface. If you had 100 keywords, you could drop them into WordPlay and generate articles. That's a feature that Closers Copy doesn't have. Even though there is a 1-click blog post feature outside of the Drafts feature, I feel that WordPlay has better content when I compare it to that workflow. For better quality and speed, then Closers Copy Drafts would be the way to go, but still, not simplified as WordPlay.ai.
I'll go into one of my favorite features in WordPlay.ai next.
How to easily create a ton of content using Wordplay.ai's Bulk CSV Mode
If you want to create an amazing blog and rank high for a ton of long-tail keywords, then you're going to need a ton of content. What if you don't have great writing skills or a lot of time on your hands? Then you can use a tool like Wordplay.ai to help you with the bulk content creation.
This tool allows you to import a spreadsheet and automatically creates a bunch of new articles for you. All you need to do is enter the title of you article, and the individual subheadings. Each article is created from each data set row in your CSV file (which you can easily create using their template in Google Sheets or Microsoft Excel). After you upload the file, then you submit it, and wait for the articles to be processed.
Frequently Asked Questions?
1. How long does it take to download an article?
This typically takes 2-5 minutes per an article. It can take longer depending on server resources and the amount of articles in the queue.
2. How man articles can I process in 1 shot?
In Closers Copy Drafts, you'll need to add 1 article at a time. So far, I haven't encountered a limit with my unlimited plan. With WordPlay.ai, the amount of articles that you can add depends on the amount of word credits that you have available. I do have a lifetime plan, but they don't have an unlimited plan that has been openly advertised. I haven't hit a limit with WordPlay.ai if I'm within my word count limit.
3. What is the lowest cost plan for each platform?
The lowest cost plans aren't the lifetime plans. As of 7/2022, WordPlay.ai has a $39 a month plan for 50,000 words a month. I'd rather get their lifetime plan that starts at $99 (one time).
For Closers Copy, they have a plan for $49.99 per a month for 300 AI runs a month. Depending on how many runs you perform, it's possible to create one 1,000 word article a day with that plan. If you like it, then you can upgrade to the lifetime plan. If you just want to jump head first into AI content, then grab the lifetime plan to save money over the long-term.
4. Are there any special deals or bonuses for WordPlay.ai or ClosersCopy.ai?
If you purchase a lifetime plan from WordPlay.ai or Closers Copy, then I'll provide you with access to my Niche Site SEO course (valued at $497). Just send me a copy of your receipt and I'll email you access details.
Recommended Reading