WordPlay.ai Review and Walkthrough
In this article, I'll provide my personal WordPlay.ai review, dive into the features, and provide an example of the content it generates.
What is WordPlay.ai?
First off, what is Wordplay.ai? What does it do exactly? And why should I care?
WordPlay.ai is a cloud-based, AI-focused writing tool that generates long-form content.
If you're not familiar with "artificial intelligence" (AI) generated content, then here's a brief intro: Using an AI writing tool, you can generate content that is based on an AI model.
For example, let's say that you want to create an article about "how to create blog content fast," then you can use AI to generate headline ideas, outline ideas, and content.
If you're a digital content creator, it's common to write the content on your own, or hire writers to do it for you.
The reason why I bought a lifetime plan with WordPlay.ai was to save money and time. Instead of hiring writers, my hope was to use the tool to help me generate content ideas and boost productivity. If I could 10X my writing with the assistance of AI, then I could create more valuable content for my readers.
What are the problems with AI writing tools?
Before WordPlay, I invested in over a dozen AI tools. Shiny object syndrome? Kinda. With each tool, I noticed differences. Of course, none of them were perfect.
Some of the tools that I've tested are Nichesss from Malcolm Tyson, Closers Copy from Nico Engler, Texta.ai, LeadScripts, Bramework, NeuronWriter, Writecream, PhoneSites AI, Ocoya Travis AI, Riku.ai, Rytr, WordHero, Mini Course Generator. AI SEO, WriterZen, Chugzi, Article Forge, and ContextMinds.
I haven't tested Jarvis / Jasper.ai.
Out of all these tools, there were 4 issues that I found:
1) Inaccurate content
2) Complex workflows
3) Additional costs for add-ons
4) Slow output
The tools that I've mentioned either had 1 or more of these issues.
In this article, I'll go over WordPlay.ai's features, and then rate it based on these 4 characteristics.
What is Wordplay.ai's Title Mode?
Before keyword mode came along, they had title mode. At first, I thought that I could just plug in keywords, but titles word differently.
The way that it works is that you enter titles, line delimited, then enter a project name. Whether you enter one or multiple titles, the article(s) will be bundled into the project that you defined.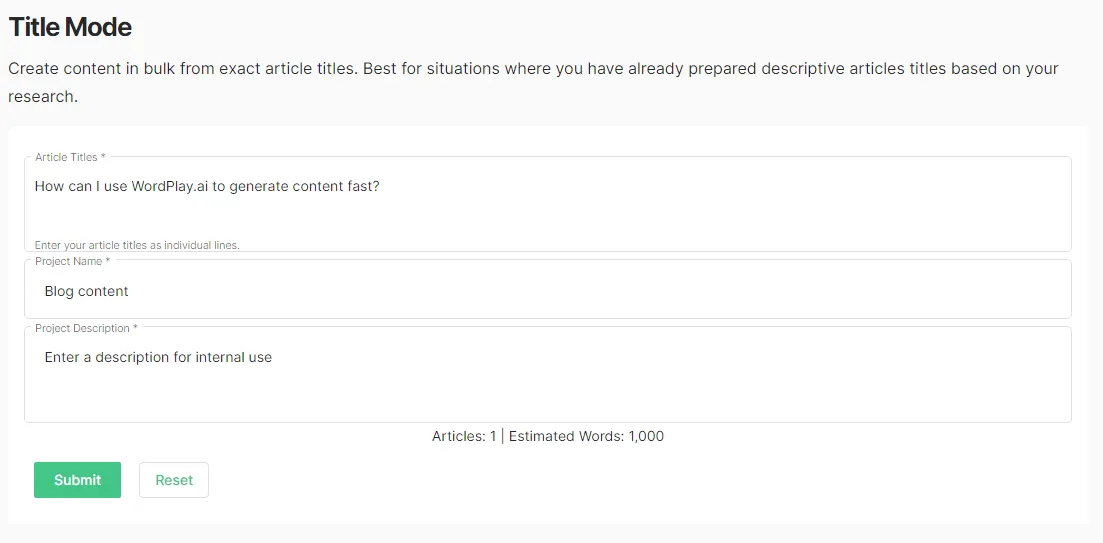 This mode gives you a bit more power than keyword mode (which I'll cover in the next section). That's because your title can define intent.
For example, let's use the keyword: start blogging
Here's some different title variations using the same keyword:
1) Start Blogging in 24 Hours or Less
2) 3 Simple Steps to Start Blogging Today
3) Start Blogging and Never Look Back
With the first title, I would expect a detailed report or course.
With the second title, I would expect 3 quick lessons or even a checklist.
With the third title, I would expect to learn the benefits of blogging, or maybe a personal case study from a blogger.
With a descriptive title, you can drive the direction of the article. I'll go into Outline Mode later, which will give you more power.
What is Wordplay.ai's Keyword Mode?
One of the easiest features to use is WordPlay.ai's keyword mode. Most of my readers that read these types of articles are into SEO. So let's talk about keyword-focused articles that you want to rank for.
If you want to create content fast without much research, then all you have to do is get a list of keywords and drop them into WordPlay.ai's keyword mode. That's pretty much it. Simple right?
Let's say that you found 2 keywords:
"start a blog"
"why use WordPress for your niche site business?"
Just enter those 2 keywords into the keywords box, and separate them with a line break. Then enter a project name.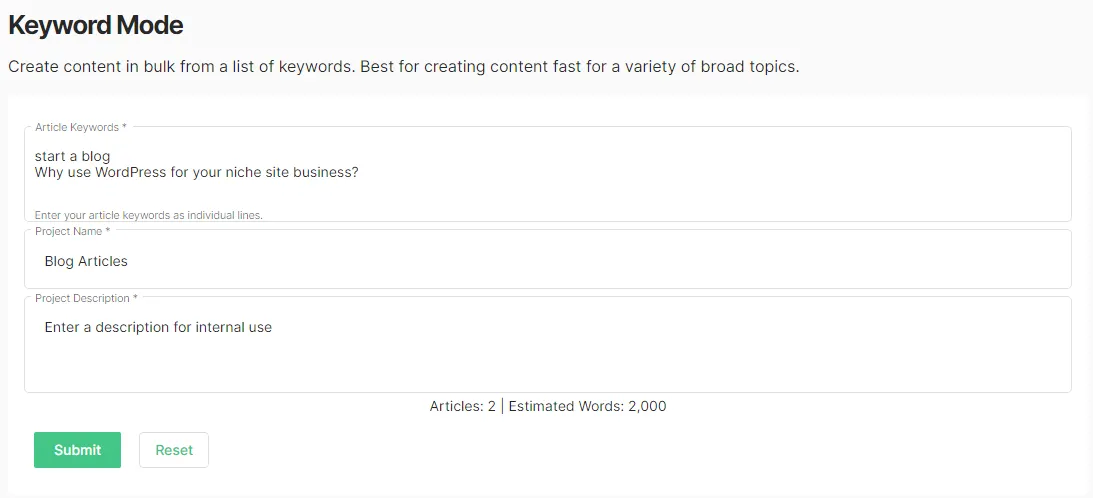 When the articles are generated, they'll be bundled up in that project.
If you're looking for more control of the topics within the article, I'll cover that in the Outline mode.
Another great thing about keyword mode is that you don't need to worry about creating unique titles. The software will do the hard work for you. The generated article comes with a generated title. It's up to you if you want to use it or revise it.
What is Wordplay.ai's Outline Mode?
WordPlay.ai can help you create an article from your title and outline.
In a blog post, you'll want to use H1s, H2s, and maybe some H3s and H4s. Using outline mode, you can define the subheadings (your H2s). This allows you to control your article output.
If you're into SEO, I'm sure that you'll realize the power of this and the possibilities of ranking for featured snippets.
Once you are done with your outline, WordPlay.ai will automatically generate the rest of the document. This saves you a lot of time.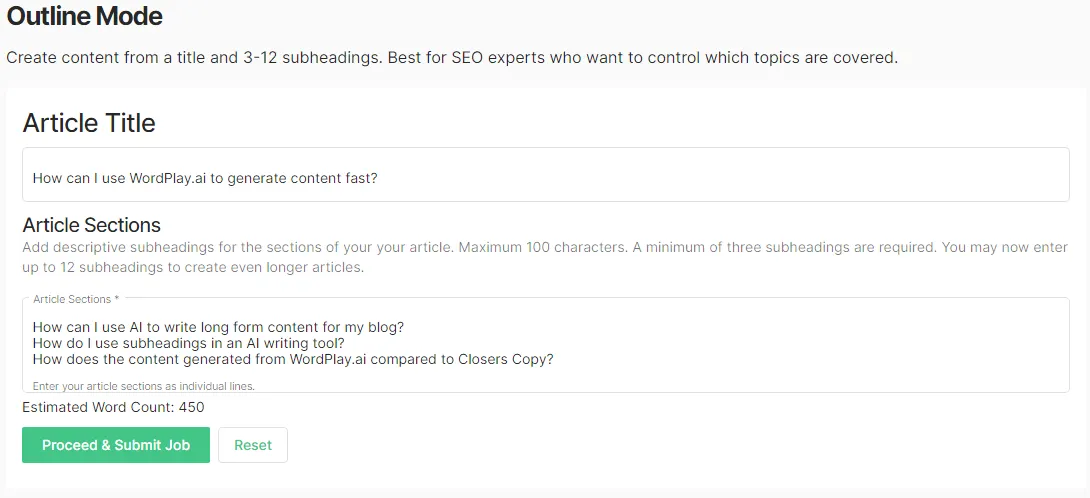 In addition, if you use the "Outline Mode" feature of the software, then you will be able to see the total number of words after adding each subheading. The trick to this is to enter your subheading, and then click on the article title so that it recalculates your total word count.
The final step is to click on the submit button.
You can only do this one article at a time. However, if you want to generate multiple articles in 1 shot, use the Bulk CSV mode.
What Is Wordplay.ai's Bulk CSV Mode?
Bulk mode is an automated way to create articles from a list of titles and subheadings. This allows you to save time by creating hundreds of blog posts fast. This can take minutes or hours depending on the number of articles that you enter.

Just like Outline Mode, bulk CSV mode allows you to control your article output by defining your outline (via subheadings).
The big difference is that you create a CSV first using their template. You can use Google Sheets or Microsoft Excel to create this file. When you're done, all you have to do is upload and submit your CSV.

With all of these modes, the amount of words that you can create depends on the number of word credits that you've created.
The disadvantage of this mode compared to Outline Mode is that you can't see exactly how many word credits each article consumes.
What is the quality of the content generated by WordPlay.ai?
Here's an example of the input and output.
Input: How can I use WordPlay.ai to generate content fast?
// Start of Output (Intro Section)
// End of Output
What do you think of the raw output?
For the most part, I think the content was great. It mentions that the "process happens in less than an hour." That statement is true. In most of my tests, an article was produced in 1-20 minutes. It probably depends on server load, if the article has been written by the system in the past, and how complex the article is.
If there isn't enough information online, there's a greater chance that it will use its creativity and come up with content that isn't so great quality-wise.
What is WordPlay.ai's WordPress Plugin?
WordPress is one of the most popular blogging platforms in the world. And it is also has the ability to extend it using something called WordPress plugins. With your WordPlay account, you can use their plugin that will allow you to easily import articles into your WordPress blog.
From there, you can decide if you want to schedule those posts to sometime in the future, or publish them all in 1 shot.
Wordplay.ai Pricing Plan
They offer Basic, Pro, and Mass plans. *The prices shown below were captured on 7/14/2022.
The basic plan costs $39, and it allows you to generate 50,000 words of content. That's $0.0008 a word.
The pro plan costs $79, and it allows you to generate 100,000 words of content. That's $0.00079 a word.
The mass plan costs $239, and it allows you to generate 300,000 words of content. That's $0.00079 a word.
With those volumes, they don't seem to offer significant discounts with higher-tier plans. However, they have mentioned that you can contact them for high-volume pricing.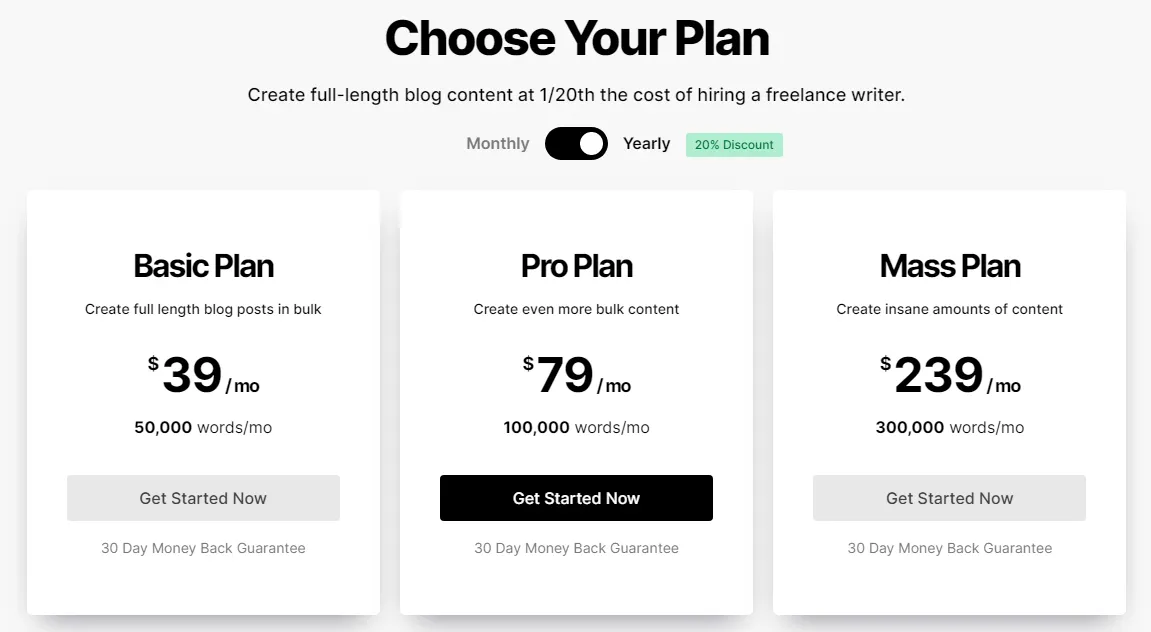 So, when you're choosing the best WordPlay.ai pricing plan, it's important to think about what you need and what can you manage.
If you want high-quality content, you should still review and revise your content. While the output is formatted in HTML, you'll still want to revise your content and add visuals.
It's also important to note that they do offer a 30-day money-back guarantee based on their terms and conditions. So if you're not cool with the content or what you have to do with it, you can ask for your money back.
How does this compare to hiring writers? I typically pay $20-$60 for every 1000 words of content. That's 2-6 cents a word.
Frequently Asked Questions
1. Can I purchase a lifetime plan?
At the time of writing this article, WordPlay.ai is offering a lifetime deal (LTD).
2. What special deals or bonuses are available for WordPlay.ai?
They have a lifetime deal where you just pay once and get to use it every month for the life of the software. In this deal, credits are calculated based on a 30-day rolling period. If you choose to get a lifetime deal through my link , then you can get access to my Niche Site SEO course (valued at $497). Just send me a copy of your receipt.
3. Do I need to pay for additional services?
No. All the features are included at no extra cost. You can simply purchase an annual or monthly plan. If you want more words, then you can pay for a higher level plan. Beyond content generation, there are other tools that you can invest in. The option is yours.
4. Will I be charged recurring fees?
With a monthly plan, you'll pay monthly charges until you cancel your subscription. If you pay for 1 month, and then cancel before your subscription renews, then your recurring payments will end.
5. What is the quality of the content?
Compared to most of the AI tools that I've tested, it's within the top 3. It's not perfect, but I believe it's better than tools like Article Forge. If you want high-quality content, you'll still need to review your content, do fact checking, and optimize it. This can take 30-60 minutes per an article.
6. Can I publish the content right after it's generated?
For content that requires accuracy or has technical information, I would recommend using this tool as a content creation assistant. If your niche contains topics that don't require technical accuracy, then it's possible that the content will be good to go. I still recommend adding your personal touch to the article.
7. What's your final score for WordPlay.ai?
1) Content quality compared to other AI content tools: 4/5
2) Easy workflow: 5/5
3) Cost: 5/5
4) Content generation speed: 5/5
Total score: 95%
Recommended Reading