Sendiio Review (for Email Marketing)
In this quick review, I'll discuss the email portion of Sendiio. If you've never heard of this web-based software service before, it will allow you to build your list using email marketing, SMS, and Facebook. Should you use it, or not? That's what you'll find out today.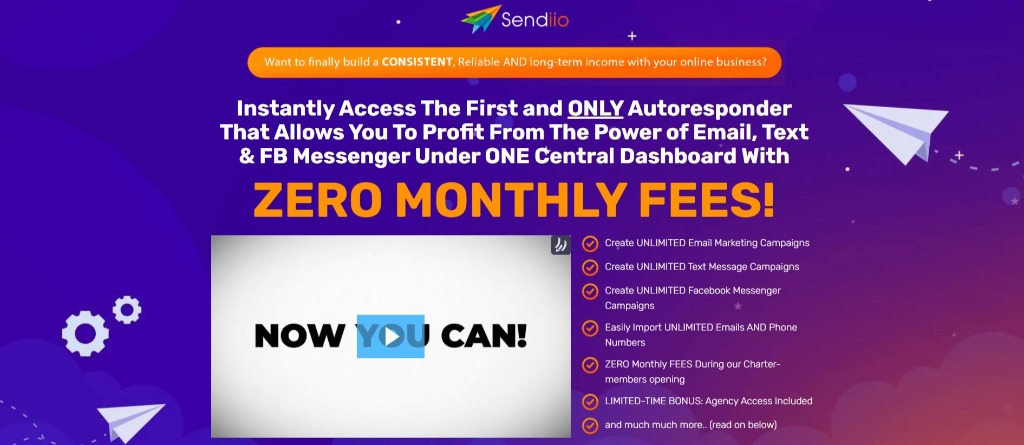 For many years, I've been building niche websites. I focused on display ads and Google AdSense. It was an easy business model that still works today, but I realized that the results could be greatly amplified if I started building a list through email marketing.
Back in the day, I used to use services like Aweber, GetResponse, Mailchimp, Sendfox, and TrafficWave.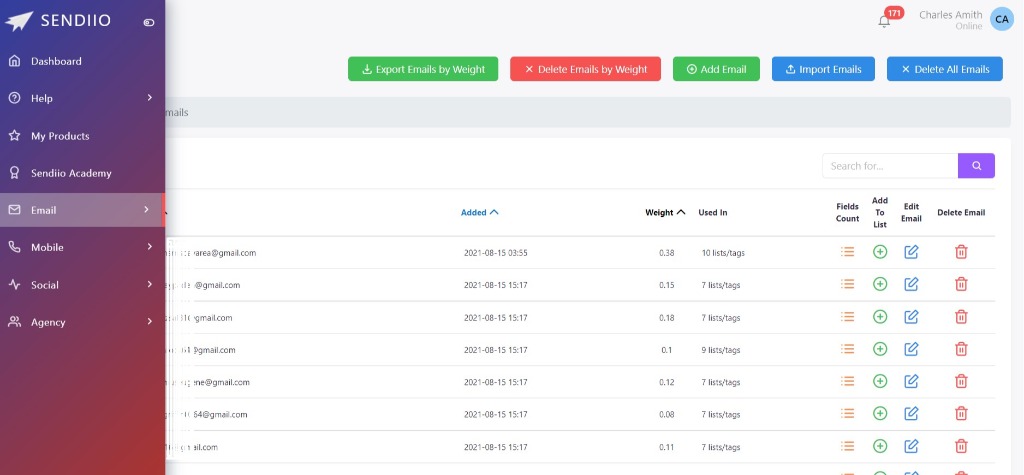 I still provide the same advice today:
If you're focused on delivery rates, then go with Aweber.
If you're focused on affiliate marketing, skip Aweber and go with GetResponse as they're more affiliate friendly and won't terminate your account for aggressive affiliate marketing.
How about Sendiio?
If you want to have a lot of great email marketing features, want to manage your list effectively through email automation, if you're cool with some techie configurations, and you want to pay a fraction of the price compared to Aweber and GetResponse, then go with Sendiio. It's the primary CRM that I use for email marketing.
I'll discuss the reasons why below.
Save Money While Building Your List
If I wanted to save a bunch of money in the past, I would have to set up a server specifically for email marketing purposes, install and configure software like Postfix, and regularly monitor the server, especially for hack attacks.
If you're a techie and want to do that, check out my article on setting up your own SMTP server.
If you're not a techie, skip all of that. I don't recommend it.
With Sendiio, I paid for the Agency plan. It was a lifetime deal and there were no subscription fees. Just a 1-time payment. I also picked up the booster upgrade which I'll discuss soon.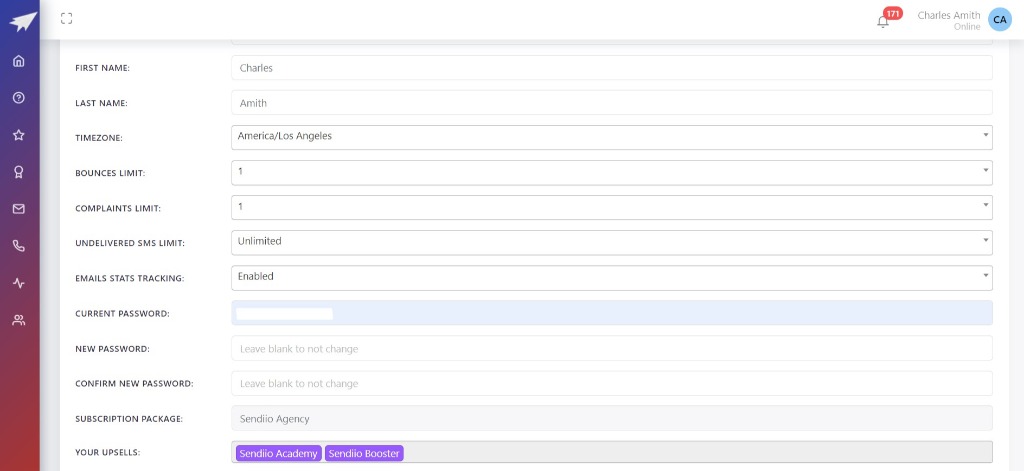 One thing to watch for is sustainability and the future of this SaaS (software as a service). I try my best to stay away from money grabs as there are many in the digital marketing industry.
First of all, I know that the owner, Josh Zamora, and he's totally dedicated to his software line and uses Sendiio in his business.
One of the easiest ways to spot scammers is when they sell something like it's the best system out there, and they don't even use it themselves.
Instead of paying less for the "Personal Sendiio Plan," I paid for the Agency Plan. This gives me access to analytics (stats) for my email campaigns, it allows me to automatically clean my list, and automatically send to subscribers that haven't opened my emails. It also provides a bunch of unlimited features that are extremely limited on the personal plan.
If you know anything about direct response marketing and testing, you know that getting access to stats is extremely important. Especially if you're doing A/B split testing, something that is built into Sendiio.
The Booster Upgrade
When I first bought Sendiio, I didn't get the booster option. I later regretted it and ended up upgrading.
The booster upgrade allows you to automatically resend emails to those that have not opened your previous emails. You can test out different subject lines and email content.

The Auto Cleaning System
I really love this feature.
Back in the day, I could generate a bunch of leads without maintaining my lists. Those days are gone, especially with AI-based spam filtering used by Gmail, Outlook, and many other spam filters.
If you don't remove subscribers that aren't engaged, you'll increase the chances of your emails going directly to spam.
While using both Aweber and GetResponse, I had to manually clean my lists every week and it was a huge hassle. With Sendiio, I can configure my list so that it auto cleans based on opens or clicks. They added cleaning based on clicks recently, and I thought it was a good move after Apple started to hide activity due to privacy reasons.
As you see in this image below, you can easily configure how you'd like to clean your list. This is set up to auto clean subscribers that haven't opened an email at least twice in the last 2 months, and haven't clicked at least once.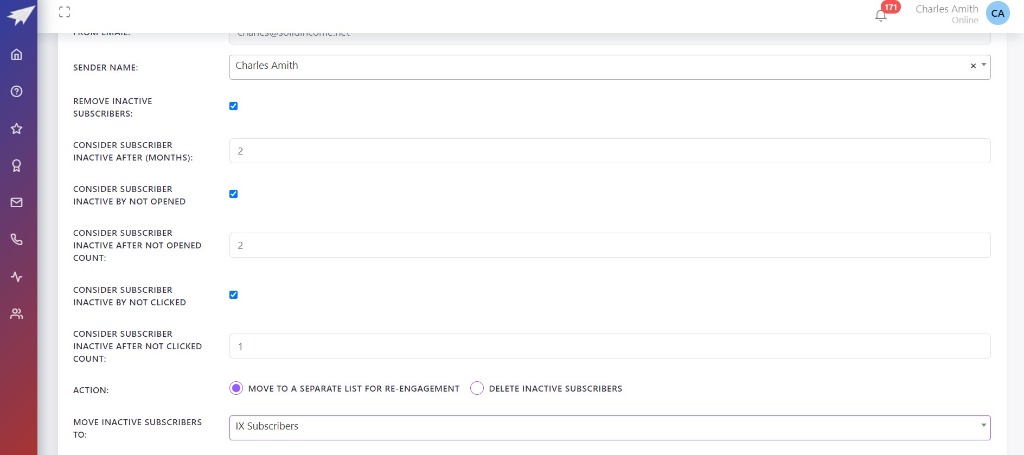 There are many features that Sendiio offers. As you can see, the dev team has implemented advanced features that you can't find in many other popular systems...and it's extremely affordable. I paid less than $100 for the Agency plan and I have zero regrets.
How Can the Developer Sustain This Software When It's So Affordable?
This software allows you to create and manage your email campaigns, and more. However, the Personal and Agency plans don't come with an email server that actually sends out the emails.
You'll have to use a 3rd party service like Amazon's SES (Simple Email Service) or SendGrid.
Out of those 2, SendGrid is easier to set up. However, I personally use Amazon SES, and it's more affordable.
As a comparison, if you were to get Aweber or GetResponse's plan for 10,000 contacts, it would cost you $50-$100+ each month depending on the plan.
With Amazon SES's current rate, you would pay around 20% of that if you were to send emails daily.
Are There Any Competing Email Marketing Solutions?
There are many out there, but the one that I used to use is called Sendy.co.
It's a great "script" and it handles many of the typical email marketing tasks like creating lists, broadcasting and scheduling emails, providing stats, and cleaning out your lists (manually).
Since it's a script, you'll need to install and configure it on a LAMP server. I recommend at least 4GB of RAM and 2 cores.
It's a great script, but it requires you to have an intermediate to advanced understanding of Linux server management and cybersecurity.
In my opinion, I would rather choose Sendiio over this solution as you don't need to manage the Sendiio server. You're paying for a web-based email marketing software service + it includes marketing tools that utilize Facebook and SMS.
Conclusion
In this quick review, I've provided the main differentiators compared to other popular email marketing platforms.
If you'd like to save a bunch of money, build your list, and easily manage your email marketing campaigns, I highly recommend this software.
Frequently Asked Questions
1) Can you provide details on Sendiio Pricing?
As of 7/29/2022, Sendiio offers a Personal plan for $87 and an Agency plan for $97. For an additional $10, the Agency plan offers in depth stats for all of your campaigns, automatic removal of bounced emails, automated resend emails based on subscriber activity, a Twitter and Facebook autoresponder, ringless voicemail drops, and access to all of the future Sendiio 2.0 features.
2) Does Sendiio offer an API?
Yes. Their API is robust and you can make requests for authentication, lists, forms, fields, sequences, and webhooks. You can also use Zapier or Pabbly to integrate Sendiio with 1,000s of other applications.
3) How does Sendiio offer their email marketing platform without monthly costs?
Sendiio offloads the email sending tasks.
Sendiio allows you to use your own SMTP server through your email service provider, or you can use 3rd party email delivery services like Mailjet, Amazon SES, SendGrid, Elastic Email, Mailgun, Postmark, or Sparkpost. Those those services have associated costs depending on the volume of emails that you send out. They are typically email API-based, instead of SMTP based.
For a 1-time fee, Sendiio offers their graphical user interface, their database, the technology for broadcasts, and automated emails, analytics, and additional SMS and social media autoresponders. These are all features that allow you to easily build a list and perform crucial email marketing tasks.
4) Do they offer Sendiio SMTP accounts?
Sendiio does offer their optional, seasoned SMTP accounts that allow you to either import subscriber lists up to 10,000 subscribers, or 20,000. The respective costs are $197 and $397 per month.
5) Does Sendiio offer a landing page builder?
No. You can add forms into your 3rd party landing pages.
If you don't have a website or a landing page builder, I recommend building your landing pages with GroovePages. The Groove.cm ecosystem offers native integrations with Sendiio and you can get started for free.
6) How does Sendiio compare to Mailchimp?
Sendiio is more internet marketer-friendly. Mailchimp prohibits affiliate marketing and has more restrictions than Sendiio.
Sendiio also offers many of the features that Mailchimp offers, such as broadcasts, automated emails, analytics, and native social media and SMS integrations.
Mailchimp also costs more than Sendiio. Sendiio has a lifetime deal where you can purchase the technology with a 1-time fee. As of 7/29/2022, Mailchimp charges $17 a month for a 500 subscriber list Standard plan, and $115 for a 10,000 subscriber list.
Mailchimp does have their email servers and the ability to create landing pages, while Sendiio users' have to use 3rd party email servers and landing page builders.
7) How does Sendiio compare to AWeber?
Both Sendiio and Aweber offer features like broadcasts, automated emails, analytics, and native social media integrations.
Sendiio offers a native SMS integration, where AWeber requires a 3rd party integration with Zapier, Apiant, or Make.
AWeber does have their email servers and the ability to create landing pages, while Sendiio users' have to use 3rd party email servers and landing page builders.
Sendiio offers a 1-time fee, lifetime deal, while AWeber requires a monthly fee for their Pro plan. As of 7/29/2022, AWeber charges $16.15 a month for a 500 subscriber list Pro plan, and $66.15 for a 10,000 subscriber list.
Sendiio offers a more affordable solution than AWeber. However, you'll have to configure your personal SMTP server, or 3rd party email delivery service with Sendiio. Sendiio offers instructions and workflows to easily integrate with Mailjet, Amazon SES, SendGrid, Elastic Email, Mailgun, Postmark, or Sparkpost.
For more details, check out this Aweber review.
8) Does Sendiio offer upsells or one-time offers (OTOs)?
Yes. All of these are optional.
OTO 1: Sendiio Academy Training. This will show you how to get traffic and build your subscriber list fast.
OTO 2: Sendiio Elite. Josh offers multiple SMTP accounts that offer higher, faster, and more reliable delivery. These accounts also bypass the technical SMTP set up process that is required without this upsell.
OTO 3: Sendiio Booster. This allows you to automate the resend process more than the Sendiio Pro and Agency plan. For example, lets say that you send an email in the morning. If the subscriber doesn't open that email, you can automatically send out an email hours or days later.
OTO 4: VA license. If you have virtual assistance that create or manage campaigns for you, then you can give them access through sub-accounts without compromising your contacts privacy. This allows you to provide a higher level of privacy that other email service providers don't.
OTO 5: EmailRamp and Club Upsell. It's a club that provides high-converting emails, with the ability to allow you or your VA to customize and send the emails.
9) Is there a Sendiio bonus for purchasing the Pro or Agency plan?
Yes. I offer my "List Builder XL" course that's valued at $97. This is a course that I put together after implementing strategies from some of the top email marketing coaches in the industry, as well as dropping thousands of dollars into organic and paid list building traffic strategies. Just get Sendiio through my link below, send me a copy of your receipt through my contact page, and I'll provide you with access.
Learn more about Sendiio today!
2023 Update: With the advent of Sendiio 3.0 and questions I've received since I posted this, I realized that I needed to provide an update with more FAQs.
10) What is Sendiio 3.0's central dashboard, and how does it benefit marketers?
Sendiio 3.0 features a central dashboard that allows marketers to manage email marketing, text message marketing, and Facebook Messenger marketing in one place. It streamlines campaign management and provides a unified view of marketing efforts.
11) Can Sendiio 3.0 help businesses reach their customers more effectively?
Yes, Sendiio 3.0 is designed to help businesses reach their customers through multiple channels, including email, text, and Facebook Messenger, which are preferred communication methods for many consumers.
12) What are the key features of Sendiio 3.0 that make it stand out?
Sendiio 3.0 offers several standout features, including the integration of artificial intelligence (AI) for writing sales copy and subject lines, unlimited email and text campaigns, and personalized messaging.
13) How does Sendiio 3.0's AI-powered copywriting work?
Sendiio 3.0 utilizes AI from your personal OpenAI account (API) to write high-converting sales copy and subject lines, saving marketers time and improving the effectiveness of their campaigns.
14) Is Sendiio 3.0 suitable for both small and large businesses?
Yes, Sendiio 3.0 caters to businesses of all sizes, with its cost-effective pricing and ability to handle various marketing needs.
15) What is the pricing structure of Sendiio 3.0?
The pricing of Sendiio 3.0 may vary, so it's recommended to check the official website for the most up-to-date pricing information. The last time I checked (September 2023), Sendiio Personal was $87 and the Agency version was $97. Josh Zamora offers special deals on the sales page when they're available.
16) Can I create unlimited campaigns with Sendiio 3.0?
Yes, Sendiio 3.0 (Agency) allows users to create unlimited email, text message, forms, and Facebook Messenger campaigns without incurring additional fees. The personal version is capped at 50 lists, 3000 imported leads, and 10 optin forms.
17) Are there any exclusive bonuses available with Sendiio 3.0?
Yes, customers can claim premium bonuses when purchasing Sendiio 3.0, enhancing their marketing experience. Just send me a copy of your receipt, get my list building course, and get email-based coaching for 1 month.
18) How can Sendiio 3.0 streamline marketing efforts for businesses?
Sendiio 3.0 simplifies marketing by offering a single platform to manage email, text, and Facebook Messenger marketing, reducing the need for multiple tools and dashboards.
19) Is Sendiio 3.0 suitable for beginners in marketing?
Yes, Sendiio 3.0 is beginner-friendly, and Josh Zamora provides full instructions and demos to help users get started with their marketing campaigns.